BornFree products just got a little greener:  the company now offers a new line of Eco-Friendly Recyclable bottles.  Back in December, I had the opportunity to participate in a panel of moms to weigh in on one of the brands that I consider synonymous with eco-friendliness and BPA-free baby products.

BornFree gained popularity in the mom community just a few short years ago as the research and BPA findings in baby bottles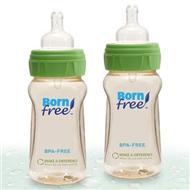 became more rampant.  As with any tried and true product, I saw moms in my circle of friends and family spread the word about BornFree and soon, many families replaced their existing bottles with BornFree products.
So, what exactly is the Eco-Friendly bottle?  Essentially, the Eco-Friendly Recyclable bottle is the same as the original bottle, but in addition to being Pthalate, PVC and BPA-free, the bottles can be recycled when you no longer have use for them.  When you're done with the bottles, you can just send them back to BornFree for recycling into their other products lines. Ingenious!
BornFree Eco-Friendly Baby Bottles are not made from recycled material. Each bottle is made of Polyphenylsulfone (PPSU) which is freshly produced. Only after its use as a baby bottle, will it be recycled.  BornFree baby bottles will be recycled into non-feeding products such as toys, furniture and household utensils.  When you're ready to recycle your bottles, BornFree will then pick up the shipping costs when you send them back. BornFree is both green and awesome.
At this time, the BornFree Eco-Friendly Baby Bottle is available only at newbornfree.com.  The bottles come in a 5 oz. twin pack or a 9 oz. twin pack.  And just for this week, BornFree is offering 50% off shipping for orders more than $50.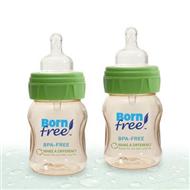 Though we never had the chance to use BornFree bottles because a very picky breastfed baby only took one kind of bottle, we do, however, love the Trainer Cup and teethers.  Their products are well-designed, safe and functional.  In fact, I love BornFree products so much that I usually try to include a bottle or two with baby shower gifts.
Speaking of gifts, I left that mom panel with a crazy amount of swag.  But guess what?  Yup.  I'm giving it away!  We'll call this one a BornFree grab bag since I have several items (not just bottles) to choose from.  This is my Earth Day gift to you!
Want to win it?
Visit BornFree and tell me a few of the products that you've used or would like to try and comment below.
For extra entries, join The Next Kid Thing fan page, Tweet about this giveaway, blog about it or share on any social networking site.  Be sure to comment below to let me know about your additional entries!
This contest will end on May 6.
*******This contest is now closed*******