It's Election Day, and the world around us is abuzz about how important it is to vote in the Midterm Elections.  Politics and elections can be a trivial time for some adults, nevermind explaining the significance of it all to smaller kids.  But, perhaps, the best way to teach kids about the importance of voting and being heard is by leading by example.

Judging by all the activity on Facebook and Foursquare, it sounds like many of you have already done your civic duty.  Hooray!
Looking for a learning resource to engage the kids in the election?  Scholastic has a variety of non-fiction books that overview the voting process.  Skimming over the content, I think Let's Vote on It! by Janice Behrens is a great primer for preschoolers and younger grade schoolers to learn more about the voting process.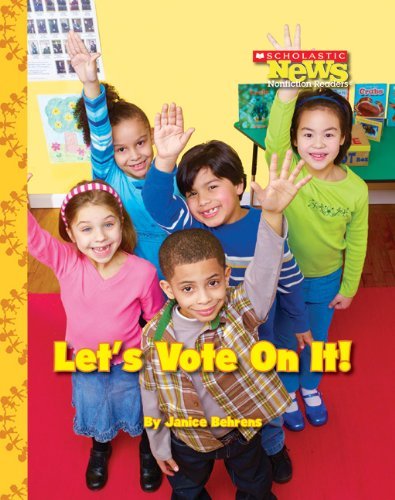 The book introduces terms that are relevant to elections and voting within the classroom.  It also touches up on the topic of how adults vote, which is timely for Election Day.
Regardless of when and how you do it, go vote and lead by example!
Check it
I love the way social networks have created a dialogue for civic participation.  There's no ignoring this election if you're on Twitter, Facebook or read any sort of website. If you haven't already, don't forget to show off that you voted on Facebook, grab your I Voted Badge on Foursquare (check in at your polling location and shout #Ivoted) or tweet #Ivoted.