October 20 was a sunny day for me. In fact, the clouds—yeah—-they were swept away, too.
Oh yeah, I found the way to Sesame Street.

By way of a shuttle bus, along with several other NYC parent and family-oriented bloggers, I had the unique opportunity to visit Kaufman Astoria studios, home to one of the most beloved streets in history. After we made our way over the Queensboro Bridge, we found ourselves in Astoria, Queens, which is where the studio is located. The white exterior of the studio was a definite contrast to the color and character that resides inside.
In the room where we gathered, we were greeted by some vintage Sesame Street photos, along with a few plush versions of our favorite muppets. But in addition to the familiar pictoral renderings of Sesame Street's past, there was a blown up screenshot of a new CGI segment that features the cutest fairy in training, Abby Cadabby, as well as a few promotional posters. But it was the exclusive behind the scenes tour of THE Street that made my heart skip a beat.

Sesame Street which celebrates its 40th anniversary this month, quite simply, is an institution. The characters, storylines, songs, special guests—they've all moved us for generations (figuratively and literally!)
Considering they don't offer tours to the public, to receive an invitation to see Sesame Street in action can definitely be grouped in my "awesome" life experiences.
The extremely cordial gang at Sesame Street, including Abby Cadabby and her muppeteer/performer, the very cool and funny Leslie Carrara-Rudolph, gave us a guided tour of the Street itself. I had the chance to gawk at Hooper's Store, take a photo beneath the Sesame Street sign, oggle at Chris doing a silly song and dance with muppets (about Apps!) and admire the creativity of the puppeteers, handlers, directors, cameramen and all of the crew.
What goes on behind the scenes at Sesame Street transcends the word, "amazing!"

To gather a group of people that talented and passionate, it's really no wonder why the show has been around for FORTY YEARS.

The upcoming season, which premiers on PBS on November 10, will feature guest appearances by Cameron Diaz, Maggie Gyllenhaal, Jeff Gordon, Adam Sandler, Jimmy Fallon, Ricky Gervais, Jason Mraz, Judah Friedlander and many others. I learned that one of my faves, Jason Mraz was extremely excited about his Sesame Street experience and seemed borderline stalkerish. haha. Cute! (For the record, I probably seemed full-on stalkerish)

Beyond being loved by so many generations, what's so fabulous about Sesame Street is, they do what they can to stay ahead of the curve. For example, inviting NYC-area bloggers and engaging with us to create that important dialogue was huge. Even further, one of the reasons Sesame Street invited bloggers was to share their latest developments, so that we, in turn, could share with our readers/followers/whom ever will listen.

A chance to hang out with Abby Cadabby and sit in Big Bird's Nest?  Um, yes, please!


To emphasize its 40th year of awesomeness in children's media, Sesame Street upped its ante with its digital presence. In particular, their website, Sesamestreet.org, became even more child-friendly, in terms of navigation, lively graphics and interactive features. When you first log on, you're greeted by a familiar-faced Muppet, which is sure to lure in the kidlets. You, or shall I say the kids, can create a "My Street" option to personalize their Sesamestreet.org page. But it's the new games that stand out to me…er, I mean, the kid.
All the games are, once again, extremely child-friendly and interactive. The games can be navigated by character (so hard to choose!), theme (the fall ones are so fun and timely) and subject (we're fans of the art games.) They can also be added to the My Street option, which gives you easy access to those games that you know and love. What I love most about the new games is that some of them are perfect for the littlest kids who don't quite have a grasp on keyboard functionality, but show an interest in say, animals.

While I'm not one to park a teeny tiny kid in front of a computer for hours at a time, every once in awhile, it's fun to let my 2-year old do a little click clacking for a change. With the Old McDonald game, the kid can just peck away at the keys and animals appear with each strike of the keyboard—it's like magic!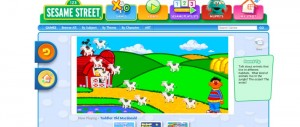 In addition to all the games, the site has tabs for other interactive features such as Playlists and Video. We're a dancing and singing kind of family, so I love playing the different songs to dance along with the kid. The video features are so fantastic for parents to share their love of Sesame Street with their kids. Alongside of the newer segments [Neil Patrick Harris as the Shoe Fairy is my favorite modern guest appearance video] of the shows are awesome classics, like ones with Kermit, Bert and Ernie and Cookie Monster. Just like the games, the videos and playlists can be navigated by character, theme and subject.
But Sesame Street hasn't forgotten about the parents. On the parents tab, I love how there's a different media for milestones [we just watched "cookie is a sometime food" under the 2 years tab] and links to all the goings on at Sesame Street. One of the newer features, however, is the inclusion of B is for Blog: Sesame Family Robinson. It's written by Marty Robinson who plays Telly Monster and Snuffleupagus and Annie Evans, a writer for Sesame Street.

Their blog gives parents an insider's look of a true Sesame Street family. Recently married on set, they are now the proud parents of twins, Lyra and Ripley. After meeting Marty and Annie (and their cutie twins, too) on the set, as well as during lunch, suffice it to say, Sesame Street is a family show—in more ways than one. Not only has the show spent the past four decades of making us laugh, sing and dance while talking about family-related topics, the people who make the show happen ARE one giant family. And thanks for the kind shout out, too! [Babyrific is my mama blog]
And from the bottom of my heart, it really, truly was an honor to experience the deep family bond on THE actual Sesame Street. It's my hope that my kid will go on to share the same love of The Street with HIS kids one day.


Happy 40th Sesame Street, thanks for all the laughs, dancing, singing and Muppet fun!