If you're anything like us, when we find a brand we love and trust, we stick with them…and that, of course, includes baby gear.  After having two babes, and reviewing hundreds of products through the years, I'm more brand-loyal than ever.
One brand, in particular, that I love and trust for my two guys is Tommee Tippee. Tommee Tippee, known for their baby gear and toddler feeding accessories, have a wide range of products that grow with your family.  In fact, we were quite smitten with this UK brand from the very start!  In 2009 when Tommee Tippee launched in the US, I attended a very cool blogger event, where I was intimately introduced to every single product that was going to be available stateside.
Five years later, the brand has solidified their name as a baby gear staple in American homes.  As a mama who has used this brand loyally over the years, I'm thrilled to be a part of their Tommee Mommee blogger initiative. 
In honor of this, I thought I'd share just some of my favorite Tommee Tippee favorites, many of which we use daily.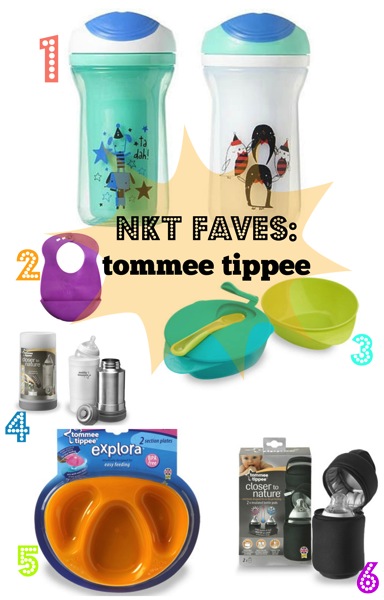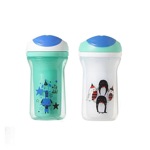 This limited edition design of Tommee Tippee's drinking cup features whimsical graphics of animals doing their thing in the circus.  The modern flair of these graphics give these convenient cups a fresh appeal for parents and toddlers.  These are definitely my favorite sippy cups because they're easy to clean, spill proof, but especially because they don't utilize that spout that so many cups have.  These cups are a great transition for kids who are almost ready for open cups.  These cups are exclusive to BRU.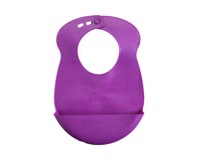 When it comes to eating, these bibs are my best friends.  Of all the silicone bibs out there, these suit our needs the best.  They're colorful, soft and rollable, which makes them easy to transport in a diaper bag.  After my wanna-be independent toddler feeds himself yogurt for lunch, I love throwing these in the dishwasher.  If you've seen my Vine or Instagram stream of Small's sleep-eating videos, perhaps you've spotted cameos of the Tommee Tippee Easi-Roll Bibs!
 3. Easy Scoop Feeding Bowls with Lids and Spoons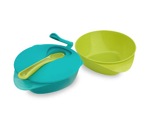 Bowls with attachable spoons: seriously, Tommee Tippee thinks of everything.  What makes these bowls so great is that if you start a meal and need to dash ff to big brother's practice, you can literally eat on the go.  I appreciate the convenience of this set and how you can keep things compartmentalized and hygienic, all while transporting.  Genius!
 4.  Travel Bottle and Food Warmer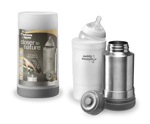 For a family that takes frequent road trips, the Travel Bottle and Food Warmer was our saving grace during the infancy stage. When the Smalls was nursing, it was so convenient being able to warm a bottle with the warmer and not having to plug anything in.  The stainless steel container kept hot water hot, taking a page out of the old school Thermos method.  Even better, I was able to thaw frozen breast milk on the road with this warmer, too.  This is certainly something that's an excess in terms of baby gear, but definitely a necessity for traveling families who need to keep liquids warm or thaw food/milk on the go.
For toddlers, the feeding frenzy doesn't get any better than having the convenience of Section Plates.  TT's Section Plates are perfect for allotting portion sizes and for presenting foods for tots who are quite visual at this stage.  The Section Plates are perfect for finger foods and work for self-feeding meals, too.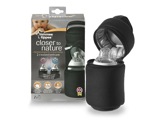 Another one of my favorite travel essentials is the TT Insulated Bottle Bag.  Even though I've always carried a diaper bag that has ample pockets for bottles, I often found that it was much more convenient to use these insulated Bottle Bags.  The velcro strap made it easy to attach to bag handles on the outside of my bag, lowering the chance of spilling bottles IN my bag and increasing the convenience factor of finding the bottle amidst the depths of my bottomless bag.  Another item of baby gear excess, I absolutely loved having this bottle bag for those fleeting baby days.
Full disclosure:  This is a sponsored post.  Samples were provided to facilitate reviews; however, as always, all opinions are my own.