Since I just got back from grocery shopping at Aldi, I have snacks for kids and lunch box essentials on the brain. As we round the bases to the end of the year, lunchbox duties, at least in our house, start to get a bit routine. Always looking to jazz up the lunch box and snacks, I thought I'd round up some of our favorite snacks from our favorite grocery store.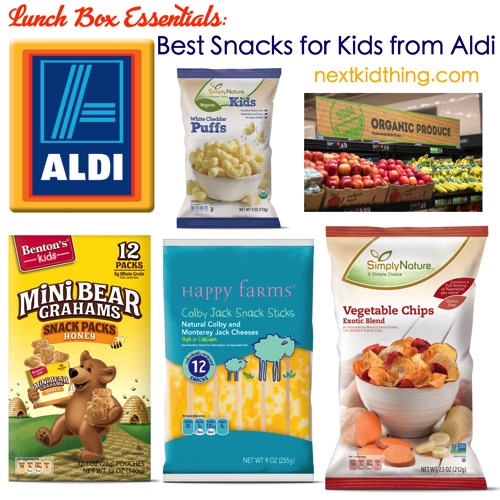 If you're not familiar with Aldi, they're a thriving grocer that's has been a long standing favorite in Europe. We love Aldi for their small footprint—typically 5 aisles—making grocery shopping a quick in-and-out errand. They've committed to refreshing their overall look and selection:
which includes an expanded selection of fresh and organic produce, rolling out Healthier Checklanes that offer smarter options at checkout, and continuing to grow its product lines to offer better-for-you options for families to enjoy, including more gluten-free options and a range of products free of additives, antibiotics and added hormones. 
Here are just a few of the many snacks from Aldi that are currently on our lunch box and after school snack rotation:

White Cheddar Puffs
Aldi's White Cheddar Puffs are a great cheesy snack that isn't too filling. The fun flavor of the Simply Nature White Cheddar Puffs won the Product of the Year Awards, solidifying them as a favorite pick for lunch boxes. If you're familiar with that ubiquitous "pirate snack," then you're familiar with this style of puff. No dyes or other artificial ingredients, you seriously can't go wrong with Simply Nature's White Cheddar Puffs.
Fresh Fruit
I love the inexpensive fresh fruit options at Aldi. From the $2 bananas to the $2 blueberries to the $3 organic apples, there's always a colorful selection of fresh fruit that are perfect for snacks. Fresh fruit are the original snacks on the go, so you can't go wrong when grabbing a bag of ripe tangerines!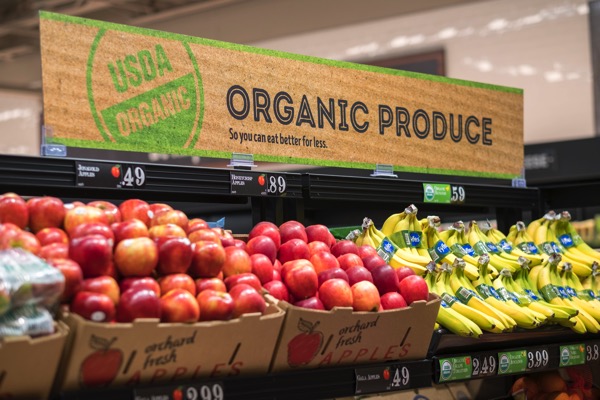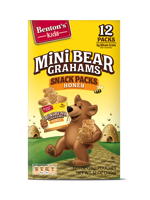 Mini Bear Grahams
Some of our absolute favorite items from Aldi are the great selection of pre-packaged snacks for lunch boxes. The Mini Bear Graham Snack Packs in honey are a great size for 2 kids' lunch boxes for the week, with a few to spare for me to pop in my bag for when we're on the go. The flavor is sweet, but not too sugary sweet. These mini crackers are perfectly sized for littles and bigs' lunch boxes! 
Happy Farms Cheese Snacks
We're huge cheese eaters in our house, so I love knowing that our cheese from Aldi is free of unnecessary additives and hormones. The prepackaged cheese snacks are super easy to pop into lunch boxes for a quick bite. I love that there are several flavors beyond the usual mozzarella string cheese.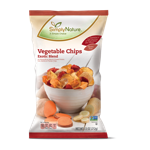 Vegetable Chips
Vegetable Chips is another staple in my weekly grocery trip. This blend of chips includes sweet potato, taro, batata and parsnips. A healthier alternative to regular potato chips, vegetable chips satisfy the crunchy salty cravings. As part of the Simply Nature brand, the vegetable chips are free from artificial ingredients and preservatives.
There are so many other awesome snacks and treats that are suitable for kids, so these are just a few from our favorites list. If you shop at Aldi, what are your favorites? 


Full disclosure: This is not a sponsored post. We love sharing the things we love. Thanks for supporting NKT!