Undoubtedly, there's a lot of excitement in the air for the holidays, but there's another important celebration–the Celebration of Lights– that starts next week.
In 2009, Hanukkah begins at sundown on December 11th. For those that don't know, according to the interwebs, Jews have given Hanukkah gelt to friends and family since the 17th century, but the custom of giving more elaborate gifts has only been around since the 19th century.
Gift-giving goes hand-in-hand with fabulous kid gifts, of course. One of my lovely Jewish friends mentioned this site, and I was hooked. They had me at Jonathan Adler!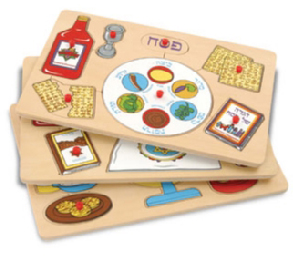 Over in the kid gift ideas, I spotted the Jewish Holiday Puzzles. Not only does it include a Hanukkah-themed puzzle, but this set includes Shabbat, Passover and Rosh Hashanah Puzzle as well. By Kid Kraft, the puzzles feature diverse shapes and comes with a puzzle rack for convenient storage. And thank goodness, all paints used are lead free and non-toxic.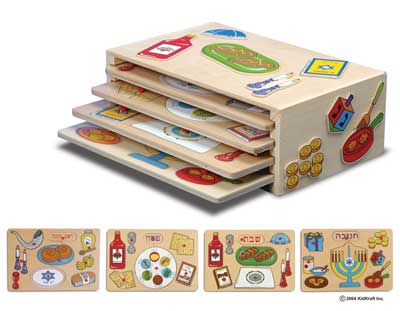 Wooden puzzles are definitely a favorite for us, and for many other families. The fact that four puzzles come in the
Jewish Holiday Puzzles
set, combined with its entertainment, educational and cultural value make these puzzles an ideal Hanukkah gift! These puzzles are in the $30 price point (not bad for 4 wooden puzzles!) and can be found on sites like Modern Tribe.