Fellow barganistas, behold: Toys "R" Us has set up a new shop with us in mind. Toys"R"Us has introduced a new concept within their stores called $1-$2-$3 Fun!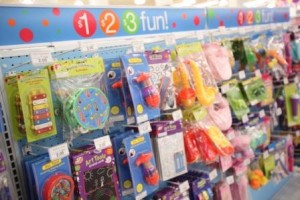 The feature shops are located in the front of its stores nationwide and are aimed to provide affordable fun.  In this economy, you can't go wrong with inexpensive and fun goodies.  In the same vein of Target's Dollar Spot and other discount store concepts, each shop features around 100 items for $1, $2 or $3. The shops will showcase different themes such as dinosaurs, games and fun toys, princess dress up, musical instruments, art supplies and party favors. The goodies found in $1-$2-$3 Fun would be ideal for party favors, stocking stuffers and other daily events where inexpensive goodies are appreciated!
Who says you can't get anything for a dollar anymore!?