In honor of opening day, check out the fun selection of MLB-themed gear Build-A-Bear has to offer.  My fave, of course, is Curly Teddy in Mets gear.*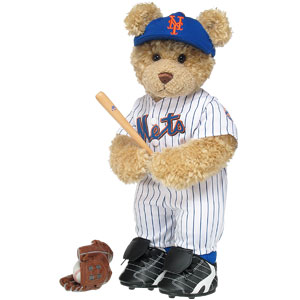 Build-A-Bear Workshops has teamed up with MLB once again to offer a families another way to cheer for their favorite baseball teams with Build-A-Bear Workshop Day at various ballparks, in addition to new team-branded merchandise.  On Build-A-Bear Workshop Day at the Ballpark, fans will receive exclusive team-branded stuffed animals while supplies last. Each furry friend comes with a free virtual gift redeemable at buildabearville.com, the Build-A-Bear Workshop virtual world.


Check your favorite team's website for dates and details, but here are a few scheduled Build-A-Bear Workshop Game Day Giveaways:
Pittsburgh Pirates
Sunday, May 17 at 1:35 p.m.
Sunday, September 20 at 1:35 p.m.
New York Mets
Saturday, August 1 at 7:10 p.m.
Kansas City Royals
Sunday, May 17 at 1:10 p.m.
St. Louis Cardinals
Sunday, August 2 at 1:15 p.m.
Chicago Cubs
Saturday, May 30 at 3:10 p.m.
Friday, July 24 at 1:20 p.m.
Cincinnati Reds
Sunday, August 30 at 1:10 p.m.
San Francisco Giants
Saturday, May 30 at 6:05 p.m.
Goodies:
Score your own Curly Teddy or get one for your little baseball fan with this $5 off coupon.  Expires April 19, 2009
(Fellow Mets fans:  the choking hazard warning to the right of Curly Teddy is referencing small pieces included with the toy–NOT the game 😉  It's a brand new year, a brand new ballgame…and a brand new stadium!)