For as long as I can remember, I've always been a Curious George fan. I can still remember my librarian in elementary school reading to us from a well-loved hard back copy of Curious George. Curious George and his many adventures have grown with me, and I'm so happy to see that he's grown with my boys as well.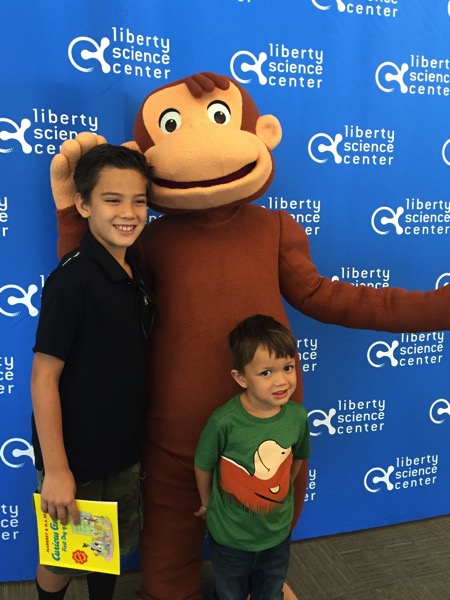 Lucky us, the Curious George exhibit is back at Liberty Science Center in Jersey City, and it's fantastic. The Curious George: Let's Get Curious! exhibit features everyone's favorite curious monkey and the The Man in the Yellow Hat.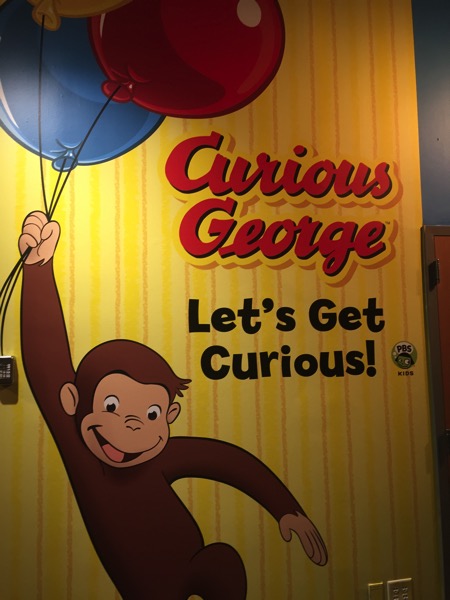 The exhibit, which is at LSC for a four month engagement, celebrates the 75th anniversary of George's debut. The exhibit embraces several educational concepts in science, math and engineering and geared to the preschool and grade school contingent. 
What to See and Do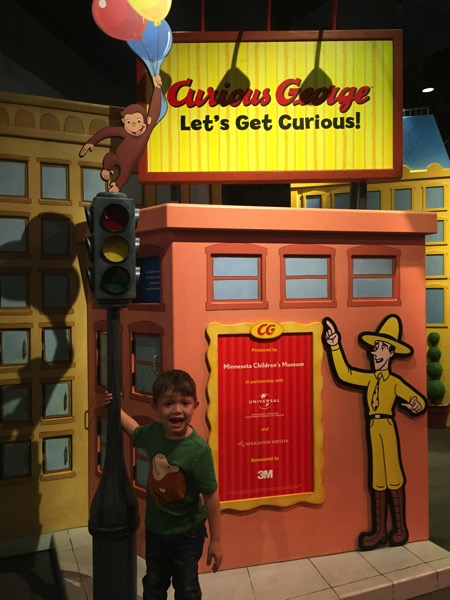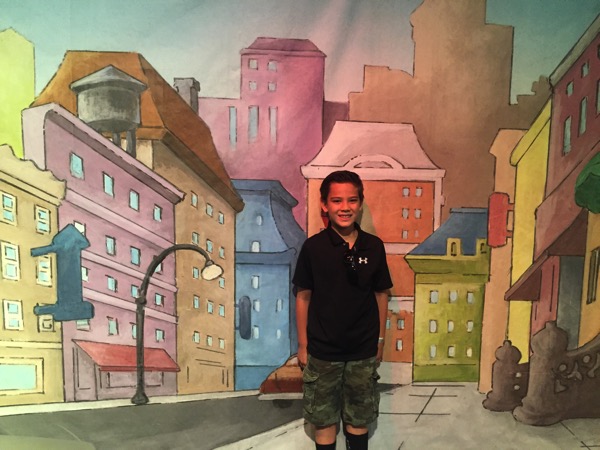 Upon entering the exhibit, you're greeted by a picturesque cityscape background reminiscent of the iconic Curious George books.  At the Apartment Building, kids can operate wheels and pulleys and the climb up the fire escape and then experiment with color, light and shadow.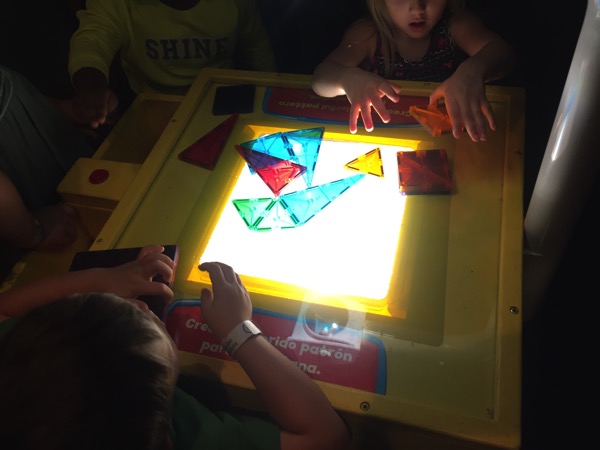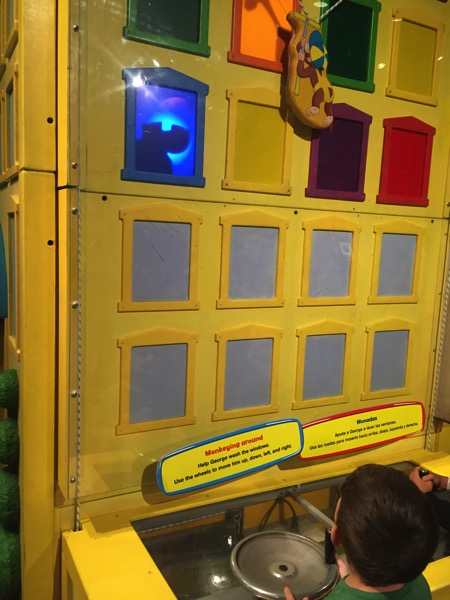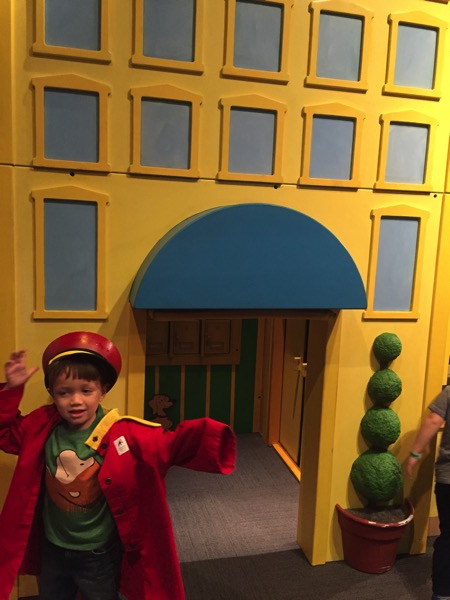 The Space Rocket welcomes the littlest space explorers for an Outer Space Adventure. The slide down is a favorite feature, and one that we found ourselves doing the most.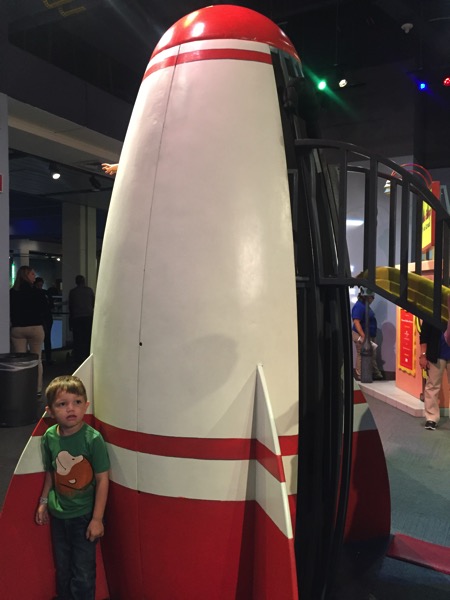 The Sidewalk Produce Stand reminded us of a little street vendor or bodega. The kids had fun playing cashier and shopper and taking turns (somewhat) and interacting with other children. The produce stand gives kids a chance to explore shape, sorting, weighing and counting with fruits and veggies.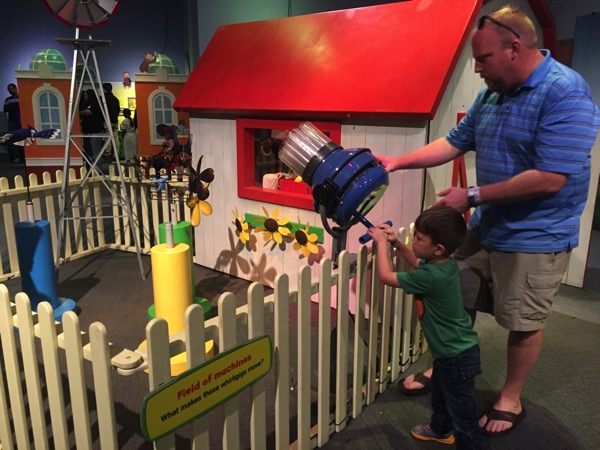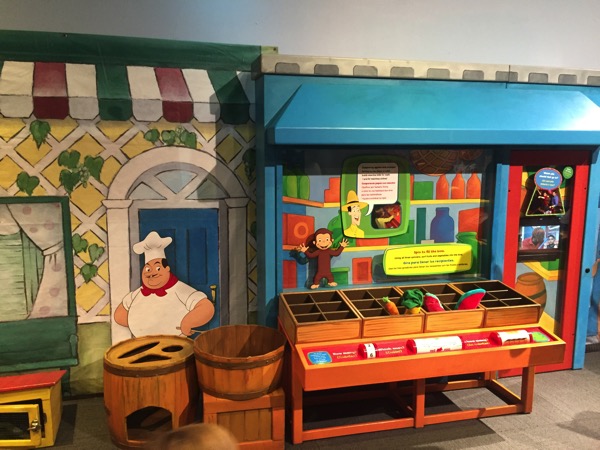 The kids visited a little farm to pretend play with small animals and explore wind power, windsocks and whirligigs. My little guy had fun opening and closing the little chicken coop and making the piggies smooch each other!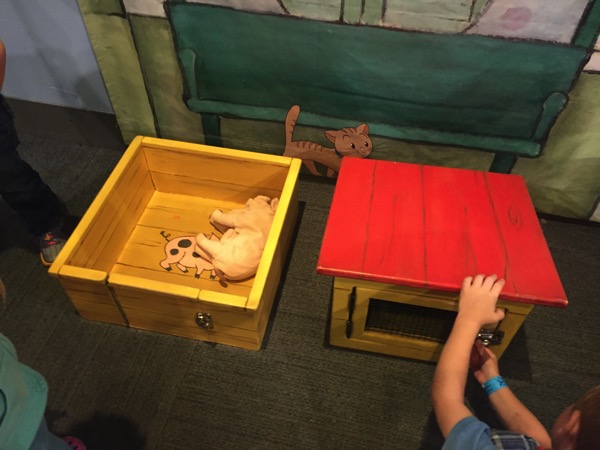 The golf area was a fun way for the kids to learn cause and effect with physics, and engineering, while exploring with pipes, ramps and funnels.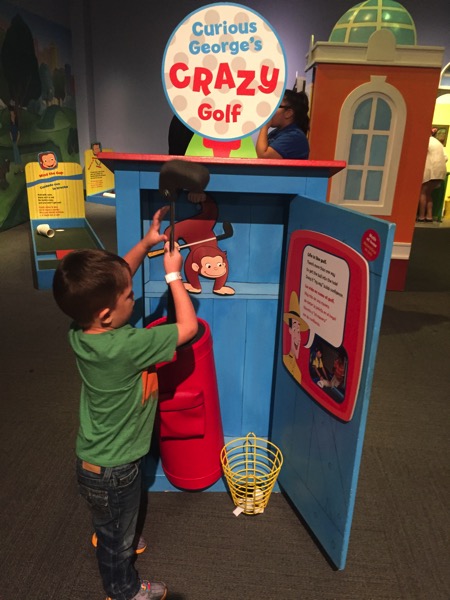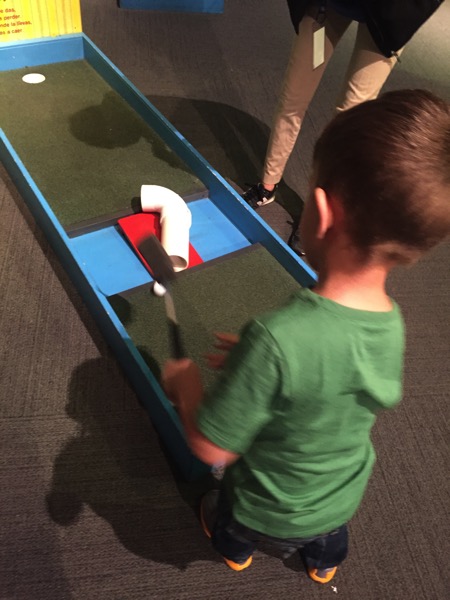 The Construction Site was another fun station where kids enjoyed climbing into the trailer and exploring different building materials. Both guys had a fun time operating the conveyor belt and sorting bricks and trying to work together. This spot got pretty hectic at times, but it worked well when all the kids were taking turns.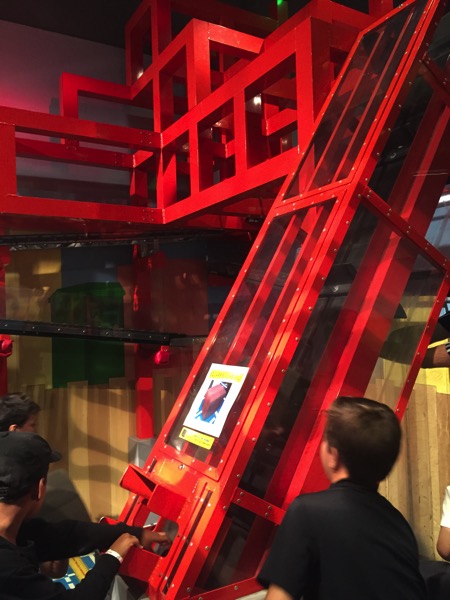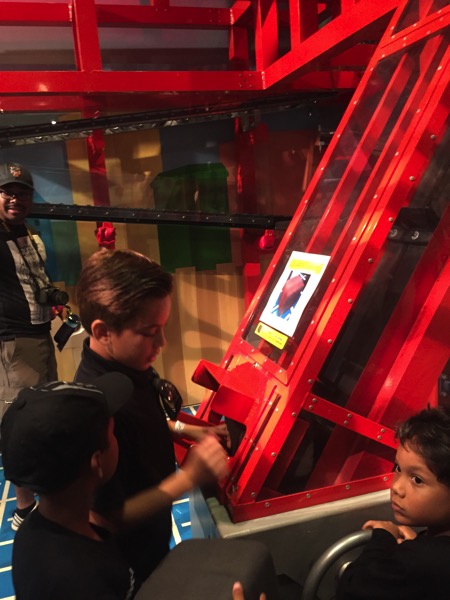 My Little guy stopped in his tracks when he spotted a full-size Curious George in the City Park. He planted a big smooch and hug on George before running off to check out the Park's busywall activities.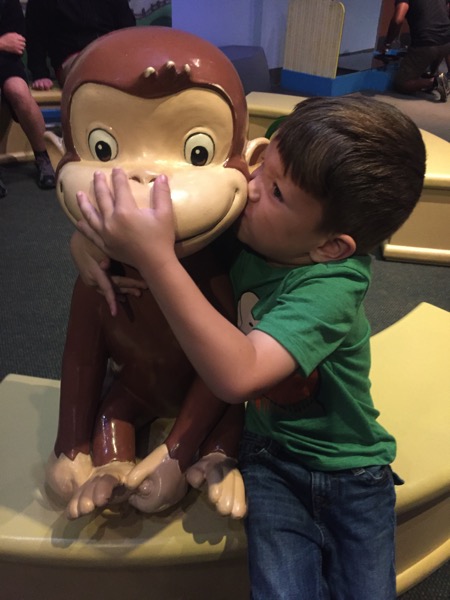 My personal favorite of the entire exhibit was the Museum Within the Museum. There were many historical posters and literature on display, including the manuscript's escape from Europe during WWII.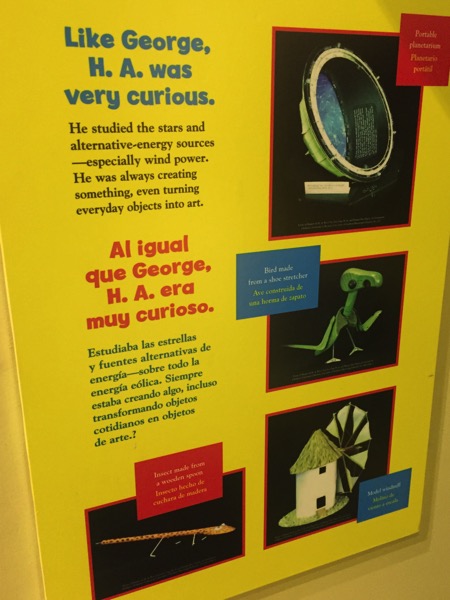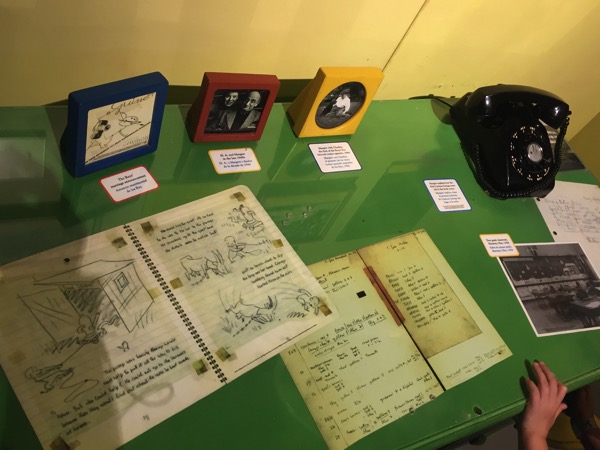 I loved learning about the historical timeline behind this beloved character. I also got a big kick out of all the little kids playing with the retro landline phone on the desk—perhaps something they don't see enough in the time of iPhones and smart phones.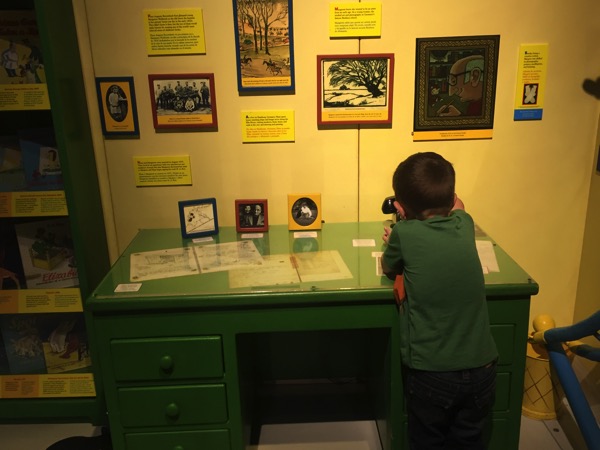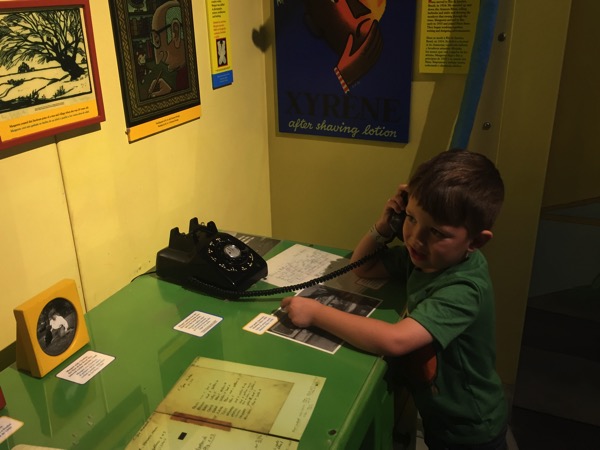 Curious George at LSC 
My preschooler and third grader had a wonderful time exploring; we quite honestly could've stayed there all day. There are enough features in this exhibit to entertain the kids for an hour or two. While a majority of the activities are geared to toddlers and preschoolers, my older son had fun interacting with the conveyor belt and helping his brother with certain aspects.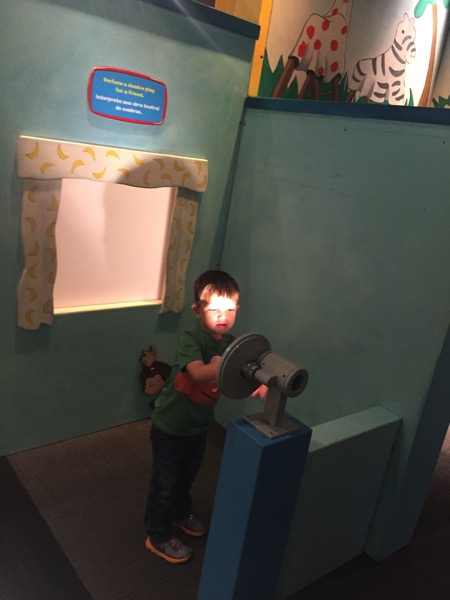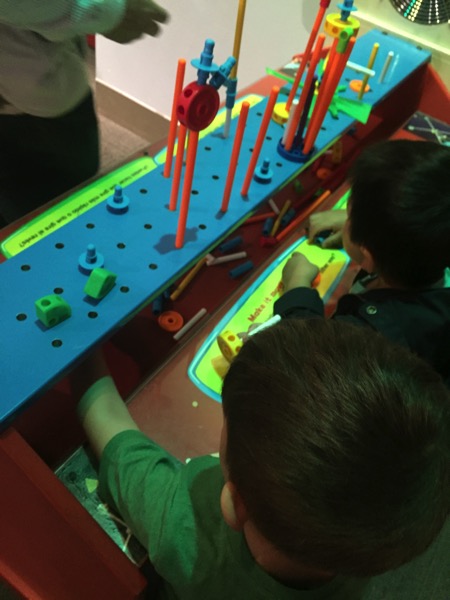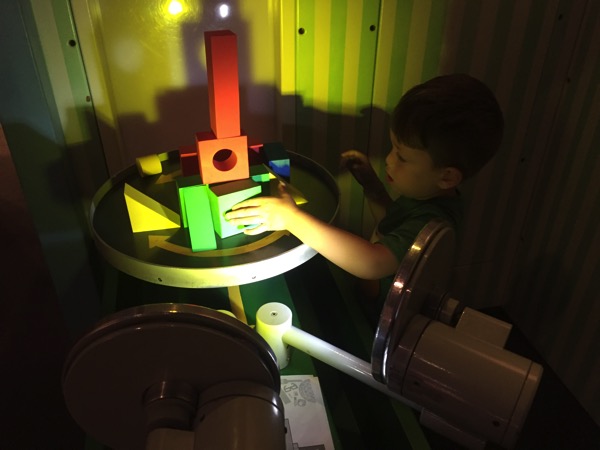 LSC remains one of our family's favorite NJ museums, and Let's Get Curious exhibit is a complement to the 12 museum exhibition halls, live animal collection, aquariums, 3D theater and their huge IMAX Dome Theater. Whether you're in NYC, NJ or elsewhere, Liberty Science Center is worth the drive for a fun day of science and exploration.
Curious George: Let's Get Curious! will be at the Liberty Science Center form September 17, 2016 until January 8, 2017. This super fun exhibit is included in general admission tickets ($21.75 for adults and $17.75 for children 2-12)
Giveaway
And in partnership with Liberty Science Center, we are giving away a 4 pack of tickets for you and your family to enjoy. Enter below for a chance to win!
Full disclosure: In partnership with Jersey Moms Media, my family was hosted at LSC to facilitate this review. I received a stipend for transportation, but as always, opinions on NKT are my own.