There's a new kid in town, and Daniel Tiger's his name.  With his vibrant stories and fresh perspective on things, Daniel Tiger is set to bring new smiles to preschoolers and their parents.  Daniel Tiger's Neighborhood offers young viewers a kid's-eye view of his life, while exploring social and emotional topics.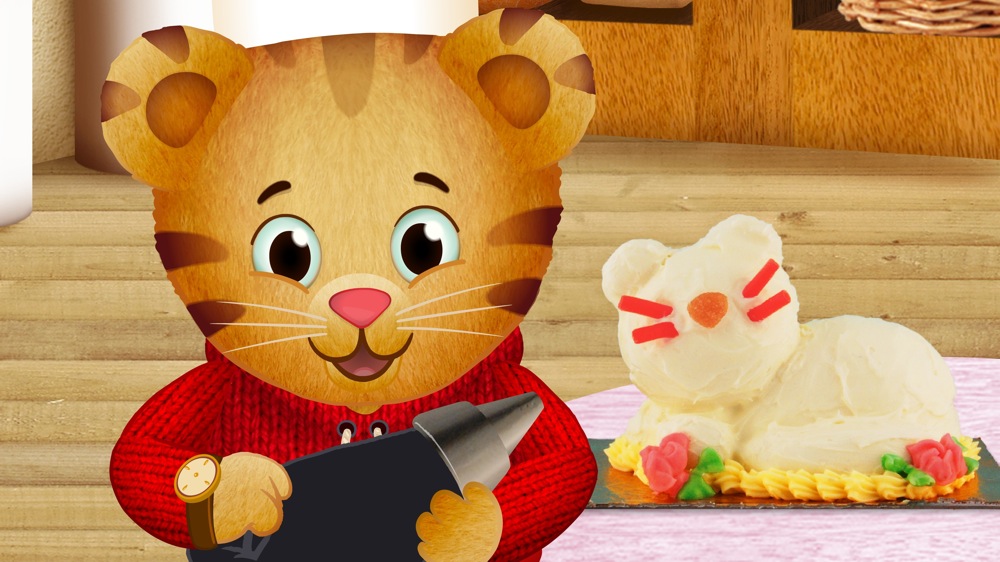 A spinoff of everyone's favorite neighbor, Daniel Tiger is a new dimension of sorts of Mr. Roger's Neighborhood.  This new animated series, which debuts on PBS Kids, September 3, is the brainchild of Angela Santomero (who brought us Super Why and Blue's Clues) and produced by The Fred Rogers Company.
At this year's PBS Annual conference held in Denver earlier this year, I sat with my fellow PBS Kids VIPs and learned about Daniel Tiger firsthand from the creator.  As the son of the original program's Daniel Striped Tiger, Daniel Tiger is an homage to Santomero's childhood hero. I remembered just how significant Mister Rogers was to me, too, as I got the chills listening to Mrs. Rogers speak of her husband's legacy, and got teary-eyed from a montage of memorable shows that helped shaped childrens' media as we know it.
Recent research proves what Fred Rogers knew all along: social and emotional competencies are the building blocks of doing well in school and in life.
Daniel Tiger explores topics that are relatable to the preschool set, often emotions that young kids can't quite understand, such as disappointment. The show uses a musical element in the form of cute songs to reinforce the theme.
With Biggie being a preschooler and having experienced our fair share of emotional ups and downs this year, the introduction of Daniel Tiger couldn't have come at a better time.  Even before our screener arrived Biggie discovered Daniel Tiger on the PBS Video Player app and has been watching Daniel Tiger nonstop. Life's little lessons as discussed on each episodes truly influence my preschooler who has been having anxiety issues.  Since he can relate to Daniel Tiger, we've used his smart advice as conversation starters and also to reinforce certain lessons during some more trivial times.  When Biggie was asked to try something new and sleep with his bedroom lights off, like a big boy, at first he resisted.  But when I asked him what he thought Daniel Tiger would do when he was asked to try something new, he said Daniel Tiger would probably say, "Calm down and give it a try."
As someone immersed in children's products and media every day by choice, there's nothing I love more than seeing something awesome and educational come into fruition as a parent and as a part of the media.  And the fact that this show is heavily influenced by Mister Roger's Neighborhood, a show that helped shape my own childhood is purely amazing, and being able to enjoy his legacy through the eyes of my kids is surreal.   I can't wait to watch more of Daniel Tiger and to report back on the other episodes, apps and site!
In the meantime, be sure to catch the debut of Daniel Tiger's Neighborhood on PBS Kids on September 3 with a special one-hour block of two back-to-back episodes. The series will air daily following its Labor Day premiere. Be sure to check out this cool infographic about the show.