Ruffles are a spring trend that's overlapping into summer.  Nothing says girly quite like ruffles; it's no wonder ruffles are everywhere lately.   And since summer is all about being fun and whimsical, these ruffle dresses from Baby Eggi certainly rocks this girly trend.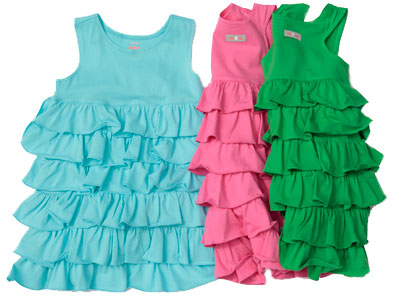 Looking for a little more edge?  How about this butterfly dress featuring artwork by famed tatoo artist Mark Maloney and for the dudes, this Tee-Rex. (heh, get it? Tee-Rex!)
If you're in the NYC area, starting tomorrow, Baby Eggi will be having a sample sale.
Baby Eggi sample sale
June 9-12
boys & girls 12 mos – 4T
Tues – Thurs 10:00am – 7:00pm / Fri. 8:00am – 5:00pm
141 West 36th Street – Suite. 1804 NYC
Prices:  $3- $15
*A big thanks to Brett for forwarding me the Baby Eggi email and reminding me of the awesomeness that is Baby Eggi.