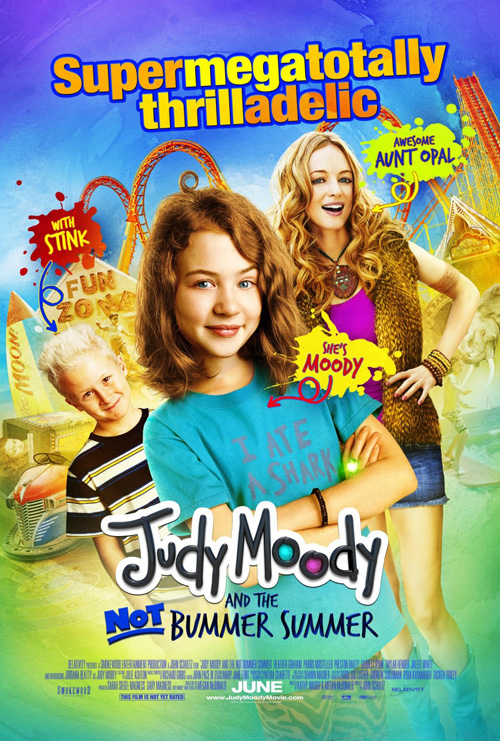 It's a likely scenario: most third graders are probably anticipating on having an exciting, adventure-filled summer.  (I can't think of anyone who actually plans on having a boring summer…)  With kids counting down the minutes to summer vacation, the Judy Moody movie based on the popular Judy Moody book series by Megan McDonald has an empowering and creative get-out-there and enjoy yourself message that's relevant for both kids and adults.
In Judy Moody and the Not Bummer Summer, the disheveled red-headed, tomboyish title character is determined to have the best summer ever, and even challenges her besties to a thrill point race.  Amid her own expectations and a little brother named Stink (Parris Mosteller,) Judy's summer adventures are both epic and outrageous, with a little help from Aunt Opal (Heather Graham) and a pal named Frank (Preston Bailey.)
I had the chance to chat with Jordana Beatty, the 12-year old Australian actress who plays the lead, and Megan McDonald, the author/screenwriter of the Judy Moody books and movie.  I love the premise behind this movie, almost as much as I appreciate seeing a tomboy tween lead.  In my candid Q & A with the effervescent and articulate Jordana, she revealed her most memorable scenes and her own crazy summer adventures.  Likened to the Beverly Cleary and Judy Blume of this generation, Megan McDonald shares her inspiration for her characters and how she enjoys spending her own summer days, which just so happens to be my ideal summer.
Beyond the puke scene and how much fun she had filming, find out what Jordana Beatty wants kids to take away from Judy Moody and the Not Bummer Summer, which is out today.