Accommodations were provided by 20th Century Fox 
In the works for seven years, The Greatest Showman, is the story that captures the essence of P.T. Barnum and his legacy as a showbusiness trailblazer. In what was one of the most engaging press junkets I've participated in yet, I was enchanted by the entire cast and creators behind this film. Though my review of the film is embargoed until tomorrow, I will say, however, that I have not stopped thinking about or singing The Greatest Showman.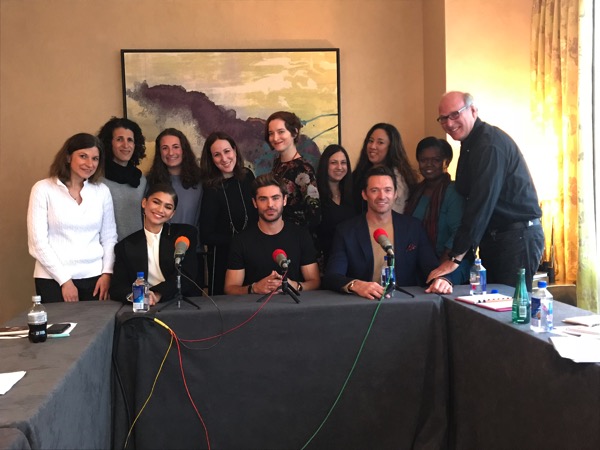 Hugh Jackman and Following Your Passion
Larger than life, much like the character whom he portrays, Hugh Jackman was the first actor who arrived to our junket. Sharply dressed for the evening's events, Jackman started off by telling the group how the journey to creating The Greatest Showman began seven years ago.
Jackman was approached by producers, Larry Mark and Bill Condon, to do an original movie musical. "And they had idea of P.T. Barnum, which I thought was perfect for a musical.  I do think when you have a character who's in the world of show biz, who's larger than life, it lends itself to a musical."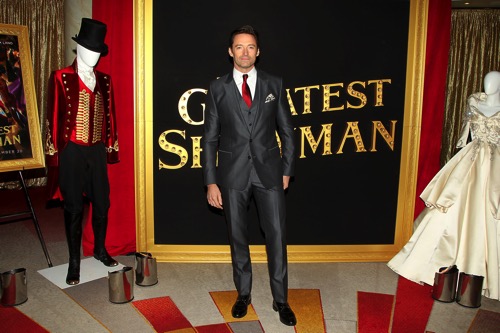 The face of the film, Jackman takes on what is, quite possibly, one of the roles of his lifetime. He showcased his vocal chops, strength as a dancer, range as an actor and solidified his role as a versatile entertainer while portraying the unstoppable P.T. Barnum.
He shared how his passion for dance and the stage has a parallel to one of the messages of the film: 
"Actually owning up to the things that you love, the music that you like, the food you want to eat, who your friends are, the things you want to do whether it's cool or not, that is where the joy of life is.  And really should be your marker for your path.  And I can speak, unfortunately from experience, of not always listening to that.
When I was 11, a teacher told me I had talent as an dancer.  You should dance.  I told my dad and he told me to go and get dance lessons. My brother overheard and said, "Ah, you sissy.  You sissy."  And I was 10 or 11 at the time.  And so, I didn't do dancing.  And then when I went to see 42nd Street with my dad and my brother, I was 18.  And at interval, my brother came up to me and said, "I said something really stupid to you years ago.  You belong on the stage and you should go and get dancing lessons."  
The Different Dimensions of Zac
Zac Efron, who most recently starred in comedies such as Neighbors, Neighbors 2 and Baywatch, rose to fame portraying Troy Bolton in Disney's High School Musical series in 2006-2008. Efron secured his triple threat status in the revival of Hairspray in 2007.
During the junket for The Greatest Showman, Efron's casual entrance shifted the tone for the interview. His laid back and warm demeanor was a contrast to the privileged, yet unhappy Phillip Carlyle. Efron was attracted to The Greatest Showman because it was a "merging of worlds"…that evokes a "modern sensibility and it's about issues that mean a lot to us today."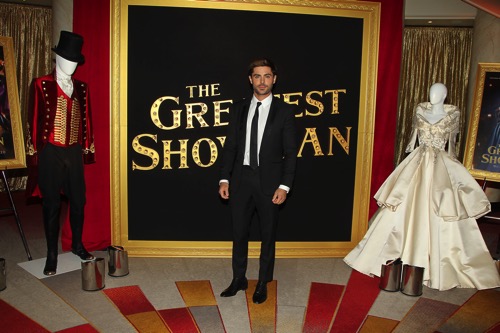 When asked if he was looking to star in a musical, Efron answered: I'm always looking "where can I find the next way to integrate music and that sort of song and dance side of me into my work and where will it be effective."
"And in Hugh's portrayal of P.T. Barnum, I felt like it would be effective.  It could work through–Phillip could be a conduit to help show the magic of what P.T. Barnum did as a showman.
And really, what Hugh does as a person in real life, and I'm here at a standing testament to it, he's, like, one of the best teachers and, like, showmen in the world, literally.  He quite literally is the most versatile probably actor alive—."
Truly a wise talent and a multi-dimensional actor, Efron's portrayal of Carlyle is engaging and showcases his broad vocal range and dance capabilities. Truth be told, I was caught off guard by how much I enjoyed Efron in The Greatest Showman. I not only adored his character's trajectory, but felt that this role showcased his vocal talent and strength as a dancer. 
Zendaya: Strong, Poised and Vocal
Zendaya is one of the young actors that I've been admiring from afar over the years. As a Disney loving family, we've probably watched every episode of Shake it Up and K.C. Undercover. The strong, sassy and diverse characters that she's portrayed on Disney have helped her to catapult onto the big screen. 
The Greatest Showman is her second film, but you would've never known it by the way she takes on aerialist Anne Wheeler. 
Zendaya says she was attracted to playing Anne because she is the natural leader of the so-called Oddities. "To me, Anne is very confident, very poised and very comfortable in her own skin."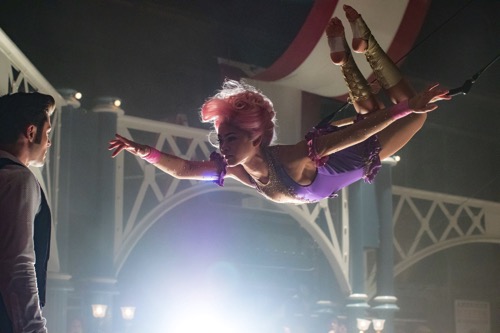 It's important to note that the 20-year old Zendaya has used her platform to voice her stance on important issues such as equality, diversity and helping the less fortunate.
As a true fan of this rising star who embraces her responsibility as an influential person who also happens to be biracial, I was so disappointed that I didn't get a chance to personally ask Zendaya a question. However, when a question came up about what the actors hope that young people would take away from the film, I loved what Zendaya had to say:
"As a millennial or someone that young people look to, it's a lot of responsibility.  And I try to take it that way.  Some people like to look at it as a pressure and a negative thing, and I think it's positive thing.  It means 40 million people that I can positively affect, you know?
And I think that what I think my message is and what aligns with this movie is it's not telling you to be a certain way, right?  We're not saying this is how you should be.
It's saying we want you to be the best version of yourself."
Undeterred by boundaries, Zendaya, quite literally, reached for the stars as aerialist Anne Wheeler. In their duet "Rewrite the Stars" Zendaya and Efron worked beautifully to harmonize vocally and physically. The duo complemented each other well and did their own stunts. Zendaya emphasized, "I think that was the cool part about it, is we kind of had the freedom to just kind of go for it and just have some fun."
Pasek and Paul: Songwriting Masterminds
Though the film takes place in the 19th century, the design music and choreography helped to make this period piece into a relevant movie musical.
At the genesis of the film, Benj Pasek and Justin Paul were up and coming songwriters. They had yet to hit it big when they signed on with The Greatest Showman. Pasek and Paul have since added quite a few more songs to their portfolio, not to mention an Academy Award and Golden Globe for "City of Stars" from La La Land and a Tony for the Best Original Score for Dear Evan Hansen.
The songwriting duo do not disappoint with the original music for The Greatest Showman. The musical features 10 original songs with varying tempos, but retain fluidity within the storyline. From the opening scene that introduces the anthem and title song, "The Greatest Show," the lyrics help to unveil the story, where stacatto vocals articulate the grandeur, and the chorus leads to a transition and a melodic foreshadowing.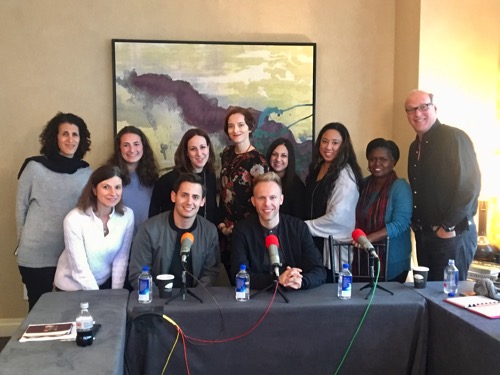 Since I'm one of the last people on Earth who has yet to see La La Land or Dear Evan Hansen, The Greatest Showman was my first experience to fully enjoy Pasek and Paul's songwriting. Immediately downloading the soundtrack the night after screening the film and before our junket, I was hooked!Truly smitten by Pasek and Paul's work in The Greatest Showman, I didn't hesitate when it came to asking about their musical influences. The original music in The Greatest Showman is influenced by so many genres and artists. The song, "The Greatest Show" is the only song that they co-wrote with someone else; they wrote it with Ryan Lewis of Macklemore and Lewis fame. Director Michael Gracey insisted upon an anthem type feel, much like a Queen song, where the crowd would stomp and clap their hands to the beat.
Though all of the songs evoke their own style, it's clear that they were influenced by many contemporary artists. Pasek and Paul said that influence in their original music came from artists like Ingrid Michaelson, Imagine Dragons, Billy Joel, among others.
Keala Settle's Film Debut in The Greatest Showman
One of the many shining stars of the film, Keala Settle plays Lettie Lutz, also known as the bearded lady. Settle, who makes her film debut in The Greatest Showman is no stranger to the stage. Settle is an accomplished actor on Broadway, playing Becky in the stage musical "Waitress," among other notable roles. One of the most important themes of The Greatest Showman is acceptance and inclusion despite your differences. 
Settle, who revealed her fears about the role: "I was so petrified because this is my first major motion picture in a role that I didn't know was going to be what it is.  I had no idea.  It changed over the course of how it was created as we were creating, you know, in rehearsals and stuff like that before we started initial photography.  And the bigger that it got for me, the scarier that it got because I wanted to hide even more.  And I am still, even sitting here in front of you, fighting that right now."
The entire cast is phenomenal in their own rite, Settle nailed her first film. Her song, "This is Me," is a relatable ballad for anyone who's ever felt different or had to overcome a hardship. Her performance is one of the most memorable moments of the film. She is one of the breakout stars of the film; "Look out because here I come…"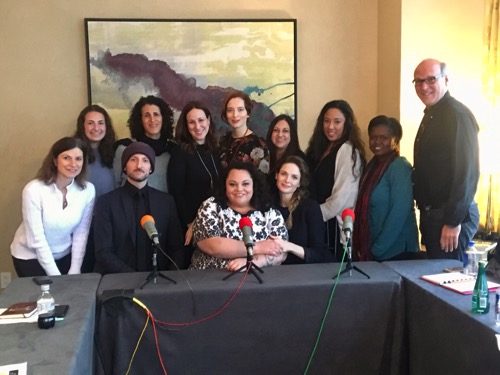 From the music, to talent of the ensemble cast to the choreography to the relevant and relatable themes, The Greatest Showman is undoubtedly a film like no other. The positive undertones and  dreamer mentality make The Greatest Showman a fun film for people of all ages.
Though this film has been in the works for seven years, The Greatest Showman embraces so many important themes that are more relevant than ever: inclusion, diversity, dream big, among other topical issues.
When asked what was his biggest takeaway from the film, Jackman said it best:
"I love the message of this movie, of accepting ourselves for who we are and what we love and the things that really make us feel passionate and not worry about what anyone else thinks."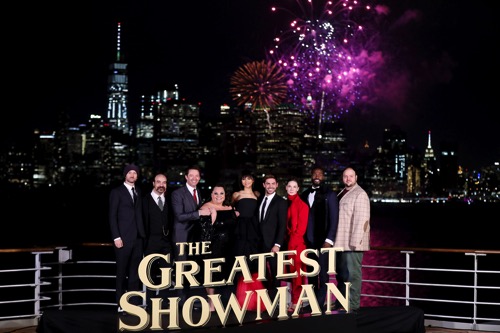 Ladies and gentlemen, prepare to be enchanted by the magic of showbusiness. The Greatest Showman is in theaters December 20th.
This Christmas, dare to dream anything. The #GreatestShowman opens a world of imagination, in theaters December 20. TheGreatestShowmanTickets.com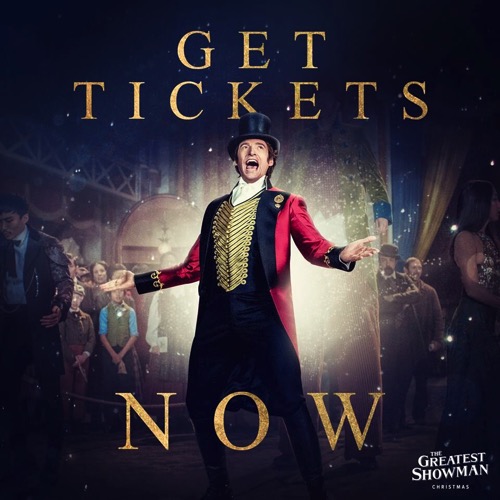 "The Greatest Showman" is a bold and original musical that celebrates the birth of show business and the sense of wonder we feel when dreams come to life. Inspired by the ambition and imagination of P.T. Barnum, "The Greatest Showman" tells the story of a visionary who rose from nothing to create a mesmerizing spectacle that became a worldwide sensation. "The Greatest Showman" is directed by exciting new filmmaker, Michael Gracey, with songs by Academy Award® winners Benj Pasek and Justin Paul ("La La Land") and starring Academy Award nominee Hugh Jackman. Jackman is joined by Zac Efron, Academy Award nominee Michelle Williams, Rebecca Ferguson and Zendaya.

 

Genre: Musical

Directed By: Michael Gracey

Screenplay By: Jenny Bicks and Bill Condon

Story By: Jenny Bicks

Produced By: Laurence Mark, p.g.a, Peter Chernin, p.g.a, Jenno Topping, p.g.a

Songs By: Benj Pasek & Justin Paul

Score By: John Debney & Joseph Trapanese

Cast: Hugh Jackman, Zac Efron, Michelle Williams, Rebecca Ferguson, Zendaya
Full disclosure: I was invited by 20th Century Fox to participate in this press junket. As always, opinions are my own.