From Toy Fair in February to recent holiday media events, I've been scouting toys and trends all year for The Next Kid Thing. I have several lists in the works, but before the biggest shopping day of the year kicks off, I wanted to share some of the coolest toys that I think might be the big sellers this season.
I put this list together based on the play value, my kids' reaction, price point as well as accessibility. I've been checking out the toys' popularity online and in person and have compiled, what I think, might be some of the hottest sellers this season. Some obvious picks did not make my list because the supply is more accessible or the price is out of reach for many people.
Keep an eye out for more of our picks. Until then, I present The Next Kid Thing Top Toys for 2015.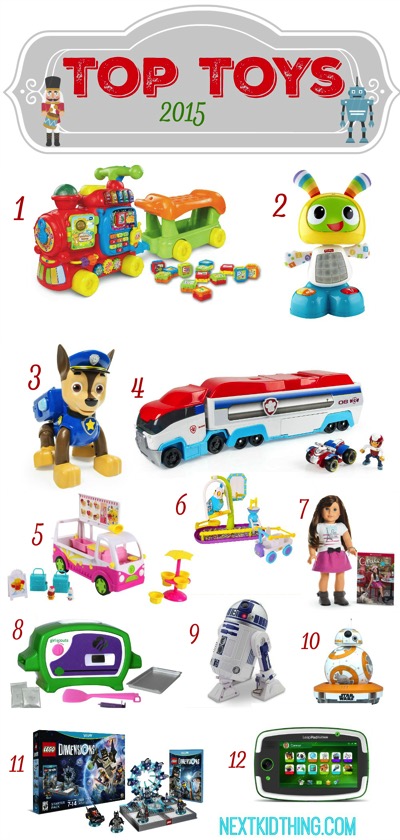 1. Sit-to-Stand Ultimate Alphabet Train
 This is the latest version of Vtech's popular Alphabet Train. The multi-phase toy is intuitive and is perfect for tots who are sitting, toddling or already on the go. I love that this toy grows with kids and offers so many different types of educational play and function. On sale, I've spotted this great toy in the $40 range.
2. Bright Beats Dance and Move Beatbo
Beatbo first caught my eye at Toy Fair because of its bright and simple aesthetic. Beatbo dances, sings and has engaging educational games, perfect for curious toddlers. Beatbo can be found at major retailers for $35.
3. Paw Patrol Interactive Mission Chase
 Chase has all kinds of features, making him quite the hot commodity. Chase is bigger in size and has cool details for making missions easier. Paw Patrol toys, in general, are popular, so make sure to pick up Chase before he becomes hard to find later in the season. This Chase is #1 on my little guy's list.
This Paw Patroller vehicle holds 3 vehicles when closed and several more when opened, making it an ideal gift for Paw Patrol mega-fans. This cool vehicle has multiple functions and landed on several top toys' lists, and will certainly be another popular toy this season. Head's up: Target currently has a 20% off Promo on toys. Head to their site to take advantage of this deal.
5. Shopkins
Just like it's been all year, expect anything Shopkins to be super popular this holiday season. Right now, playsets and blind bags are in stock, but expect anything Shopkins to be a must-have for kids who appreciate these super cute collectibles. I love this Ice Cream Truck!
6. Clever Keet
Little Live Pets have been a favorite for animal lovers, and Clever Keet is no exception. This clever guy can chat and respond to your voice. He dances and even rides his little cart. 
The 2015 Girl of the Year Grace Thomas encourages savvy kids to pursue big ideas and embrace the business world. Available for only one year, the Grace collection includes an18-inch Grace doll featuring long dark-brown hair and blue eyes, plus several French-inspired outfits, accessories, and toys that reflect her interests, such as the premium French Bakery Set with more than 60 pieces.
The very cool Girl Scouts Cookie Oven is making quite the buzz this holiday season. With this fantastic toy, kids can bake their favorite Girl Scout cookie flavors at home while learning how to bake. 
With the upcoming release of the latest installment of Star Wars: the Force Awakens, it's no surprise that Star Wars toys will be among the hottest toys this season. One toy that made our list of hot toys is Thinkways' Interactive R2-D2. He projects images, turns his head while he talks, is voice-activated, among other cool features. With over 1000 programmable action combos, this smart toy will be a favorite for kids and adults alike.
10. BB-8 Sphero
BB-8 Sphero has been a hot Star Wars item since Force Friday earlier this year. This interactive droid is app-enabled and has voice-recognition, and has been dubbed the coolest Star Wars Toy by various outlets. Another toy that's expected to be a popular multi-generational gift, this guy might be hard to find later in the season.
11. Lego Dimensions
Lego Dimensions joins the market as the latest toy to life video game. But this time, this video game has the clout of its beloved Lego franchise and characters to back up its foray onto consoles. From fun characters from the Lego Movie to classic superhero and cartoon figures, Lego Dimensions is already popular for kids and families. Since spotting it at the Kidz Vuz Back to School party, this game is #1 on my older guy's list!
Head's up: Lego Dimensions is featured on Target's Cartwheel for 35% off for two more days, which makes it around $65. Combine this with an additional 5% off if you have Target RedCard. To compare: Toys R' Us has Lego Dimensions on sale for $64.99 on Black Friday at 7am. 
LeapFrog's latest LeapPad Platinum has some of the coolest features yet. It features a faster processor and crisp screen. In addition to the popular LeapFrog games and easy-to-navigate interface, the LeapPad Platinum features the unique and cutting-edge ImagiCard technology. My preschooler is obsessed with ImagiCard and I appreciate how reinforces counting, colors, alphabet, as well as tactile manipulation.
As of today, all of these toys are available in stores and online. Be sure to take advantage of pre-Black Friday sales and coupons which are proving to be cheaper than schlepping out to stores in the wee hours later this week.
Stay tuned for more gift ideas with all of my NKT Holiday Gift Guides!