BornFree products just got a little greener:  the company now offers a new line of Eco-Friendly Recyclable bottles.  Back in December, I had the opportunity to participate in a panel of moms to weigh in on one of the brands that I consider synonymous with eco-friendliness and BPA-free baby products.

BornFree gained popularity in the mom community just a few short years ago as the research and BPA findings in baby bottles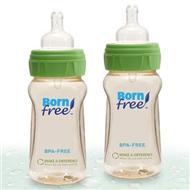 became more rampant.  As with any tried and true product, I saw moms in my circle of friends and family spread the word about BornFree and soon, many families replaced their existing bottles with BornFree products.
So, what exactly is the Eco-Friendly bottle?  Essentially, the Eco-Friendly Recyclable bottle is the same as the original bottle, but in addition to being Pthalate, PVC and BPA-free, the bottles can be recycled when you no longer have use for them.  When you're done with the bottles, you can just send them back to BornFree for recycling into their other products lines. Ingenious!