VTech has introduced  a new handheld learning system to its lineup of electronic learning toys.  I had the chance to get a glimpse of the MobiGo at Toy Fair, but got an even closer look at the unit this week before it officially hits the shelves.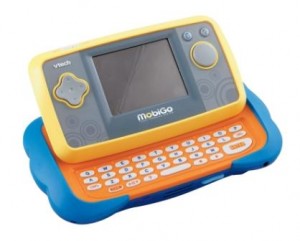 The MobiGo is packed with features, including touch screen technology, sliding screen and is web-enabled via USB.
The MobiGo retails for $59.99, which is comparable to other handheld systems in this category.  In addition to the touch screen technology that mimics that of mom and dad's iPhones and smartphones, what sets the MobiGo apart is its flip-up screen.  That feature made quite a few heads turn when we were toting the MobiGo around this week.
The MobiGo has a variety of game cartridges (19.99) and a carrying case (14.99).  The system is available in the blue/yellow or a pink/purple option.
Read More