…on the counter top!

The forward-thinking, creative minds over at Boon have done it again with another fantastic idea. They've combined a very simple idea and design to create a very cool countertop drying rack that channels a patch of grass.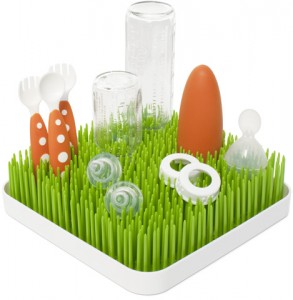 The Grass Countertop Drying Rack features a two-piece design where baby and kid accoutrements rest on the blades of glass to dry, as water drains into the detachable lower tray. Grass is dishwasher-safe, in addition to being BPA, PVC and Phthalate-free.

Because of our small space, I appreciate kid products that can blend with our modern design, or in this case, add a bit of fun without being too cartoon-y. I love the clean lines, fun design and affordability of this new product ($19.99) from Boon. No word yet on when it'll be out in stores, but I'm sure it'll be available very soon!