Just in time for Earth Week, I have quite a bit of green coverage planned, but I thought I'd kick it off with some helpful tips on greening your Spring cleaning and an intro and giveaway for Scott Naturals.
If you're like me, perhaps you're eager to transition away from the cold weather and welcome Spring with a thorough house cleaning.  Ha! Who am I kidding?
Cleaning is not my forte, but it must be done. And with our homes full of kids, pets and loved ones, we can all do without all of these harmful chemicals contained in conventional cleaners.  Among the most cost-effective and convenient cleaners are ingredients that you can already find in your home.
At a recent Healthy Child Healthy World Twitter Party, we had a great discussion about this same topic.  And like most Healthy Child Healthy World discussions, I always come away with a lot of really great information.  Additionally, I've been reading Planet Home from Seventh Generation's Jeffrey Hollender, which has a lot of great information on greening your home.
Here are just a few of my takeaways from those resources and tips for greener spring cleaning:
Baking Soda
Baking Soda is a versatile cleaner and an ingredient that can be found in most homes.  It's composed of multiple mineral-derived ingredients, making it a safe, yet effective alternative to most conventional cleaners on the shelves that contain long lists of toxins. It can be used as a deodorizer, nonabrasive scouring powder and polisher smoother.
Make your own homemade soft scrub cleaner
2/3 cups baking soda
1/2 cup liquid castile soap (Dr. Bronners Tea Tree is a good option since it is antibacterial)
1/2 cup water
optional: 3-5 drops of essential oil–if using an unscented castile soap, you can add essential oils to create a natural scent.  Depending on what you like your house to smell like, I bet peppermint and lavender would smell great.  If you're used to pine smells when cleaning, there's also pine essential oil.
Squeeze bottle–this would be a good time to reuse an old shampoo bottle, cleaner or squirt container.  Just make sure it is thoroughly cleaned out before refilling with the soft scrub solution.  If you don't have any old plastic containers to reuse, you can buy empty bottles or squeezing containers at stores such as Target.

Mix baking soda and castile soap until it is thick.  Add water and mix until it reaches desired consistency. A little soft scrub goes a long way.  This cleaner works well in bathrooms, kitchens and areas where surfaces are smooth.  I have a white porcelain kitchen sink and this soft scrub does wonders in getting out the gross discoloration.
In lieu of  expensive and extremely toxic oven cleaners, try this DIY option. While it takes a bit longer than conventional cleaners, it's safe and just as effective.
Make your own oven cleaner
1/2 cup of baking soda
enough water in a spray bottle to dampen baking soda
time
Sprinkle your oven with dry baking soda, enough to cover all the grease and grime.  Once covered, spray enough water to dampen all of the baking soda.  Let this solution sit overnight or for several hours.  Wipe clean with paper towels or cloth towel.
White Distilled Vinegar
Throughout our family's ongoing home renovation, vinegar has become my best friend.  An acid that's derived from the fermentation of dilute alcoholic liquids, vinegar makes an excellent disinfectant.  It is known to kill most bacteria, molds and germs.  Vinegar can be found in most kitchens or for super cheap in the grocery store.
Besides being used as a disinfectant and mold inhibitor, vinegar can also be used as a hard water deposit remover, greasy buildup remover, tarnish remover, stain remover and wood and glass cleaner.
To replace conventional window cleaners
1 cup distilled white vinegar
5 cups of water
Mix one cup vinegar and 5 cups of water together. I usually eyeball this, because you really can't go wrong with the two ingredients.  Pour solution into a spray bottle and go!  This cleaner doesn't leave streaks or emit that awful smell of harsh chemicals.  Best of all, I can let my 3 year old chief window washer can do the windows all by himself with no worries.
Lemon juice
Another one of my new favorite cleaners, lemon juice, has a pH of 2.0, which makes it a great cleaning ingredient.  Lemon juice known to cut grease on tables and glass; can remove stains and rust; can be used as an alternative to bleach and is also a great alternative to conventional deodorizers.
Growing up in a beach town, we always enjoyed fresh fish, crabs and seafood.  Blue crabs were a summertime favorite; the best way to eat crabs is to spread the newspaper out on a picnic table and crack up the shells by hand. Yum! But of course, any time you eat crabs or enjoy any other seafood by hand, it leaves that fishy smell. Washing hands with fresh cut lemons was the best cleaner and deodorizer ever!  Likewise goes for garbage disposals and the like.
Fresh lemons aren't the only way to use lemon juice! Stores like Costco sell economy sized Real Lemon Juice that is awesome to have onhand for cleaning and cooking purposes.
Meet Scott Naturals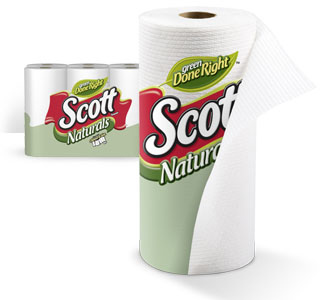 So, the above are just a few of my favorite homemade cleaning methods.  But together with these cleaning solutions, you have to have something to wipe it all clean. Reusable cloths and old cut up t-shirts are the most eco-friendly options, but there are a few "greener" paper towels and paper products now available on the market, including Scott Naturals which uses 60% recycled fibers.
I've used Scott paper towels in the past, but was recently introduced to their Naturals line which uses recycled materials. Scott Brands describes the Naturals line as hybrid products because it's made with a blend of virgin material and at least 20% recycled material in products or packaging. The quality and sustainable efforts make this paper towel option a "greener" alternative to what I've been using.  It's absorbent and not papery like the other eco-friendly paper products I've tried.
Four Week Test Drive
Fact: If everyone who took a flight today took the 4-Week Test Drive, there would be 14,240 trees saved.
According to Scott Brands, substituting products including recycled fiber over 4 weeks reduces virgin fiber demand. Reduced tree harvesting based on average U.S. household sheet usage and saving 17 trees per ton of recycled fiber. So, take the Four Week Test Drive!
Check it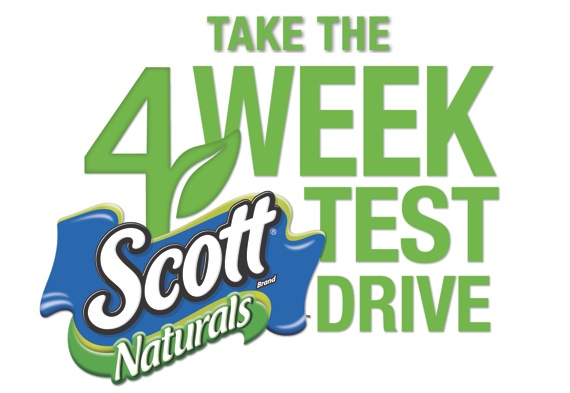 Natural Wildlife Federation Partnership
As part of this project, Scott Naturals will be making a donation to the National Wildlife Federation.  For every unique click-thru at http://www.ScottBrand.com/4WeekTestDrive, Scott Naturals will donate $1 (up to $25,000 total) to the National Wildlife Federation.  One unique click equals $1 donated to NWF, so please help this great cause by clicking and telling all of your friends.
The Scott Naturals Pledge
Check out the Scott Naturals pledge between April 4 and September 30, where you can pledge to participate in the Scott Naturals 4-Week Test Drive Program and enter for a chance to win a Ford Fusion hybrid sedan.
Giveaway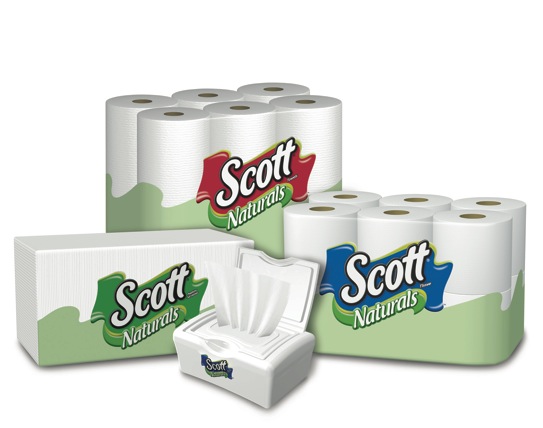 Interested in giving Scott Naturals a test drive for yourself? Scott has offered to give a lucky NKT reader a Scott Naturals Prize pack that includes a pack of Scott paper towels, napkins, toilet paper and flushable wipes.
To enter: comment below and tell me your favorite "greener" cleaning method.
For extra entries
Comment below for all entries.  I will be doing 3 more of these giveaways, so be on the look out.  This giveaway will end 4/20 at 11:59 p.m.
Full disclosure: as part of my participation in this campaign, I am being compensated by Scott Naturals and TheMotherhood. As always, all opinions on NKT are my own.