It may be frigid and gray outside, but things at Philip's Academy are quite vibrant and full of energy.  Last week, I had the unique opportunity to visit Philip's Academy, a charter school in Newark, to cover an assembly on nutrition and healthy snacking presented by Ruby Rockets.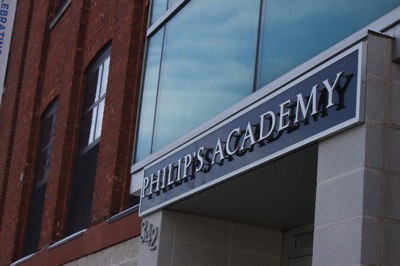 Ruby Rockets, a frozen snack brand known for its naturally sweet, non-GMO veggie and fruit pops, presented an informational presentation to eager students. The brand, who aligns with making nutritional choices, suggested to the grade schoolers that making healthier snack options has many benefits.  The brand, which boasts snacks that don't contain any extras such as added sweeteners, artificial coloring or chemicals, presented a slideshow with healthy snacking guidelines. 

For healthier options, Ruby Rockets suggests that snacks should:
be low in sugar, contain sugar from fruit and veggies only
have a 2:1 ratio between carbs and protein
high in dietary fiber
have around 200 calories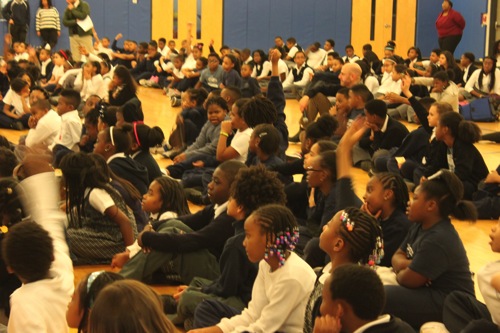 After the informational presentation, the children at Philip's Academy were treated to Ruby Rockets as a dessert following their lunch. Many of the children were excited about tasting Ruby Rockets for the first time. Representatives from Ruby Rockets presented the kids with the naturally colorful frozen treats and were greeted with elation from all corners of the cafeteria.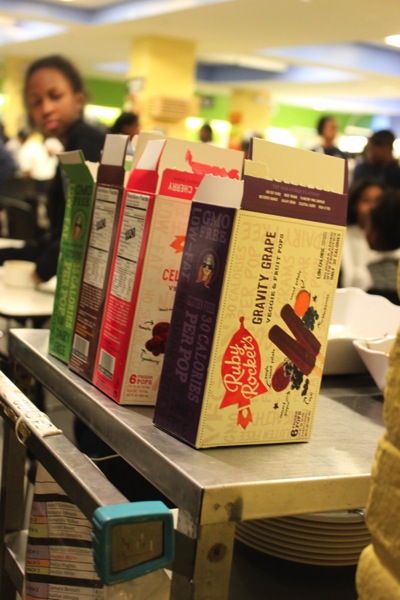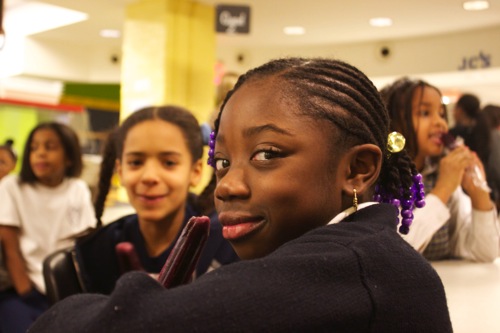 The students at Philip's Academy are no stranger to making healthy choices. The school has a curriculum-based initiative that follows many environmental and sustainable concepts with its innovative EcoSpaces program. As part of EcoSpaces, the school has its own rooftop garden and maintains an AeroFarm, which is a hydroponic garden that doesn't require sun or soil.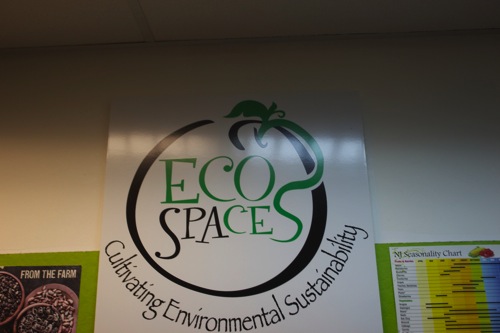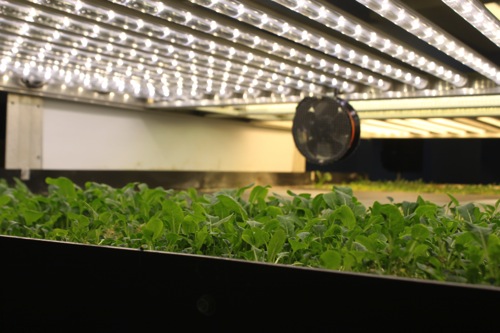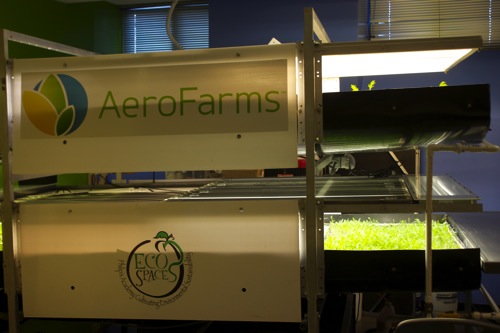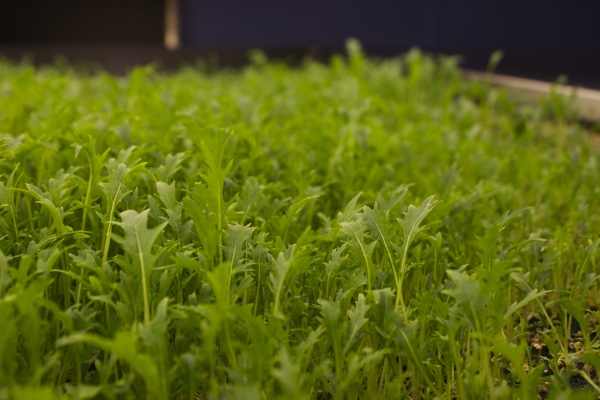 As part of the program, the students' lessons about sustainability, urban farming and their healthy lunch program is reinforced with hands-on exposure in their teaching kitchen. The students' salad bar is a unique feature of the cafeteria. It was quite inspiring to see so many children enjoy a spectrum of vegetables and fruits.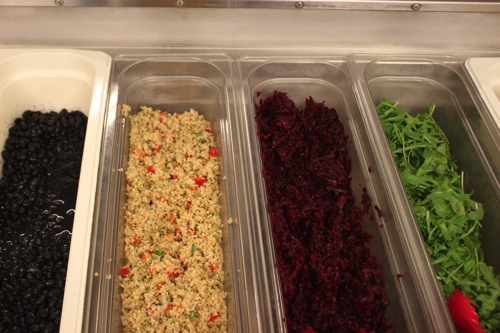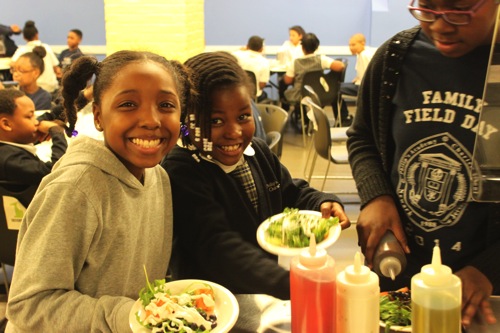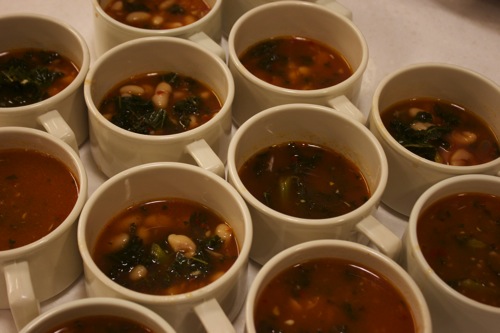 Ruby Rockets wanted to partner with Philip's Academy because they felt that they were a good fit since their EcoSpaces program reinforced what they were doing.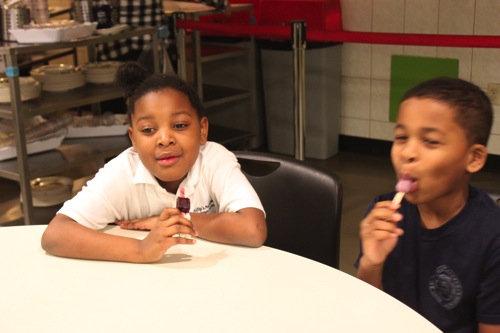 When Frank Mentesana, EcoSpaces Director at Philip's Academy, saw Ruby Rockets' ingredients and understood their mission, he agreed that they were in line with what they were trying to do.  In fact, "we make smoothies all the time—almost all the time.  I looked at their ingredients and they sound like our ingredients," Mentesana said. "I saw they had beets in one of their pops. We do a beet and berry smoothie. We do a spinach and kale smoothie. This was a great opportunity for the kids to see snacks alternatively. We also do tastings and those ingredients are on our menu and appear in different forms. For example, they'll try beets six different ways. So, they may not like beets one way, but they may like it another way."
And because the dining room is also used as a classroom for the students at Phillip's Academy, the conversation that started at the assembly with Ruby Rockets was a topic of discussion during and after lunch.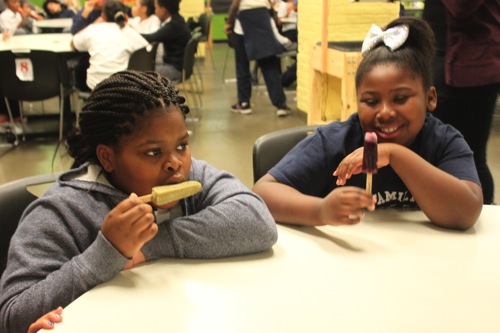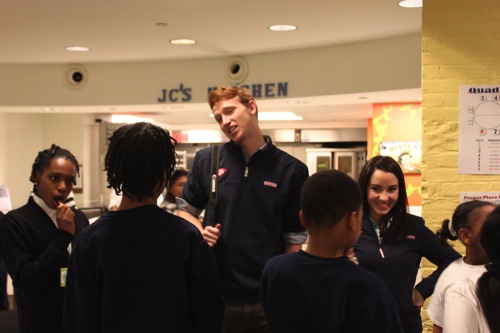 As an outsider looking in, I admired the way things were run at the school. Not only was the EcoSpaces program mind-blowing, but I thought the interaction between students and educators was inspiring. Overall, the school exuded such positivity and seemed like a model for a cohesive learning and teaching environment. I think I came away learning more about urban farming and the EcoSpaces curriculum, considering how the students were so well-versed with healthy eating.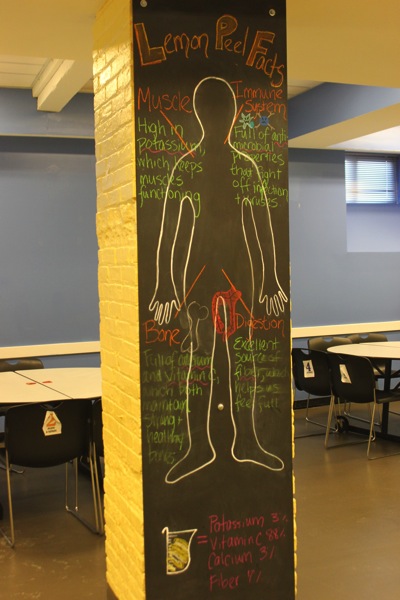 When asked what their favorite part about Ruby Rocket's frozen snacks one intuitive student told me: "I love that these pops have natural colors and sugars from the fruits and vegetables."
What grade schooler says that?  Super smart ones who are a reflection of their learning environment.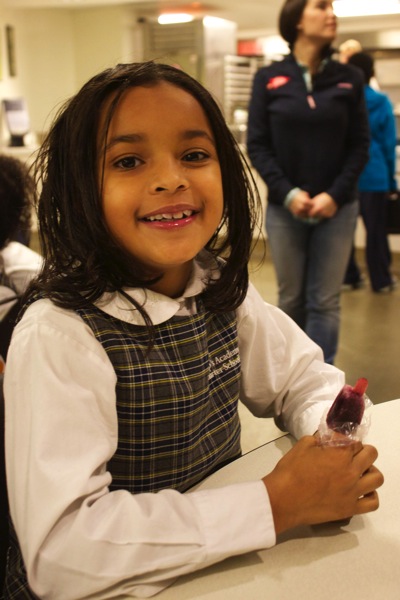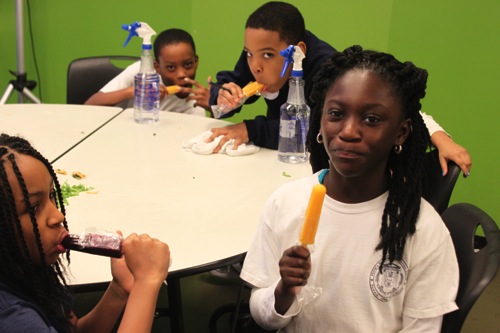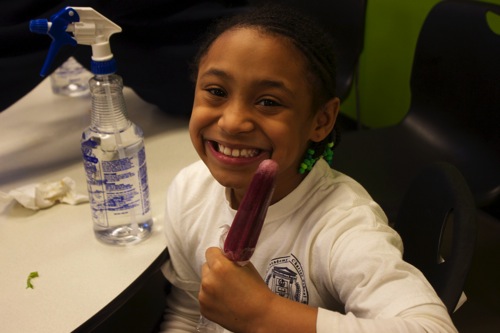 Well, there you have it: this, my friends, was a prime example of students schooling adults. After spending a day with these students, I feel the need to boost my beet intake! 
A big thank you to Philip's Academy for welcoming me to cover this assembly and event, and to Ruby Rockets for letting me be a part of this conversation on healthy snacking.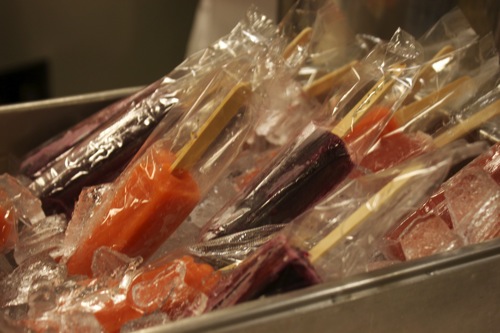 Ruby Rockets come in Rock-it Red, Orbit Orange and Galaxy Green. The frozen snacks can be found at retailers such as Wegmans and Stop and Shop.
Full disclosure: This is a sponsored post and I was compensated for my time and efforts. Opinions on NKT are my own, just as healthy snacking is always encouraged.