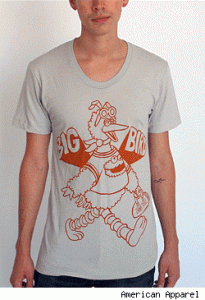 Good news for fans of the street synonomous for sunny days:  this fall, American Apparel and Sesame Street are collaborating to offer limited edition classic t-shirts to commemorate the 40th anniversary of Sesame Street.  Big Bird and other Sesame Street characters will be printed as the original line drawings on American Apparel shirts.

I love the classic homage to the Sesame Street gang, yet vintage feel of this line of shirts. What's so awesome about these shirts is that not only will the kidlets love them, but so will we.  They come in both adult and kid sizes and will be available this fall.
Forty years garnered a lot of sunny days and big, big fans.  I'm so excited about these and can't wait to see more!  I'm not only excited about these shirts, but I'm so excited that I'll be going on a tour of Sesame Street next week!  I'm looking forward to sharing all about that, too!