With the Easter Bunny hopping around this weekend, surely he or she might need some last minute alternatives to the 15 lbs. of jelly beans and ultra-glow Peeps.  It's my thinking that if the Easter Bunny fills up our guy's basket with cool books, that will only leave enough room for 5 or 6 Mini-Eggs. (The way I see it:  the less chocolate that find their way into the basket means less chocolate to find their way into my mouth.)  There are so many classic books for the Easter Bunny to choose from, but there are also some newer books to check out too!  Here are a few suggestions on some fun treats of the book variety.
Duck! Bunny! By Amy Krouse Rosenthal and Tom Lichtenheld
The eye-catching illustrations make Duck! Bunny! one of my new favorites.   With the use of fun optical illusions, this book debates whether the animal in question is indeed a duck or a bunny.  It's a short and sweet story that kids of all ages would find funny.  Is it a duck or a bunny?  What do you think? Check out Chronicle Books' YouTube teaser for the book and you decide!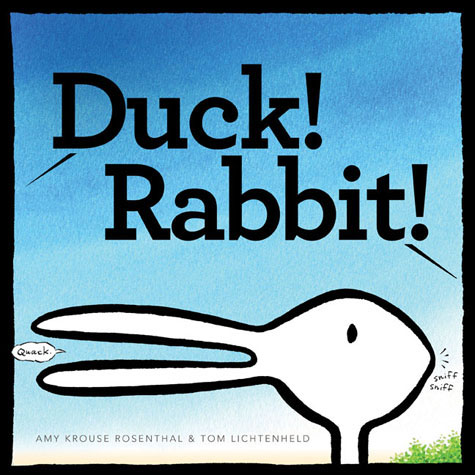 Orangutan Tongs: Poems to Tangle Your Tongue By Jon Agee
Orangutan Tongs is a witty book filled with tongue twisters and play on words.  It's a fun collection of phrases and silly subjects to entertain kids and parents alike.  If you love clever kid reads, how could you not be a fan with text like, you know New York's unique, but did you know that unique New York's also pretty chic?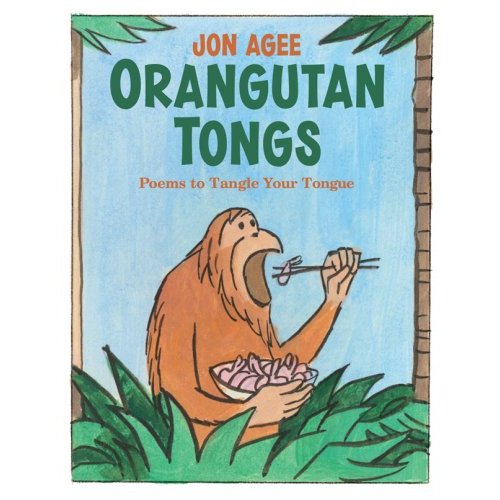 The Dumb Bunnies' Easter By Dav Pilkey
The Dumb Bunnies are at it again!  This time, they've got their holidays all mixed up!  On December 24th, they're cutting down their Easter tree–wait a minute!  Check out the Dumb Bunnies' ridiculous adventures and find out why they're for the Easter Bunny to drop eggs down their chimney!
Here's the thing:  the Dumb Bunnies books by the same hysterical author that brought us Captain Underpants has a gift for making kids laugh with his book.  Some parents may not be fond of the "Dumb" descriptor for these silly bunnies, but c'mon, it's harmless fun.  On his site Pilkey says it best:

The only thing that all human beings have in common is our endless capacity for doing dumb stuff.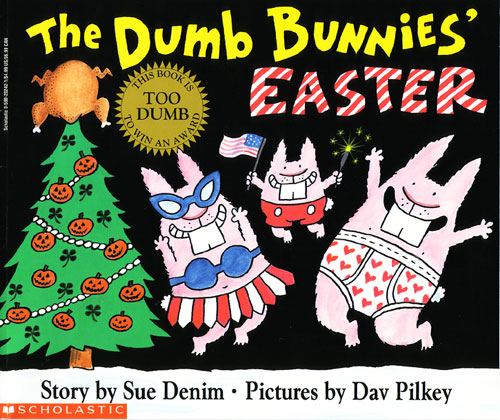 All in a Day by Cynthia Rylant (Author), Nikki McClure (Illustrator)
By the Newbery Medal-winning author, Cynthia Rylant, this book has a simple but very important message–to make the most of each day.   The illustrations, cut-paper art and text are equally appealing to both parents and kids, making it a perfect read for any age.  At times like this, isn't it all about living life to the fullest while embracing what each day has to offer?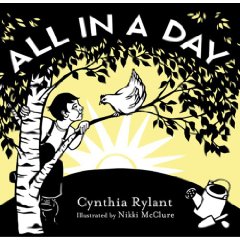 Where are Baby's Easter Eggs? By Karen Katz
Karen Katz's books are a big hit in our house.  So much so, they've been read and flipped through so much, the pages have become so tattered from all the page-flipping excitement.  The colorful and sparkly surprises that can be found when flipping the flaps is what keeps these books at the top of our reading regimen.  Where could those Easter eggs be?