It's been the year of the baby for my circle of friends and family. Between a few neighbors to close friends to one of my cousins, we're welcoming quite a few new babies these days. In fact, I was in the midst of stalking my good friend's Facebook page the other morning, just waiting for a baby update, knowing that she went in for a C-section.  So, I decided to write this post instead.
Between baby showers and registries, everything is preplanned and dictated, there's not much spontaneous gift-giving going when it comes to baby, or is there? For close friends and family, baby arrival gifts are a small token to welcome and congratulate families. When gifting for baby's arrivals, think beyond the tchotchkes and excess and head straight to the practical gifts. New parents don't necessarily need more stuffed animals or ceramic sleeping babies, so when in doubt, give them something they will use.
After checking out remaining items on their registries, I love bringing my closest friends and relatives gifts that I've tried and loved. In other words: I love gifting baby products that my friends didn't know they would need. On that end, here are just a few of my favorite practical baby arrival gifts.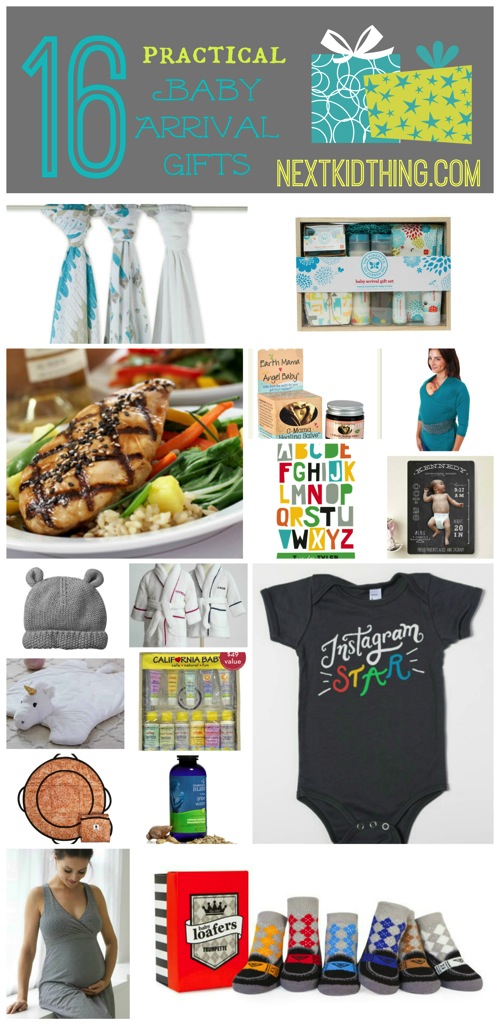 aden + anais swaddles
1. My absolute favorite gift to give friends are aden+anais swaddles. Over the past few years, this line of super soft and versatile muslin blankets has grown. They have exclusive prints for various retail partners and carry an assortment of other products such as bibs, sleeping bags and full size blankets.  But for me, the aden+anais blankets are possibly one of the most versatile baby products. I loved using these swaddles as a sunshade (sorry, not a fan of those special blankets made for carriers), as a burp cloth, nursing cover, and of course, as a swaddle blanket. Because I used these blankets so much, I made sure to have several onhand at all time. I've even seen babies adopt the swaddles as their lovies; that's a true testament to how much use these blankets truly get. 
2. Diapers, hands down, are one of the most practical baby gifts for new parents. On average, newborns go through 12-15 diapers a day, making them a huge commodity for new parents. If the new parents didn't already stock up on their diapers, consider getting them a new baby kit, like the one from Honest. This kit is a sampler pack, and comes with 7 diapers, 2 small packs of wipes, hand sanitizer spray, shampoo and body wash, face and body lotion, healing balm and baby teether.  Looking to splurge or chip in for a group gift for new baby? What about a diaper and wipes bundle, which starts at $79 a month.
Food
3. A home-cooked meal is always a generous gesture for new parents adjusting to their new normal. For out of town friends or family, I usually send pre-made meals or delicious frozen meals. The less effort involved, the better. One of my favorite resources pre-made meals is Fresh Direct since they deliver to my area now. Don't have Fresh Direct near you or the new parents? Try ordering delivery from one of their favorite restaurants. Omaha Steaks and Schwann's are both well known delivery serves that ship to many areas.
Earth Mama Angel Baby C-Mama Healing Salve
4. For many new moms, c-sections are unplanned and usually a medical necessity. In my case, my older guy was stuck and was in fetal distress. As someone who had a difficult recovery and didn't get much advice, I appreciated when an acquaintance told me about getting some balms and other stuff for my recovery and soothing the incision. So, for close friends who had c-sections, I like giving them healing gifts. Earth Mama Angel Baby C-Mama Healing Salve
 is a favorite, and one that boasts natural ingredients like calendula, st. john's wort, olive oil and a lot of other goodness.
5. NüRoo Pocket
The NüRoo Pocket is a baby wearing shirt that promotes skin to skin contact in the newborn phase. The shirt features a cross and hug closure that provides a custom fit as your body changes and baby grows. I met the creators of this amazing product a few years back and have been smitten ever since. This pocket is much different than carriers or slings, it gives more accessibility for skin contact while giving mama some mobility.
6. Custom ArtCustom artwork is a rare find these days. I love personalized art as baby gifts because it's a chance to celebrate the new babe with a unique gift. To be safe, consider getting a modest size piece that would complement nursery decor. Paper Cut ABCs custom art from Minted is a fun framed piece that would dress up a nursery or playroom. Baby's name personalized at the bottom makes this gift that much more special. 
7. Photo Gift Card
With the prevalence of social media, the news of baby's arrival is practically instant these days, complete with a photo slideshow! Call me old fashioned, but there's nothing better than a classic paper baby announcement. While gifting a baby announcement itself wouldn't be ideal, perhaps gifting a gift card to a photo site like Minted would be helpful for new parents. If announcements aren't in the new parents' realm, other stationary or printed photos of baby's first few days would be a gift they'll always remember. I can't tell you the last time I had photos printed of my second son, but if I had a gift card, then my walls my be more even with both kids' photos. 
8. Baby hat
Babies have to wear hats to keep them warm, especially fall and winter babes. Most layette outfits come with those knit hats, but a truly warm, well-made but stylish baby hats are hard to find. I particularly love the look of this sweater bear hat from Baby Gap. The gray makes is modern but neutral, and a nice change from the pinks and blues. 
9. Personalized baby robe
Bathtime is quality time for many families. For new parents, bath time takes on a whole new meaning. A fun personalized baby bath robe is a luxury, but also one that comes in handy when trying to wrangle a wet baby. The personalization on these plush robes from Red Envelope set them apart.
10.  Unicorn 
Pottery Barn has almost everything a baby and kid could ever need, including unicorns! While a unicorn isn't a necessity, a fun playmat that isn't a blanket always comes in handy. The unicorn is just something different and cool!
11. California Baby gift set
Chances are, the new mom received a lifetime supply of soaps and lotions at their shower—or did they? Every shower is different and every new parent is different. I had 3 baby showers, yet I didn't receive any lotions or soaps until my friend sent me this exact California Baby gift set. I fell in love with all the different scents and I've been a loyal fan ever since. The thing about baby soap and shampoos, they last for awhile and smell so good!
12. Patemm 
We change a lot of diapers during the baby days. It helps when we have stylish, but durable changing pads to help us out! Patemm is another one of my favorite gifts. They're a luxury, but truly different. I appreciate the round shape and ability to store items in the pockets. Since we cloth diapered, Patemm pads were always our savior.
13.  Baby medicine kit
One of the many things new parents often overlook is a medicine kit for baby.  Sure, they've stocked up on thermometers and lotion, but what about medicine cabinet essentials for the first few months? Gripe Water
was one of the must-haves for my first baby, yet I had no idea where to get it. Now, it's practically everywhere, but as a new mom i had no idea where/how to get this necessity to calm my baby. Think of other baby essentials that might come in handy and send them some tips while you're at it!
14. Sweet onesies
Selfies anyone? Baby may not necessarily need another onesie, but who can resist fun catchphrases or silly slogans on baby clothing? And Instagram Star? Genius. The babies practically own Instagram on my feed! 
15. Pampering for mom
Whether it's a beautiful nightgown with nursing accessibility or a generous spa card, mama needs a lot of loving too. If you're family, ask to watch baby while mom naps. Make her go out for an hour to roam Target for an hour…anything, really, to feel a little "normal" helps. I personally loved getting a mani/pedi gift card, as well as comfy pjs that were incision-friendly AND nursing friendly. Belabumbum is a wonderful brand that has a beautiful range of loungewear for maternity and new mamas.
16. Baby socks
Not just any socks, but fun socks! Trumpette is best known as the novelty sock gifts for babes. I love the cute shoe designs, especially these argyle socks and loafers! Since babies don't need to wear socks and baby socks always seem to disappear in the wash, you really can't have enough cute little socks! One of the best things about these socks, other than being super cute, they actually stay on those baby feet!
But, as I always say to my friends, what works for me might not work for you. (In essence, gift thoughtfully and save those receipts!) Happy baby shopping!