Deep within our smartphones, a world of technology and emojis comprise a complicated and quirky world, according to Sony Pictures Animation's new film, The Emoji Movie. While humans have never been more connected, the Emoji Movie divulges how the Emojis and the other citizens of Textopolis are disconnected in more ways than one.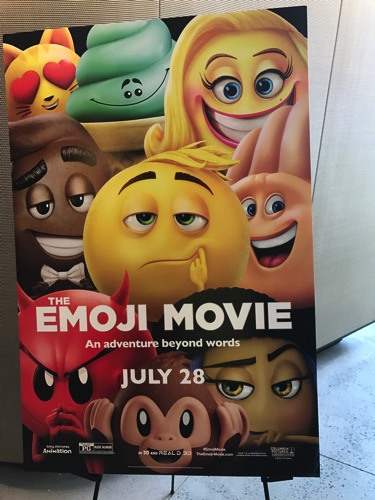 The Emoji Movie features the voices of T.J. Miller, James Corden, Anna Faris, Maya Rudolph, Steven Wright, Jennifer Coolidge, Jake T. Austin, Christina Aguilera, Sofia Vergara and Sir Patrick Stewart, and is directed by Tony Leondis.
When the Meh Emoji, voiced by the hilarious T.J. Miller, is introduced at the beginning of the film, we learn that Gene (Meh) is anything but unimpressed about life. The Emojis are encouraged to maintain their one emotion and persona at all times, but Gene, an Emoji full of other emotions can't help but reveal his true personality and range of other emotions. When Gene is tapped with putting his best 'meh' face when his user, Alex (Jake T. Austin,) needs him during a text conversation with a girl he likes, he freaks out and reveals his imperfections.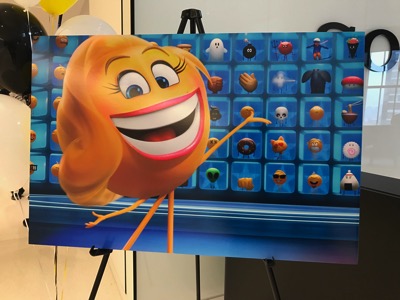 Gene is then deemed a glitch by the Emoji leader, the superficial Smiler, voiced by Maya Rudolph. Threatened by Gene's imperfections, Smiler enlists bots to destroy Gene, who, is then forced to run from Textopolis. On the lamb, Gene meets some fellow outcasts, including Hi-5 (James Corden) and the anti-conformist Jailbreak (Anna Faris).
The Emoji Movie examines the importance of friendship, loyalty and being true to yourself. As emojis and texting continues to be method of communication for many people, regardless of age, The Emoji Movie has impeccable timing. In a world where social media clouds in-person dialogue and encourages the unnecessary need for online popularity, Gene's quest for discovering his genuine self and realizing the importance of true friendships is a lesson for the ages.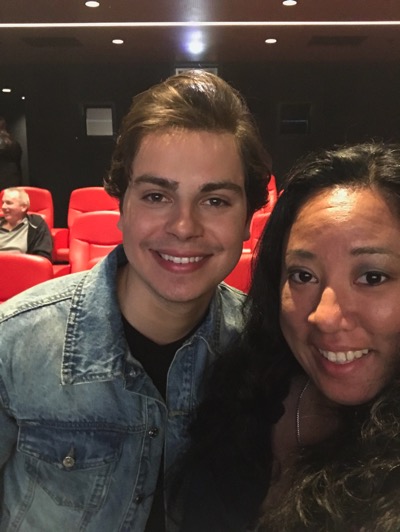 The Emoji Movie is reminiscent of lighthearted storylines with an underlying message of other popular animated films like Wreck it Ralph and Inside Out. While there are so many parallels to other animated movies, The Emoji Movie conveys several important messages while telling a quirky story. The storyline line gets a bit complex and twisted at times, certainly much more verbose than a young grader schooler can comprehend. The literal bathroom humor and slapstick jokes might be enough to entertain the younger masses, and undoubtedly annoy the adult cynics. While it's hard to take poop seriously, in this volatile climate in the "real world" this is exactly the kind of fun and comedy we need. The Emoji Movie was unexpectedly filled with more substance than I expected, and one that my kids can't wait to watch.
In addition to screening the movie, along with several bloggers, Sony invited me, along with several fellow bloggers, to a series of interviews with the director and some of the talent.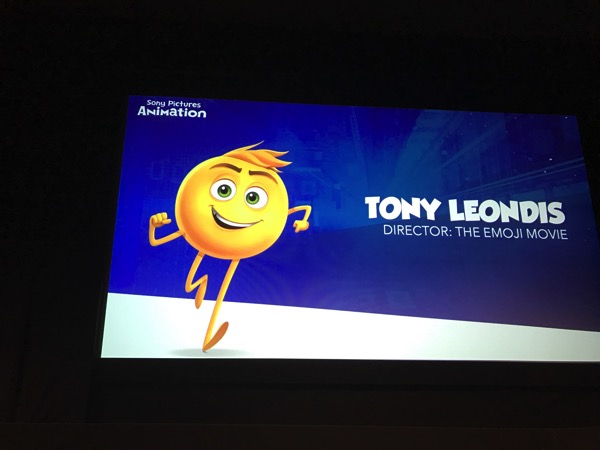 In our world at the moment, there's a movement where not caring is considered cool. Director Tony Leondis says, "we wanted to show the opposite, in that caring and connecting with people IS cool. Who needs that in this world? We have enough of that."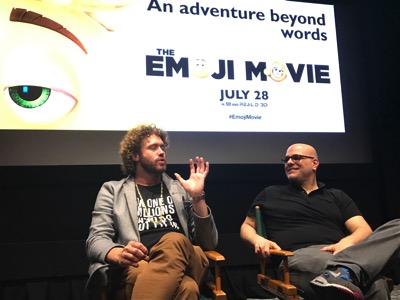 As a parent of a tween who recently started to connect with his friends via texts on his iPod, internet safety and smart social media usage is more relevant than ever these days.
When asked about her thoughts on social media, cyber bullying and internet safety, Maya Rudolph, who voices the superficial and super-crazy Smiler, had a lot to say about parenting in the digital age.
"Being a parent today means you have to manage devices." said Rudolph, a mom to 4 kids. "My kids are not on social media yet, but my daughter recently wanted to go on a site where she makes outfits. It gave me pause because there's the anonymity aspect and option to give likes." Rudolph went on to say that the need for likes and popularity contest isn't something she wanted her kids exposed to at this age.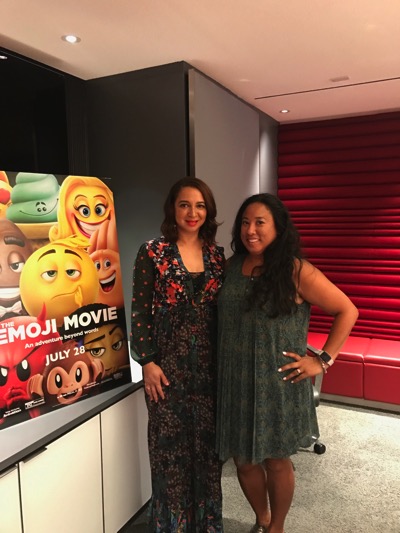 Amid the often crazy context and elaborate storyline, The Emoji Movie does a great job delivering the message to its core audience that friendship and relationships transcend "likes" and popularity online. Real people require real in-person connections and genuine emotions. For a kids' movie, I expected silly laughs and quirky characters. While it probably won't go down as the theatrical masterpiece of the year, The Emoji Movie might go down as the movie that provided a reminder for everyone to examine the true value of their relationships and ongoing social media behavior. 
To take a page from page from Gene's book, being different is what makes us who we are, so embrace the quirks that make you unique!
If you're looking for a fun, lighthearted animated flick that the kids will dig, check out The Emoji Movie! The Emoji Movie is officially out in theaters nationwide today, July 28.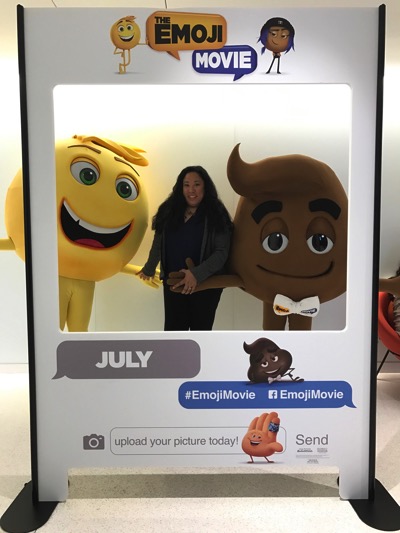 Full disclosure: I was invited by Sony Pictures Animation to participate in a blogger roundtable. As always, all thoughts are my own.