Not surprisingly, The Lego Movie did smashingly well at the box office this weekend.  It took the top spot and had glowing reviews to boot.

One of the best write ups I read today, in fact, was from CNN via EW.com whose headline caught my eye:  "Is the Lego Movie Really That Good?"  I asked myself the same question and read on:
Based on the ubiquitous lock-block toy and licensed with many of pop-culture's most ubiquitous heroes, "The LEGO Movie" is a sly Trojan horse of a movie. "Using the building-block world of LEGO to parody the creeping conformity of our world, 'The LEGO Movie' proves even more biting than 'WALL-E,' because it has the sauciness to send up its own rise-of-a-hero story line," writes EW's Owen Gleiberman.
Combine the beloved building blocks, personified—rather, animated with mini figures—and throw in comedic timing, sauciness and you get family fun at the theater.   This movie, in my opinion, seemed like a perfect formula for success:  Everyone loves Lego, many of us are enduring cabin fever in the tundra that is our winter and this older kid bracket is an untapped (boy) market in the movies right now.
Considering how obsessed we are with Warner Brother's Lego Marvel video game, I have no doubt that we'll love this movie just as much.  We were actually focused on another movie this weekend, but we've got Lego Movie on our docket to come.  In the meantime, I've been loving reading the reviews from traditional outlets, as well as from my friends.
And, in case you have Valentine's on your mind like we do this week, how rad are these Lego Movie Valentines from Warner Brothers?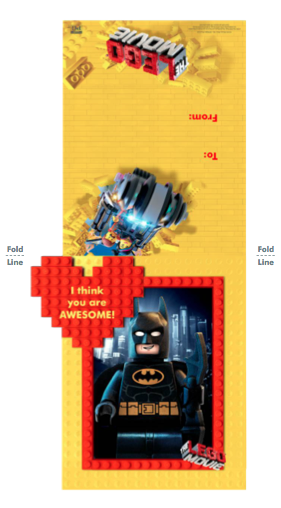 Click on the above image to head to the full version of the Lego Movie Printables AND other versions as well.  I know these are promos for the movie, but how perfect are these for Lego lovers and movie enthusiasts alike?