I've been following the reports from Vegas and the Consumer Electronics Show which is the international trade show that unveils the latest and greatest in technology.  From curved tvs to smart light bulbs, it seems everything is connected or has a smart element in it these days.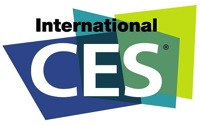 Since I'm not at the show this year, here are just a few interesting products I've found and read about:
The Lumen TL800 is an app-enabled Bluetooth smart bulb that is said to last 30 times longer than a typical incandescent bulb, but uses five times less power.  There are 16 million color options and the dimmable LED bulb create their own lighting atmosphere. It's like the ultimate black light and beyond.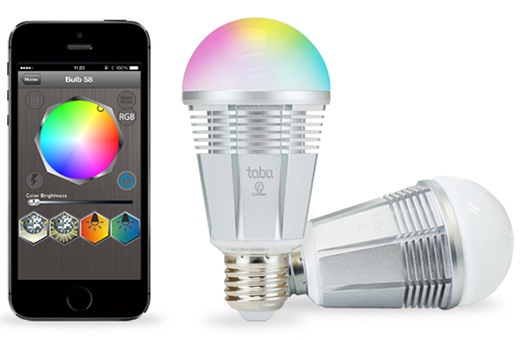 With its proprietary app, this smart bulb features include:
Call Alert Mode: Notifies users of incoming calls by flashing when the phone rings.
Music Sync Mode: Visualize your music by synchronizing your music and lighting effects. 
Party Mode 1 and 2: Transform any space into a dance floor with pre-programmed flashing beats that match the music.
Wake Mode: Mimics the sunrise in the morning, gradually brightening until it reaches maximum intensity at the stipulated wake up time.  Users can customize how long the brightening process should take, from 5 minutes to 15 minutes. 
Romance Mode: Creates the perfect condition for a romantic date or quiet evening at home with a warm atmosphere.
Relaxation Mode: Simulates calming moonlight, creating a relaxing ambiance.
I actually think this bulb would come in handy for parents of young children, especially those who rely on night lights.  Think of those late nights when you're up feeding late and need minimal, yet functional lights to change a diaper or get to the restroom.  My phone is always accessible, especially during late night feedings, so this would be something I can see parents using to update nurseries and kids' rooms.  
The TL800 is available at Amazon.com for $69.99. Check out a video of the TL800 here.
Baby monitors are getting even smarter.  Taking a cue from other smart devices, Mimo uses a small monitor that clicks onto a compatible baby kimono and, literally, tracks baby's every move.  Baby's movement is reported on its proprietary app, and parents can track from their smart phones.  The small turtle-shaped Bluetooth-enabled device is too big to be a choking hazard and it comes on and off of the kimonos.  The organic cotton kimonos are machine washable, as is the device itself.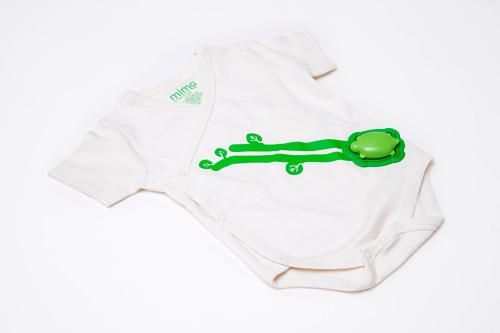 And while traditional media seems to be reporting Mimo to be an "extreme" monitor, I can see this concept as being borderline excessive.  Do we really need to know baby's every move?  
But on the flipside, consider parents with sick babies or babies with special needs who do require extra care.  With an infant who was diagnosed with epilepsy at four months old, I could have used this device when we returned from the hospital after his diagnosis.  We went from 24-hour care from the most knowledgeable nurses to me, on my own, caring for a small child with a neurological condition that I knew nothing about.  Though he sleeps right next to my bed, there are times when we are away from each other and his breathing patterns can indicate an oncoming episode. 
I think the smart baby monitor is going to change parenting and how connected we are to our children, but it certainly won't escape its critics.  Talk to any parent who has had to rush their small child to the ER because of a sickness; knowing those exact vitals could be life-changing.
I'm hoping that I'll be able to learn even more about this device.  Stay tuned, and hopefully, I will get more info as it this shelves after CES.  I dislike the whole mom brain angle (we're all exhausted, but this is a tired excuse) check out a video of Mimo here.
The Owlet is another smart baby monitor that provides an overview of baby's well-being with a Blue-Tooth enabled sock. 
According to the manufacturers, the Smart Sock uses Bluetooth technology to wirelessly transmit information to your phone.  The Owlet tracks baby's heart rate, oxygen, temperature and roll over alerts via pulse-oximetry.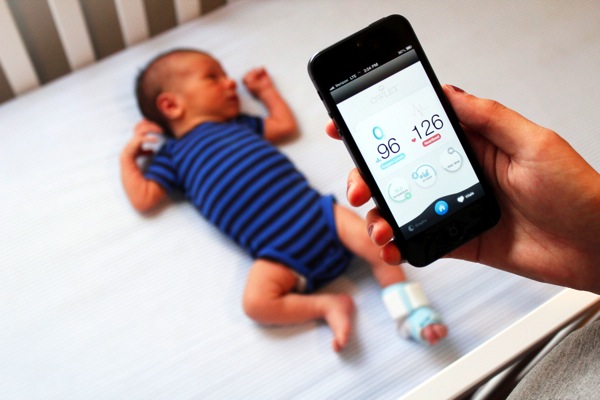 This monitor reminds me of the devices that are used in the hospitals to track sick babies' vitals.  The Owlet monitor is bringing the comprehensive smart technology that's been used in hospitals for years to the homes of consumers. To reiterate my feelings on smart monitors, this information is great to have, especially for sick or babies with special needs.  But if there isn't medical necessity to know all of these vitals, do we truly need all of this information about our babies day-to-day? Are we harboring anxiety for new parents with this sort of technology?
I'll be interested to see how consumers embrace this new technology.  Whether we really "need" it or not, I think this new technology is simply amazing.  Check out the Owlet video here.