I've had a few parenting qualms over the past few weeks, including a  confrontation with a crazy "Park Parent," whom I wanted to pluck in the forehead.  So, I thought this would be a perfect opportunity to turn to the experts.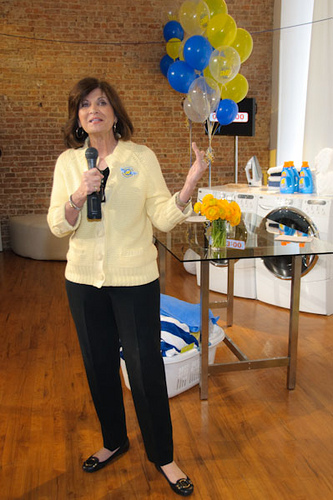 I'm obviously no expert, but as a writer who covers topics related to parenting and as a mom who is genuinely interested on how to get a better grasp on my parenting decisions, I'm quite excited to be interviewing one of my favorite child experts tomorrow.
After learning about Dr. Michele Borba on Twitter and a talk show, I had the chance to meet and mingle with the Today Show contributor, author and speaker, at the All detergent event last week—and she's just as inspiring in person.
After meeting the kid for just a few minutes, Dr. Borba sweetly observed that my two-year old, who was chasing a balloon for most of the day, (like most children) has a fascination with balls and will more than likely have a penchant for sports as he grows older.  I told her that my baseball-loving husband would be excited to hear about her prediction.
No matter how awesome your kid's gear might be, parenting transcends all of our material possessions.  We all might have different views on how to parent, but sometimes it's helpful to hear some practical wisdom from the experts.