Bath time in our house is sweet splendor. Any time the bathroom door is opened, the boy frantically signs and asks, "Bah, bah, bah?" For as much as he loves baths, I might love great bath products even more.

I recently had the chance to try out Tangy Tangerine Bubble Bath by Nature's Baby Organics. Upon pouring the bubble bath into our trusty duck tub, I fell in love. In contrast to the questionable bath products out on the market, Natural Organics is line that was created by a mom who sought a more natural and wholesome alternative to the harsh chemicals. Like most parents, creator Adena Surabian wanted a product that incorporated the best natural ingredients for her babes. Because most of the natural lines that were already on the market didn't meet her needs, Adena created her own.
"From the essential oils to the cleaning agents, every ingredient would be from nature's laboratory-safe, pure, and 100 percent derived from nature. Thus, Nature's Baby was born."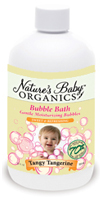 Lucky Jack, he was born into a family with problematic skin. You name it, one of us is probably afflicted by that skin condition. As a tiny tot, Jack started to show the same signs, which is again, the main reason why I try to use natural products. Nature's baby Organics fit the bill.

The bubble bath has a sweet, yet subtle citrus smell. Instead of it being overly fruity, it's refreshing. This bubble bath doesn't glop out like bubble baths you're familiar with; it has a liquid consistency, flowing with all kinds of natural goodness. This isn't the kind of bubble bath that has crazy suds the minute you turn on the water. Jack and I have to get the bubbles going by splashing, but in the end, the bubbles last a long time. The kid can spend hours on end in the tub if he could, but even after a longer bath, Nature's Baby Organics doesn't dry his skin out at all. The bubble bath left him feeling clean and without a soapy residue at the end.

As a big proponent of natural products, I love that this bubble bath touts 70% certified organic ingredients and is paraben free, SLS free, 1-4 Dioxane free, synthetic fragrance free, gluten free & vegan.  To check out their list of ingredients go here.

In light of the recent report about carcinogens lingering in those other bath products, Nature's Baby Organics is a breath of fresh air. I love the fact that it's a family-run company, and one that incorporates natural and many organic ingredients in their bath products. Because of all of these great qualities and more, Nature's Baby Organics has become a staple in our home.

Nature's Baby Organics has generously offered a coupon code as well: when you purchase online, use the code, Mommies to receive a 15% off discount. Even better, Nature's Baby Organics has kindly offered my readers a great giveaway–choose any of 3 of their products.

Want to win it? Here's how:

Visit Nature's Baby Organics and tell me what 3 products you would like to try and why.

For additional entries:

1. Tweet about this giveaway (use the buttons below for easy access)

2. Stumble this post

3. Sign up to receive my updates via email.
Please add a comment for each of your entries. The giveaway ends on April 3 at 12:00 p.m. (fine print:  travel and gift sets are not included in this giveaway.  This giveaway cannot be shipped to P.O Boxes, Hawaii, Puerto Rico or Alaska.)
**This contest is now closed.**