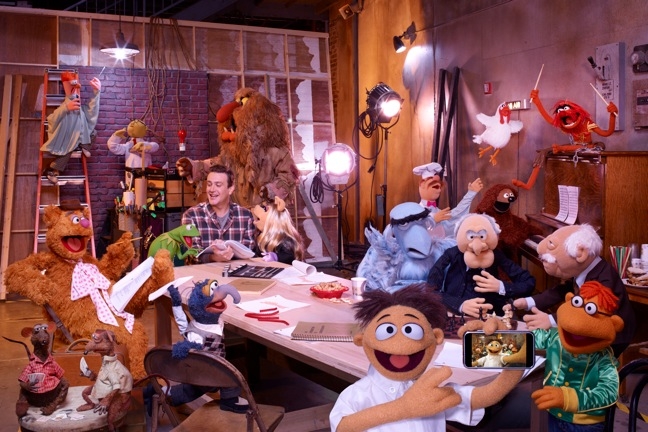 Walt Disney Studios are whetting our appetites with some new Muppets awesomeness.  The studios released this teaser and promotional image for the upcoming Muppets movie, which How I Met Your Mother star, Jason Segel co-wrote and is also the star.
What I love most about this image is the action and emotion that's going on—all at once.  (They're Muppets, I know.)  The teaser image is sort of Da Vinci-like with its storytelling, yet so indicative of the creativity and eclecticism of  the Jim Henson Studios. The guy holding the iPhone is my favorite.
The working title of the new Muppets movie is called, "The Greatest Muppet Movie of All Time."  The way Segal and co-writer, Nick Stoller, made us laugh in Forgetting Sarah Marshall, and with the new Muppets' movie's interesting storyline, plus all of the rumored cameos, will this new Muppets Movie live up to its title?
Here's a cool quote from Stoller that first appeared in an interview elsewhere:
Basically, we're gonna do an old school Muppet movie, where the Muppets have to put on a show to save the studio. It's very simple. A big part of the movie is rounding up all the Muppets from around the world, because they've all been separated. So it's collecting them and bringing them together to put on this big show. It should hearken back to Great Muppet Caper and Muppets Take Manhattan and those kinds of Muppet movies. Jason and I are having a lot of fun writing it. We want to get as many cameos and guest stars as possible. Jason will play a human ventriloquist, and his puppet is alive and wants to be a Muppet.
The Muppets are coming to a theater near you, but unfortunately, we'll have to wait another year..  The beloved Muppets are set to release this new film during the 2011 holiday season.
Credit: Muppetwiki