Kermit and the gang are together again, and this time they're taking Europe by storm in Muppets Most Wanted.  Kermit, the Muppets' effervescent leader, isn't as excited about the world tour as proposed by Ricky Gervais' Dominic Badguy (pronounced Bad-gee).  After much coercing, Kermit reluctantly agrees to the group's urging and lets Dominic lead the way for a European world tour, which is really a coverup for a complex jewel heist.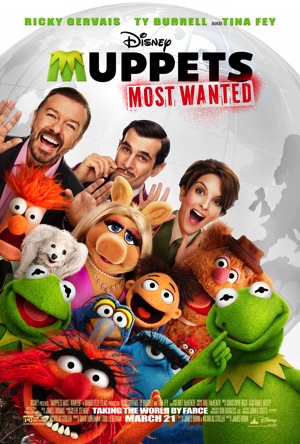 When Kermit goes on a walk, Dominic, together with his boss, Constantine, hatch a plan where a case of mistaken identity lands Kermit in a gulag in Siberia and his criminal look alike as the lead of the muppets.  The rest of the movie follows the complex scheme between Dominic and Constantine around Europe with intermittent sketches of the Muppets.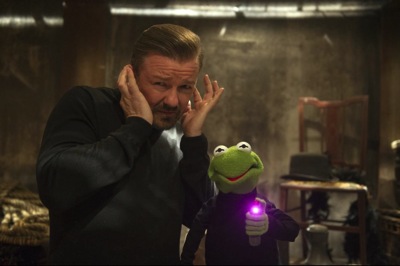 To help investigate the burglaries and jewel heist, Ty Burrell steps in as Interpol and goes head to head with the Eagle.  Jokes are aplenty between these two, as Burrell does a great job as a silly top cop.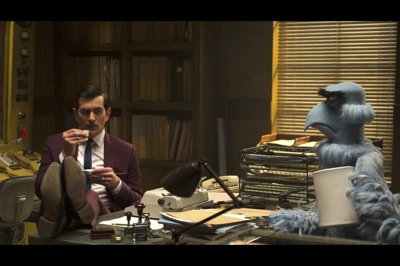 Over at the gulag, Kermit's mistaken identity has him holed up with hard criminals like Ray Liotta and Danny Trejo.  Trejo fit well in this role and was immediately recognized by my six year old: "Hey, it's Machete from Spy Kids!"  It was Tina Fey who commanded the most laughs in her role as the tough warden who has a secretive crush on Kermie.  Fey's first song was my favorite, and was the best attempt at showcasing her true talent.  I could've used much more Tina and whole lot less Ricky Gervais.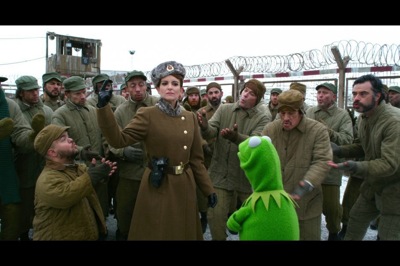 During the world tour, I appreciated all of the star cameos with stars such as Christophe Waltz and Selma Hayek.  Even better, I loved the typical Muppet comedy and gratuitous use of homophones throughout.  Christophe Waltz doing the waltz, Usher was an usher at the wedding…but, unfortunately, I thought Muppets Most Wanted misfired as a children's flick.  The movie, to me, had smart comedy and appealed to the parents who grew up watching the Henson-created variety show of the 70s and 80s.  I found myself leaning over to my six year old more than a dozen times having to explain things and significance of certain jokes—something I'd never expect from a typical kid-friendly flick.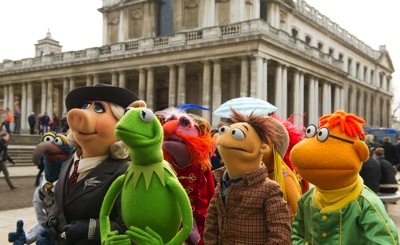 There were quite a few Muppet centric scenes where we both laughed, but not nearly enough.  Overall, it was a fun family movie, but one definitely for older kids.  I'd absolutely watch Muppets Most Wanted again, but after being so smitten with Frozen and a few other children's films, this one didn't quite make the cut for my kid.