It's my boy's birthday today, and I'm happy to report that we enjoyed our mini-party this weekend.  Of course, a birthday party wouldn't be complete without fun gifts, which is why I'm sharing about yet another NKT fave, LeapFrog.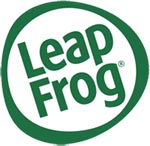 Reading has been a huge, huge part of being 2.  LeapFrog's Tag Jr. has been a staple in our reading routine since we were introduced to it last summer.  Tag Jr., which is geared to 2-5 year olds, has been such a hit for the kid, that for holidays like Easter and Valentine's Day, in lieu of excess candy, I've made sure to gift the kid with Tag Jr. books to bolster our library.
Watching the boy's chubby toddler arms plop the equally chubby Tag Jr. on the graphics of his little books are memories that I'll always embrace.  And the quality time that dad gets to share with the kid while reading with Tag Jr. during the bedtime routine? Irreplaceable.
One of the many fantastic aspects of LeapFrog is that they've done a genius job of developing an array of products that grow with kids, and I envision Tag being a huge part of the preschool phase.  While we haven't officially graduated from Tag Jr., the kid has had a fun time exploring more titles with LeapFrog's Tag Reading System, which is aimed to 4- 8 year olds.  Superheroes are the favorite phase du jour, so, reading about Spiderman with LeapFrog Tag has offered a great new perspective to Spidey's adventures.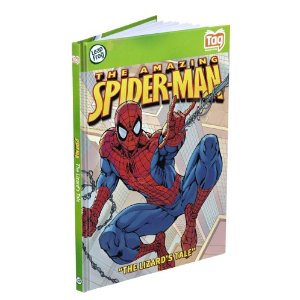 Tag's library is constantly evolving, and titles such as Toy Story 3 is one of the new ones that will no doubt find its way into our home.  Oh yes, and how can I forget staples such Dr. Seuss's Cat in the Hat, which came with our Tag Reader, and for good reason: it's been one book that's read endlessly for bedtime.
Check it
LeapFrog has certainly helped cultivate the joy of reading at a young age in our home, and they're aiming to touch even more lives.  Announced last week, through a partnership with DonorsChoose.org, LeapFrog's new Tag. Give. Read. program is aiming to help more U.S. children embrace the love of reading by donating $100,000 to match donations made to teachers requesting Tag School Reading systems.

To learn more about the Tag. Give. Read. program, logon to LeapFrog.com. All DonorsChoose.org projects that are eligible for the LeapFrog match are searchable by teacher name or geographic area. Once a teacher's goal for Tag School systems is half-met by donors, LeapFrog provides the rest.  Awesome, no?
And Those who don't have money to give can make a difference, by becoming a fan of LeapFrog on Facebook. For each new "like," LeapFrog will give a Tag book to a Kindergarten teacher, up to 25,000 books.  As if we needed another reason to love LeapFrog!
Giveaway
And because we're still in celebration mode over here on NKT, here's another gift for you:  LeapFrog has offered to give one NKT reader a LeapFrog Tag Reading System.
Want a LeapFrog Tag for your kids?  Simply share about LeapFrog's Tag.Give.Read program.  Leverage all social media outlets and share about this fantastic program. Tweet, Share on Facebook, email your friends and family…  Share: give more kids a chance to celebrate the love of reading.
(actual book in giveaway may vary from photo.  This photo was taken at the LeapFrog media preview)
Please comment below for each way that you share.  Multiple entries are encouraged, so please share away.
Interested in another extra entry?  Become an NKT fan on Facebook and/or "like" this post.  Who knows, maybe I'll give away something else very soon.  *cough*tomorrow*cough
This giveaway will end October 11 at midnight. Winners will be chosen via random.org, and will be notified via Facebook fanpage and email.