Like so many of you, we are in total Star Wars mode these days. In honor of the long awaited debut of Star Wars: The Force Awakens, I thought I'd share some of the new Star Wars toys from Hasbro. Back in September, my family was invited to the Global Day of Play where bloggers and other media were invited to play with all of the newly released Star Wars toys. I can't even begin to describe how excited we all were to geek out with these awesome toys.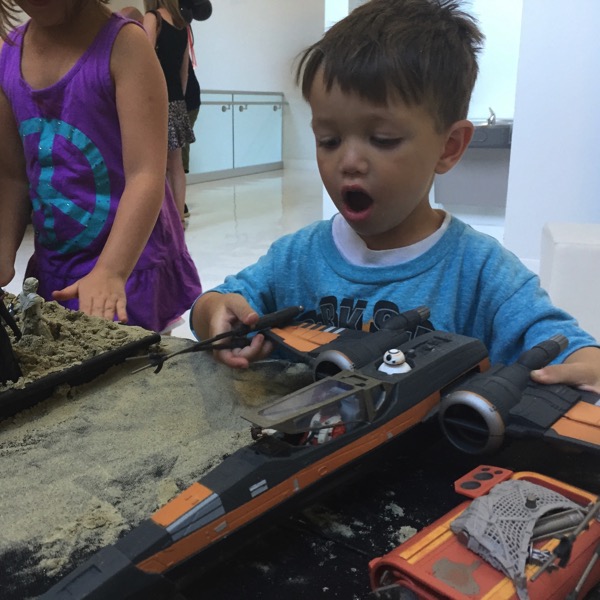 Hasbro has a huge selection of Star Wars-branded toys, ranging from toys for preschoolers in their Playskool line to board games to role playing games to cool items for collectors. Because there's something for Star Wars fans of all ages, my entire family loved being among the first ones to get a look at the Next Kid Things from Hasbro.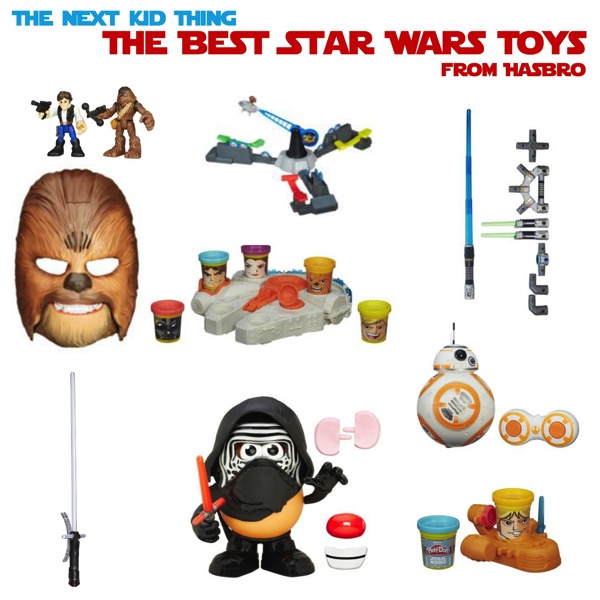 There was so much to see and try out, but our favorites include:
Playskool Heroes Star Wars Series
I love the Playskool Heroes Star Wars Series because of its chunky characters and easy to handle vehicles and accessories. Preschoolers like my little guy love these Star Wars sets because they're more age-appropriate and perfect for open-ended creative play. ($4.99-39.99)
Blade Builders
My older Star Wars fan loved creating his own powerful Lightsaber with the Blade Builders set. By connecting and twisting various different weapons, young Jedis can create their own custom Lightsaber that boasts realistic sounds to be used in battle. ($49.99)
My Play-Doh fanatic can't get enough of the Star Wars themed Can Heads. I love the way the cans become characters and can be included in open play patterns. Little Padawans can mold and sculpt their favorite Star Wars shapes with these fun sets. ($9.99-19.99)
 Kylo Ren Black Series Lightsaber
This super sleek lightsaber is geared to the collectors and die hard fans. It has solid features, light effects, movie sound effects, 3 blades and metal hilt. ($199.99)
Star Wars Mr. Potato Head
What better way to introduce Star Wars to the toddler and preschool set than with the iconic Mr. Potato Head toys. Mr. Potato Head takes on the Dark Side with all the coolest Star Wars accessories. Choose from Frylo Ren, Darth Tater, Spud Trooper and more. ($9.99-19.99) 
BB-8
Ok, so, like everyone else, we want BB-8 for ourselves. Biggie loved maneuvering the RC BB-8 and had a great time navigating the Dark Side obstacle course. This BB-8 boasts movie-accurate sounds and expressive droid sounds, just as one would imagine.
We absolutely loved getting our hands on all of these fun toys. To say we were over the moon with excitement at the Global Day of Play was a total understatement. Check out the highlights from the Star Wars Global Day of Play to see these toys and more in action! Biggie was so giddy to train with a Jedi and Littles, my Play-Doh fanatic, LOVES Can Heads!
 I truly can't pick a fave, the whole day was such a treat. If you're Star Wars fans like we are, I have no doubt that some of these fun goodies are on those wish lists.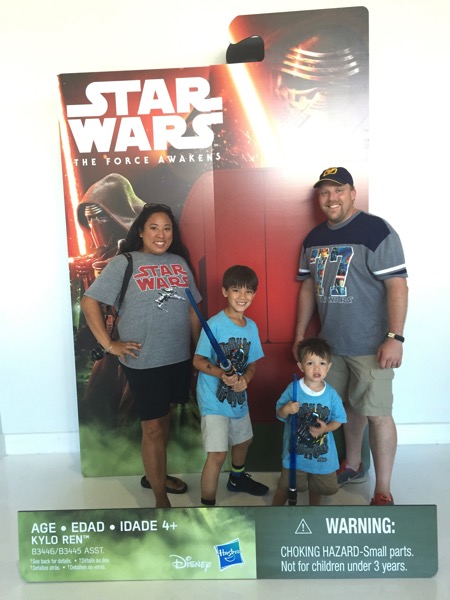 Thank you to Hasbro for hosting us at the Star Wars Global Day of Play.