Lately, coconut oil has been touted as quite the wonder food.  Though it's been around for a long time, it's now making the rounds as a natural beauty aid, as well as a healthier option for cooking with oils.  Beyond that, research on coconut oil has revealed that it works wonders for the brain, something that's gotten my attention considering our ongoing trials and tribulations with pediatric epilepsy.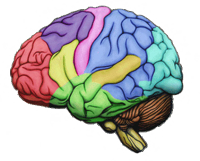 According to Food for the Brain: 
Virgin-pressed coconut oil contains medium-chain triglycerides (MCT) which convert directly into ketones. Recent evidence suggests ketones may lessen symptoms in those with Alzheimer's, as well as children with epilepsy.
Ketones are also made directly from coconut oil (virgin-pressed is best to avoid any hydrogenated fats) which contains medium-chain triglycerides, or MCTs for short. These convert directly in ketones which the body can burn for energy rather than store as fat.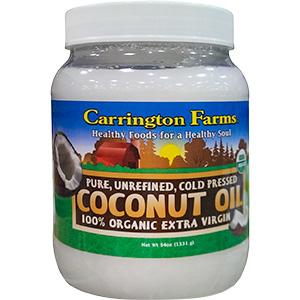 The Wall Street Journal backs the positive effects of coconut oil:  Early research on coconut oil and Alzheimer's disease shows a possible protective effect on neurons. In a study published earlier this year in the Journal of Alzheimer's Disease, Canadian researchers found mouse brain cells treated with coconut oil were somewhat protected from the toxic effects of amyloid proteins, which build up in the brains of Alzheimer's patients.
 Coconut oil and Kids
With all the good news about coconut oil, how can you introduce it into the kids' diets and routines in such a way that works for everyone.  It's pretty simple, actually.  The easiest way to include coconut oil is to just add a teaspoon here and there to foods that you would eat with a spoon.  I've been known to add coconut oil to meals and snacks such as:
oatmeal
cereal
yogurt
ice cream
I picked up a Costco-sized tub of Carrington Farms coconut oil and we've had fun experimenting with meals and other daily uses. Coincidentally, after I bought my own coconut oil, Carrington Farms contacted me to participate in their April campaign.  As such, in addition to sharing how we use coconut oil, I thought I'd share some tried and true recipes that the kids love.
 Kid-Friendly recipes
I especially love adding, or rather, substituting coconut oil in baking. Because it tolerates high temperatures, coconut oil is a great substitute for shortening, butter, margarine, or vegetable oil. Here's a delicious waffle recipe where I've incorporated coconut oil instead of butter.  These waffles are so crisp and delish, I'll never go back to the boxed versions again.
Whole Wheat Waffles
 Recipe source: 100 Days of Real Food
•2 large eggs
•1 ¾ cups milk 
•¼ cup melted coconut oil 
•1 tablespoon honey
•½ teaspoon ground cinnamon
•¼ teaspoon baking soda
•1 ½ cups whole-wheat flour 
•2 teaspoons baking powder
•? teaspoon salt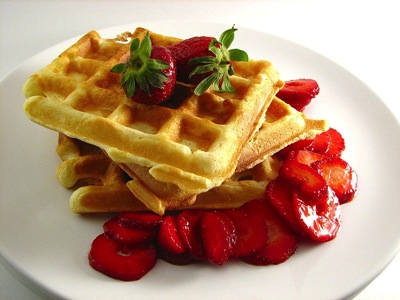 1.Preheat waffle iron.
2. In a mixing bowl, whisk together eggs, milk, oil, honey, cinnamon and baking soda until combined.
3. Add in flour, baking powder and salt and whisk together until lumps disappear.
4.  When waffle iron is hot, put butter or spray and ladle batter onto center of iron.
5. cook until golden and crisp.  
6. Top with syrup and enjoy! 
And finally, here's one more delicious recipe that includes coconut oil:
Banana Bread and Chocolate Chip Muffins
 Adapted from the banana bread recipe as seen in Feeding Your Baby Day by Day by Fiona Wilcock
Ingredients
1/4 cup of melted coconut oil
2 large bananas
2 large eggs
1 tsp vanilla extract
1 cup all-purpose flour
1 cup whole wheat flour
2 tsp baking powder
handful of chocolate chips
 1. Prehead the oven to 375 degrees.  Prepare pan; I made mini muffins
2. Mash bananas until smooth and place in mixing bowl.  Stir in oil, eggs, and vanilla.
3. Sift flours and baking powder, adding back any that stays in sifter.
4 Stir the dry ingredients into the wet mixture and beat together until smooth.  Pour or spoon into prepared pan.  Bake for 30 minutes or until golden.
5. Cool on wire rack and enjoy
Other uses for coconut oil
Aside from adding to food, coconut oil is an amazing natural moisturizer.  We've used it for dry hands, burns, conditioner, diaper cream and one of my faves, as the oil in my DIY wipe solution.