Spring is finally in full bloom, and I couldn't be more excited to see the trees, plants and flowers come back to life.  And hello, meet my new garden that the kid helped me grow, of course!

Along with the changes in scenery, I love that Spring also brings lots of new and interesting toys.  Last week, we were treated with a glimpse of some of the season's latest and greatest at Time To Play's Spring and Summer Showcase, and I love that good ol' fashion outdoor play remains a trend.

A few companies are honing in on kids' ongoing affection for gardening and getting their hands dirty. Afterall, gardening with kids isn't just a great lesson in a plant's lifecycle and nourishment, but it's also a rewarding and engaging experience for parents and kids.  Gardening is a great way to get kids and parents to disconnect, and in the end, it gives them a sense of achievement.
In general, you don't need much to garden, other than some seeds, dirt and gardening tools, but check out these great goodies geared to make gardening even more fun for kids.
Miracle-Gro Kids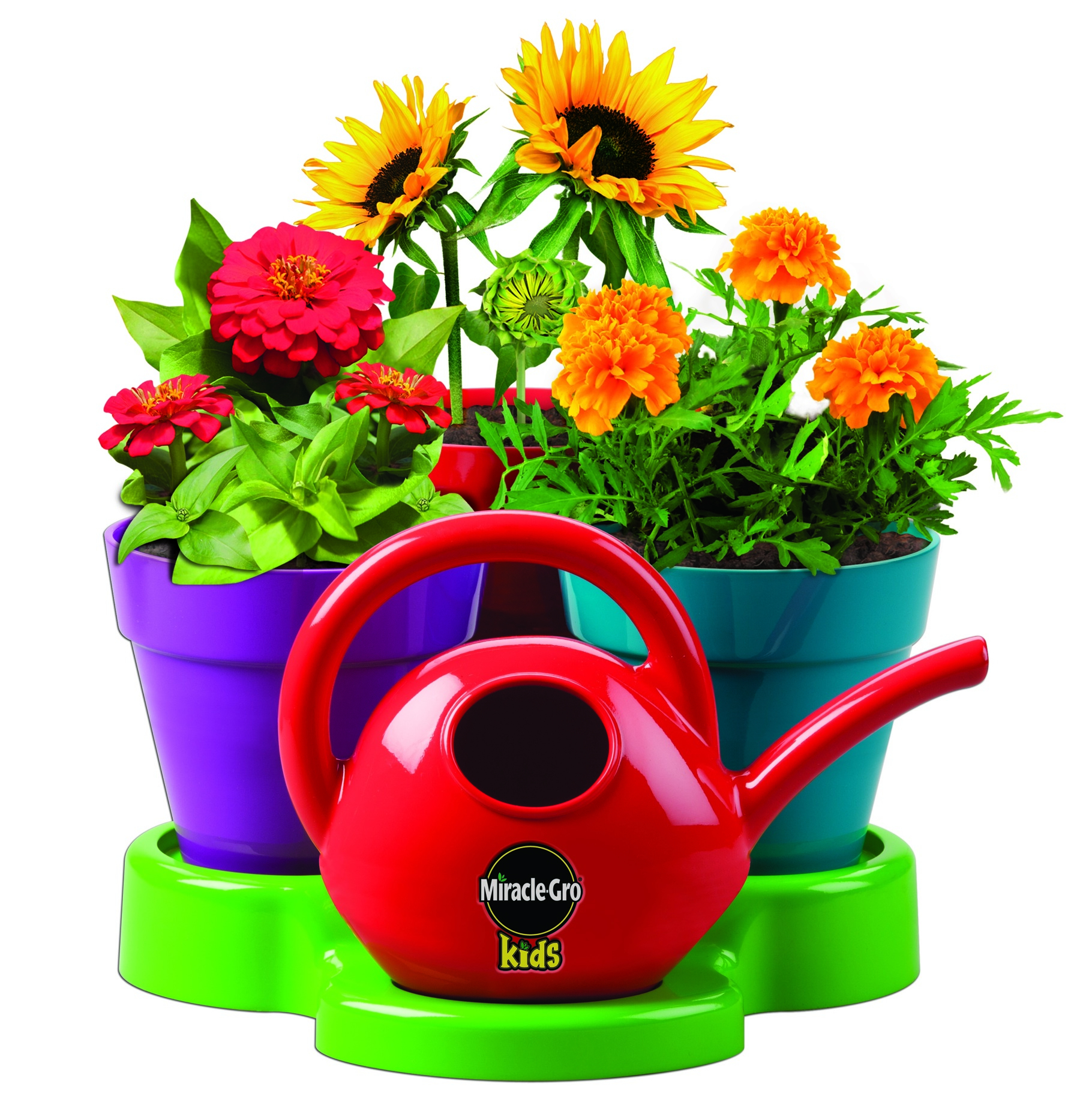 Miracle-Gro Kits from Peachtree Toys is a new line of gardening kits for kids.  With starter kits like the 3-n-1 Gardening Set, Terrarium and the Mini Greenhouse, among others, where kids can grow their own flowers or veggies with the Miracle-Gro Gro Mix.  We're typically organic and old school when it comes to gardening, so I'm a bit apprehensive about the fertilizers involved in Miracle-Gro.  Nevertheless, I do appreciate the nifty kits in this line of gardening sets from Miracle-Gro Kids.
Growums
Growums are one of my favorite gardening kits for kids, yet.  This new line of gardening kits includes six different sets: an Herb Garden, Pizza Garden, Salad Garden, Stir Fry Garden, Taco Garden and Ratatouille Garden that include coco or peat pellets that make these sets a bit more kid-friendly.  Kids add water to the pellets and put them in a shallow dish.  Once the peats are expanded, they add seeds and put the dish in the sun and wait for the seedlings to grow.  And from there, the kids can plant their herbs and veggies in their garden.  But what makes Growums so unique is the online element that engages kids by giving them tips and info from quirky characters like Elvis Parsley. (haha!) I love these sets, and can't wait to see more from the Growums.
Buddy B Children's Gardening Tools
Kid's gardening tools are all over the home improvement stores, but if your kids are going to be doing some serious digging, much like mine does, I can't speak highly enough about Buddy B Children's Gardening Tools.  These tools are scaled down replicas of the "real thing," and they work so much better than the plastic kiddie versions you see everywhere.  We have the hand trowel and kid's shovel and I have to say, I probably use both of these tools as often as the kid himself.  These tools come in handy and they're great quality.
Burpee
Burpee gardening products are staples for many beginning and/or experienced gardener.  The biodegradable seedling cups are great for kids, but I'm also a fan of their great selection of organic seeds and other gardening supplies.  It's my first season gardening on my own, and I've had great luck with the flowers so far and we're crossing fingers on the the vegetables!