Summertime snacks for our family are often synonymous with fresh, ripe fruit and chilled frozen yogurt or ice cream.  Actually, with all this heat we've been enduring this summer, anything cold sounds good right about now!
This post and activity was inspired, in part, by Healthy Child Healthy World's weekly twitter party, and by a recipe I stumbled accross on one of my favorite kiddie cuisine sites, Weelicious.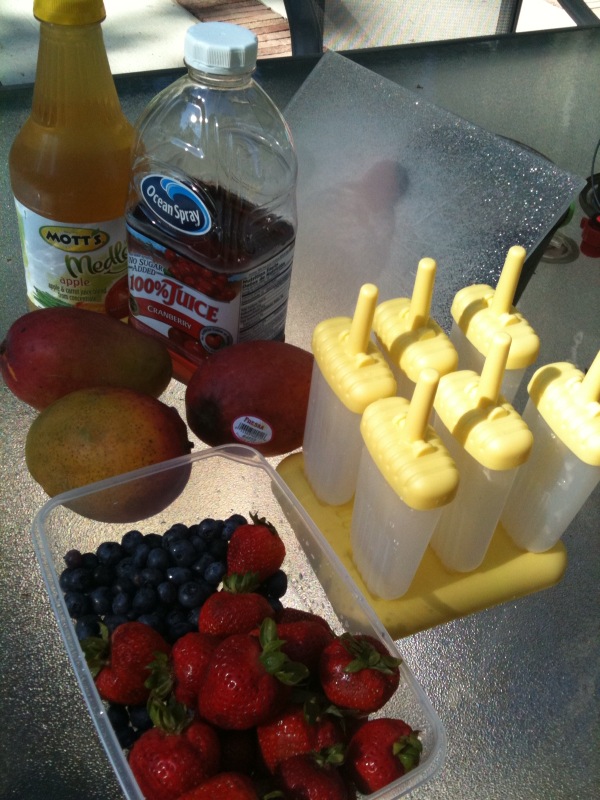 Since we've been staying with family for the past few weeks, with three kids in the house and a Costco down the street, we've been stocking up on all the delicious fresh fruit.  And fruit from Costco…you know what that means.  We had a ton of it!
We had a surplus of strawberries and mangos; meaning, we had more ripened fruit than we knew what to do with!  Cue in Weelicious' yummy recipes!
With all the extra fruit that was on the cusp of getting too ripe, I enlisted the two bigger kids to help me make some fun homemade popsicles!
I used:
1 set of Tovolo Groovy Pop molds, which yield 6 bigger fruit pops
2 ripe mangos, sliced into thirds and then cubed and pureed
1 cup of ripe strawberries, pureed
1/2 cup of blueberries, pureed
1/2 cup of Mott's Medley's juice
I mixed and pureed fruit for each pop, personalizing each flavor for each kid.  Since these fruits had so much of their own fruit juice, I only had to add a few splashes of the juice to help solidify the mixture once frozen.
It was fun to get creative with the kids and let them mix, then help pour each pop.  The making of the pops was a fun outdoor activity, and I'm sure it'd make a great (albeit messy) indoor or rainy day activity too.
The beauty of the Tovolo freezer pop molds is that each container is a good size and actually stays put.  I've used other molds in the past that used questionable plastic and the sticks never stayed in place.  Plus, Tovolo has a bunch of great shapes to choose from.
Looking for more healthy summer snacks?  Check out Healthy Child Healthy World's Twitter Party (tonight at 9-10) and their site for more great ideas!