As we returned home from DisneySMMC a few weeks ago, we were treated to a surprise package from our friends at YouTube.  I love the smirk on Biggie's face as he revealed contents:
It was a signed poster from none other than Stampy Cat! It's not every day that you get snail mail from your favorite YouTube super cat!
If your kid plays Minecraft as much as everyone else's, there's a chance that he or she also knows about StampyCat. In fact, at my house, I swear, my kid watches more StampyCat than he actually plays Minecraft. Don't get me wrong, if my kid is going to be staring at a screen, I'm glad he's watching content that I've approved and encourages imagination. 
If you're not on the up and up about Stampy, then you must know that this YouTube channel stars a cat, and overviews the countless ways that Minecraft can be played. According to The Guardian, Stampy's channel on YouTube has upwards to 5.6 million subscribers and nearly 3.4bn video views. The main audience of this channel are, not surprisingly, children.
The kids are drawn to the funny banter and easy-to-follow gameplay. As if he's a big brother paving the way through the mines, Stampy is the kid's virtual buddy and a bonified pop cultural phenomenon.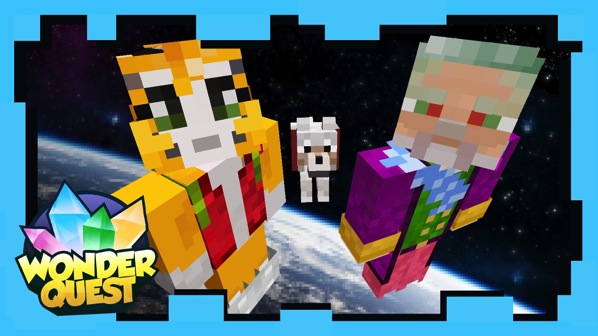 With this wild success comes other great ideas. The creator of Stampy Cat, Joseph Garrett, has launched a new second channel called Wonder Quest. Guardian reported that it's a 12-episode show of the same name that aims to blend education, entertainment and – while still shot within Minecraft – higher production values. Wonder Quest is a partnership with Maker Studios and YouTube is the official distributor.
Tube Filter reported that there will be a supplement animated series to Wonder Quest called I Wonder. The show will feature  Stampy and his friend Wizard Keen further explore the educational topics presented in the flagship series. Both shows will be hosted on the new Wonder Quest channel.

Finally, Garrett's Side Quest series contains eight episodes of Let's Play-style videos where Stampy and his friends play games in maps featured in Wonder Quest. Side Quest will be hosted on Garrett's original Stampylonghead channel, which boasts over 5.6 million subscribers.
After watching an episode or two, I think Stampy is here to stay. I love that this show is scripted and set in the same Minecraft World, and keeps the same funny vibe that kids love. That lovable, fun tone is what keeps the kids engaged, and if that's what it takes to mesh education with screen time seamlessly, I'm all for it.