Even though Toy Fair is winding down on day 4 now, I thought I'd share some thoughts from a few days ago.
By the middle of day 2 of Toy Fair, I was thinking about how many new toys I had just previewed.  Nonetheless, it was a good variety of new toys, some good, others not so much.
I started the day by meeting with Pillow Pets, the makers of the plush pets/pillows.  The brand has a variety of new characters joining their already robust lineup.  They're also introducing an inspirational line with faith-inspired sayings and designs featured.  The highlight of their new offerings, however, are Tricksters, a line of bike helmets with the plush characters on top of the helmet. Stuffed animals meet function and safety.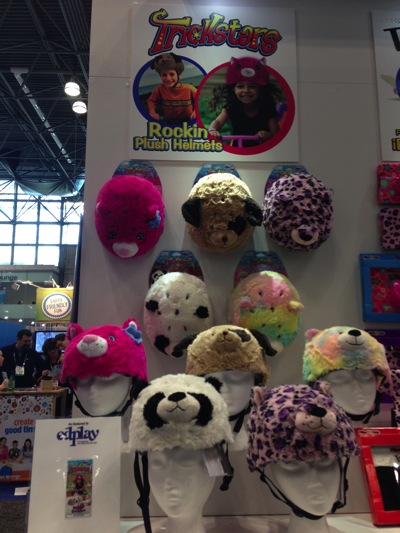 I checked out Moose Toys' latest wares, which included the latest series of Trashies and Ugglys.  Moose Toys, known for their gross factor and great girly crafts, are set to release lifelike electronic pets.  The Little Live Pets look and feel real, without all the fuss. 
The butterfly pets have a cool fluttering feature that seems so tranquil and the birds look so exotic and cool.  
My personal favorite from Moose's new line up are Shopkins, which is being dubbed as Trashies for girls. 
These tiny collectibles are shaped as food items that you'd find at a grocery store.  Emblazoned with cutesy faces with lots of pink throughout the line, this new line of toys from Moose will be a hit with girls looking for that next big collectible.
B. Toys, one of my absolute favorite toy lines has some great beach toys coming out this year.  Ranging in size, the beach toys are grouped into sets featuring gender-neutral pieces. 
Perhaps one of the most eye-catching elements of this line is the jewel-toned color scheme.  I'm always a fan of the musical instruments from B. Toys, and that makes no exception for the beautiful carousel bells.
In my travels, I found several new toys including baby toys constructed from plant materials and silicone and other cool baby accessories.  I discovered Sand Alive, which is one of my favorite play materials, something I think would be ideal for OT and Early Intervention.  I found this sand product in other booths, sometimes referred to as Kinetic Sand. In particular, I'll definitely be checking out where I can get these for my guy now. 
Surprisingly, I haven't found too many Rainbow Loom accessories.  Rainbow Loom, who isn't at the show, but won four Toy of the Year awards.  I did find, however, Loomey Time, which is a company that creates time pieces that are compatible with Rainbow Loom bracelets
VTech was my next appointment of the day.  At this electronic toy maker's meeting room, I had a chance to preview the highlights in their line's new toys.  The Switch and Go Dinos have a new starting point and also a a cool RC car joining this popular lineup.
I checked out Playmobil who had a cool offering up new toys.  Their warrior line is the main focus, with dragons and fairies as awesome focal points, too.
Skylanders showcased a few new characters being released for Swap Force. My favorite?  Springtime Trigger happy which will be available in the next few months.
Hasbro was the highlight of my day because it meant that I got to see Transformers, Super Heroes, Sesame Street, Ponies and much more.  There was so much to see and check out in their showroom, but a few of my favorite highlights were definitely Dohvinci, a new take on Play-Doh, but much more malleable and can be released in a hot glue gun-like device.  The Star Wars toys, too, look to be incredible, as well as the Marvel Mashers which are my absolute favorite thing right now.  Elmo has a new toy, which touts his imagination and use of hats.  My Little Pony has a quite a few new offering such as a DIY pony line and rockstar Equestria Girls.
There was so much fun to see and check out, I'll be sure to share more soon.