We're a week into the new school year, and so far, so good. Since we're all about gear and gadgets that make life easier, I thought I'd share just a few favorite lunch box gear & goodies that have gotten our school year off to a great start!
Genuine Thermos Brand
Probably half of my lunch box gear is Genuine Thermos Brand simply because these products work well and are durable. The Dual Lunch Kit in teal is replacing a branded Thermos lunch box that we've had for a few years. We're loving this lunch kit because the dual compartments make for great space while not over complicating it. The side mesh pouch is perfect for a small water bottle or even a banana. The little pocket with a zipper is great for ice cream money.
The Funtainer Food Jar is another staple in our lunch box. The boys love the licensed characters, especially Star Wars; I personally love the versatility of the food jar. I've packed spaghetti, salad, mac & cheese and oatmeal, but Little's absolute favorite lunch that I pack for him in the food jar are easy chicken fajitas (more like nuggets) with tortillas on the side. I'll have to devote a whole post on different ideas on what to pack in these fun containers.
I used to waste money on juiceboxes, until I came to my senses. Genuine Thermos Brand Funtainer Bottles are a must for kids who have outgrown sippy cups. The ease of washing the straw pieces, lid and stainless Funtainer Bottle make bringing milk/juice/water to school that much easier.
GoGo SqueeZ Yogurtz
We've been longtime fans of GoGo SqueeZ, but after being introduced to their new Yogurtz line earlier this summer, we're officially smitten. These shelf-stable yogurt packs come in three delicious flavors: banana, berry and strawberry. GoGo SqueeZ Applesauces have been some of our go-to travel snacks, so I'm glad we have another option. These convenient yogurt packs are so easy to pop into the lunch box or throw in my bag for after school snacks. And, as if we don't love GoGo SqueeZ enough, it was recently revealed that GoGo SqueeZ was named the official applesauce for Disney World and Disneyland.
GoGo squeeZ is the presenting sponsor of allrunDisney Kids Races, a fun way to engage kids early in healthy activities as part of Disney's race weekends. The brand is also a sponsor of the annual Epcot International Flower & Garden Festival and of all Disney Social Media Moms Celebrations.
Sabra Hummus

Hummus is such a versatile snack, I love including it in the kids' lunch box. Sabra makes it super easy with their single packs. The classic flavor hummus is a great complement for veggies, pitas, pretzels and crackers. Sabra also has individual packs of guacamole, which adds lunch quesadillas and chips.
Nature's Bakery Fig Bars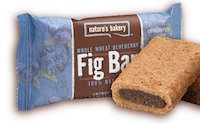 I'm slightly obsessed with Nature's Bakery Fig Bars because of the great ingredients, great taste and better nutritional offerings than similar bars. Nature's Bakery Fig Bars are non-GMO, cholesterol-free, dairy free, kosher, whole wheat, and the now have gluten-free bars. While apple is my personal favorite, we've been known to have a box of blueberry fig bars in our car since we're constantly on the go.
Sneaky Chef No Nut Butter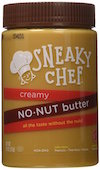 Like many students, my preschooler cannot bring nut products for lunch. Though Sunbutter has been an option, it's nice to have other alternatives onhand. We recently had the chance to taste No Nut Butter from Sneaky Chef. This delicious option is creamy and is made entirely of peas. So, not only is it a great alternative to peanut butter, it also has veggies! While I don't typically hide ingredients, I did find this No Nut Butter a fun way to include veggies in my kids' sandwiches. My little guy love dipping carrot and celery sticks in the No Nut Butter. It's been an overall hit in our house! I'm currently working on a couple of recipes to keep things interesting. I'll be sure to share!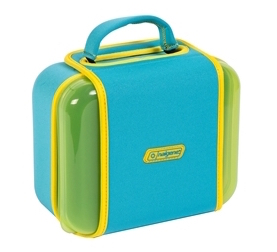 Nalgene Lunch Buddy
Nalgene, the maker of the incredibly durable water bottles, now makes a great lunch box. The Lunch Buddy is a lunch box that has a convenient outer case. I love the Lunch Buddy because I can easily pack my guy's lunch and just strap it together. My 4yo can easily open and close it, which makes it ideal for preschoolers and younger grade schoolers. I love that I can just throw the lunch box into the dishwasher if something leaked. Also, the outer case can be thrown in the washing machine! So cool! Nalgene offers a lifetime warranty on all of their products, so it's great to know that we won't be going through a lunch box every year!
Full disclosure: I received some samples from Genuine Thermos Brand, Sneaky Chef, Nalgene and GoGo SqueeZ to facilitate these reviews and round up. As always, opinions on NKT are my own.