On any given summer day, like many families, we can be found outside running around, riding bikes, playing pirates or whatever the kid's imagination may conjure up.  The occasional injury is all a part of growing up, and with all of this summer fun, bumps, bruises, bug bites and boo boos are often the residual effects.
When I was a kid, if it wasn't my older brother breaking bones, it was clumsy me falling off my bike and getting bloody knees or black eyes.  It wasn't the injury itself that was painful, but the aftercare that subjected the trauma and excruciating pain.  I have no idea if my mom used salt spray laced with battery acid to clean our wounds, but whatever it was, it hurt like crazy.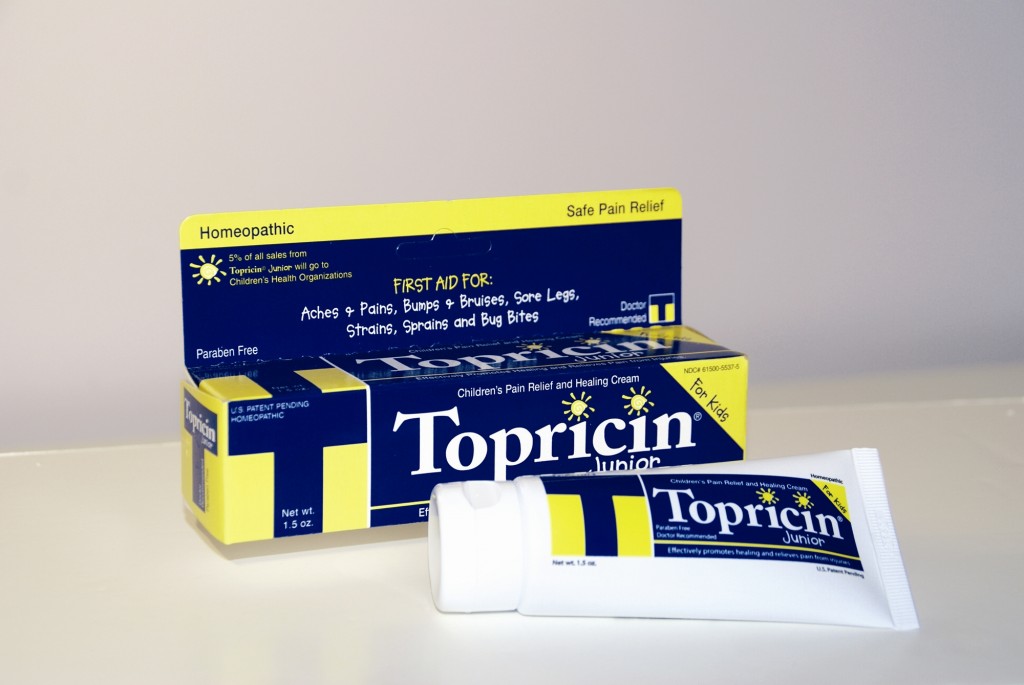 As a family that leans toward more homeopathic remedies, I was so glad to be introduced to Topricin Junior.  A Healthy Child Healthy World parent ambassador and a green mama, in general, I do my best to steer clear of harsh chemicals in the conventional medical aisle. (Tea tree oil is my go-to antiseptic) Even if products are geared to kids, I can't help but question, are they really safe?
Topricin Junior from Topical Biomedics is a pain relief and healing cream that's intended for injuries such as bumps, bruises, bug, bites and burns.  It is said to relieve muscle spasms, leg cramps, sprains and strains—minor injuries that are sustained from horseplay or sports activities.  Aside from the pain relief it provides to the younger set, Topricin Junior seems to do it without the use of harsh chemicals.
Topricin Junior is fragrance and paraben free, contains no mineral oil, lanolin, menthol, petroleum or other chemicals that may be too overpowering for our little daredevils' skin.
And like most preschoolers in that "I Can Do it Myself" phase, my kid, of course, wanted to apply the cream himself.  Because of the safe composition of Topricin Junior, I had no worries about the chemicals, or that it would be harmful if he applied it himself.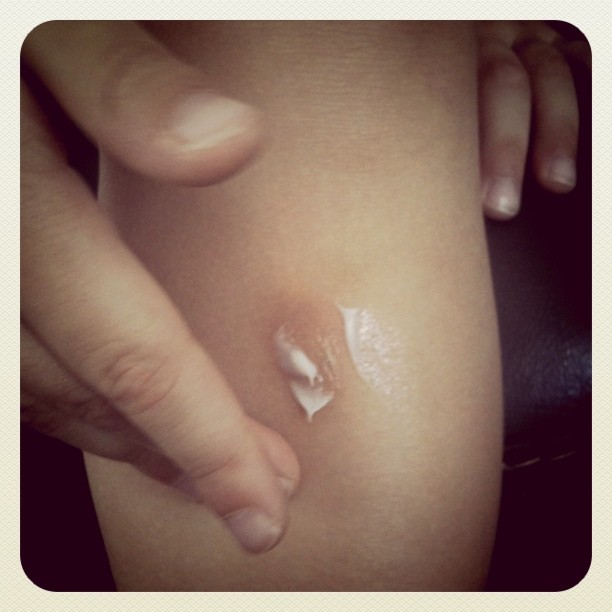 Now, after the spill he took on his scooter the other day, I didn't use the cream on the open wound.  I did, however, use the cream after his wound closed up a bit.  From what he described, the cream wasn't painful when he applied it, and from what I saw, it seemed to do the trick.
I love that Topricin Jr. is fragrance free and doesn't leave stains.  The cream uses some ingredients that are plant and vegetable derived, unlike most products that line the first aid aisles.  Topricin Jr. is easy to use, seemed to help with the healing process and most importantly, doesn't contain all the harsh chemicals that, in my opinion, hurt a little more before and after they actually help.  Not only do I give Topricin Jr. a seal of approval, but so does Healthy Child Healthy World and PTPA.
While nothing can heal as "effectively" than mama's kiss, a safer pain relief cream such as Topricin Jr. is a staple in our medicine cabinet.  Now, if only this cream could curb any unnecessary stunts or spills that make my heart beat out of my chest!
Find it
Topical Biomedics also offers Topricin and Topricin Foot Therapy Cream.  The creams can be found at many health and organic stores, as well as online.  Additionally, Topricin products are now available at Vitamin Shoppe, Vitamin World, Whole Foods, and Wegman's.
Full disclosure: I received product samples to facilitate this review.  As always, all opinions on NKT are my own.