Beloved British baby brand, Mamas & Papas, has officially landed stateside.  Mamas & Pappas, which is synonymous with a simple, yet modern aesthetic, launched a line of strollers, lightweight strollers, travel accessories and toys online and at select Babies 'R' Us and Toys 'R' Us this week.
The lineup of Mamas & Papas products that are now available in the U.S. include:
The Urbo, Sola and Luna-Mix (below) comprise M&P's travel system compatible strollers that are now available in the U.S. Both the Urbo and Sola come with or without bassinets.  The Urbo is more reminiscent of a pram, whereas the Solas has a sleek, modern silhouette.  The Luna-Mix is a three-wheeled stroller that has a compact fold and can be coupled with complementary or contrasting accessories.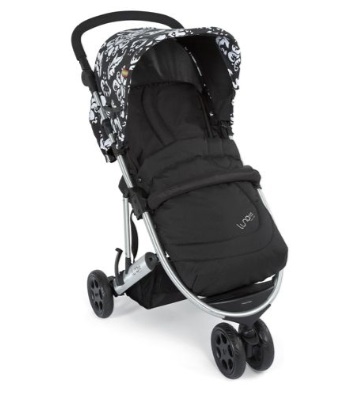 Light weight strollers that offer a convenient carrying strap, perfect for urbanites trekking on public transit, as well as parents who seek a swift option for strolling. Each stroller varies in features ranging from basic to reclining seat to extra cushion for comfort. Trip, Trek, Tour (below), Cruise and Voyage
High chairs that don't compromise style, safety or flexibility, the Loop Highchair boasts a high-lacquer white shine and bright green seat pad accessories and the Go Eat Highchair is a black and white chair that features convenient fold-up capabilities.
Many babies and their parents rely on bouncers for the first few months to soothe and play.  Mamas & Papas offers the Magic Astro (below), Apollo and Ripple bouncers that feature music, toys and plenty of cushion to cradle any sweet babe.  With its MP3 compatibility, the Magic Astro sounds like both gear and a gadget that would've landed a spot on my must-have baby list.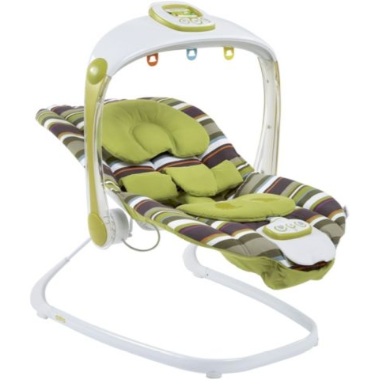 And because babies just can't have enough cool toys when on the go: Mamas & Papas offers Made with…Love Activity Spiral, Travel Charm and The Jumbles Collection, which look like such sweet, fun play things.  These guys would make great shower gifts, carrier and stroller toys.  I'm doting on the Are We There Yet Charm Toy (below.)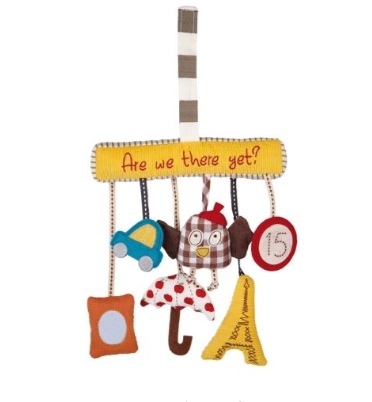 Mamas & Papas product pricing varies by product description ranging from the Urbo stroller at $499 all the way to the travel toys at $9.99.  Mamas & Papas products are available exclusively at select Babies 'R' Us stores.  An expanded selection of Mamas & Papas gear and accessories will also be available at Toys"R"Us Times Square, Babies"R"Us Union Square and FAO Schwartz Fifth Avenue in NYC, as well as online at Babiesrus.com/MamasandPapas.