LeapFrog upped their game with the introduction of a new iPhone app, a learning game called Number Rumble. Number Rumble, the first of several iPhone App learning games that LeapFrog plans to release, is a math game that puts the fun in function by helping players ages 6 to 10 gain a better grasp on math basics.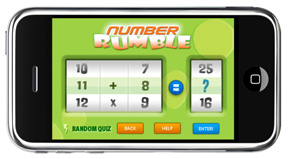 The game, which can be download at the Apple App Store for $2.99, allows kids to practice for quizzes, challenge friends and replay games to sharpen their math skills.

It features three modes of play, including a "Learn It" mode that lets kids choose an operation (addition, subtraction, multiplication or division), spin the number wheels to create a math problem, then tap the equals sign to see and hear the answer; the "Quiz Time" mode in which kids test their skills by spinning the number wheels to create a problem, then shake the iPhone to select an answer; and a "Random Quiz" that lets kids practice all four operations at once, shaking the iPhone to see "fill-in-the-blank"-style questions, such as "12 + 8 = ?" or "? ÷ 9 = 11."

With LeapFrog's Number Rumble, it's like math to-go with an emphasis on fun (like most LeapFrog products) to keep kids engaged. It's definitely not your dad's (or mom's) iPhone anymore! Learning is involved, so who's complaining?