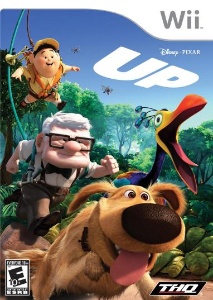 The video game, Up, based on the Disney-Pixar film of the same name, is hitting shelves today. Up, by THQ, follows the adventures of Carl and his young sidekick, Russell, as they embark on a journey through the  jungles of South America. The four main characters of the video game are the same from the movie — Carl, Russell, Dug the dog and Kevin the prehistoric bird. The characters must work together to navigate jungle terrain, combat animals and avoid being captured by a villain and his army of talking dogs.

Rated E for Everyone, the game is available for Wii, DS, Xbox 360, Playstation 2 and 3, PSP, Widows and Mac and retails for $39.99.  Here's the trailer for the video game.
The game has already been taken for a spin by video game reviewers, and it sounds like it'll be a big hit with kids.
I've got kids and they sat still and quiet while I was playing UP, so I know this game will do well with children, it's bright and colorful and cute, all of the things a kids games should be.
said Kristofer Brozio of TestFreaks. For a thorough review, complete with screenshots, be sure to check the Testfreaks.com blog. For more information on the movie, Up, which hits screens on the 29th, head on over to the official site.