Have you had enough of the snow and cold already? I think we're tired of the work and obstacles that snow brings with it, but "sleighing" down our hill certainly doesn't get old. Like most of you, because we can't get outdoors as much on snowy days, we've got a little bit of cabin fever going on.
Being indoors much more than we'd like has meant we've had to adjust our normal routine. I monitor and limit tv and screen time throughout the day, and so, we've found ourselves playing more games, doing more crafts, cooking, reading and just playing whatever comes naturally. Here's are just a few activities, crafts and toys that's been keeping us busy.
LeapFrog Interactive Map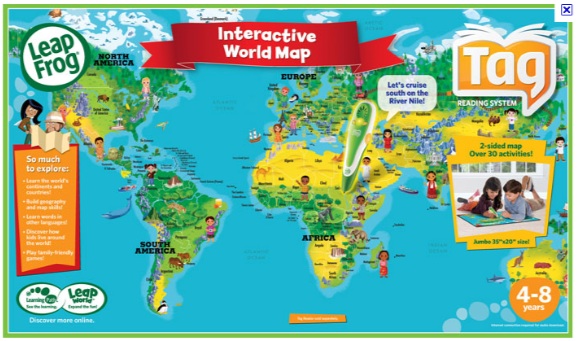 I've said it before, but LeapFrog, to me, is one of the frontrunners in innovative, educational toys. The LeapFrog Tag Interactive Map is no exception. The Interactive Map, paired with a Tag Reader, has been keeping us busy on these snowy days, teaching us cool facts about states we've visited, where our relatives live and helps us visualize where we hope to visit! After locating cool spots on the map, we like to try to put our new geographic knowledge to good use and and find the same locales on our globe ($1 garage sale find.) The Interactive Map is a great way to engage imagination, curiosity while throwing a bit of geography into the mix.
Jigsaw Puzzles
Who doesn't love puzzles? Puzzles are a great activity for kids and parents to interact. It involves logic, teamwork and patience, characteristics that have surely been put to the test with all this cabin fever! Our favorite jigsaw puzzle right now is this Super Why Hidden Word puzzle. This puzzle is a fun way to enjoy one of our favorite shows and their characters, and not having to stare a screen to do so! The Why Finder (magnifying glass) to help locate hidden words is a very fun added element that gives even more engagement after the last piece of the puzzle is put into place.
Crayola Color Wonder
Crafts, especially drawing, has been one of the best ways to pass time these days. The kid loves markers; my new area carpet and furniture does not. Our compromise is Crayola's Color Wonder markers and paints. If you're not familiar with the awesomeness that is Color Wonder, the geniuses at Crayola have created a line of products that only color on special paper. The markers, paintbrushes and paints only show up on the Color Wonder paper, which means no mess all over your stylish white couch. Santa was so kind to bring the boy Toy Story and other Disney themed Color Wonder coloring books. I will probably never buy another kind of marker again–we love these things so much! No mess=happy family!
WonderForge What's in the Hat Game
Here we go-go-go! Do you guys watch Cat in the Hat on PBS? We sure do! So, when WonderForge told us about their new Cat in the Hat games, we were all about them. The What in the Hat game, though, is THE funniest game to play with preschoolers, espcially the ones who don't know how to keep secrets. It's a simple guessing game that involves hiding everyday items within the Cat's hat, but it never fails, we get big laughs from this game!
What are your favorite snowy/indoor activities?
Full disclosure: Select samples were provided for editorial review. As always, opinions on NKT are my own.