According to NRF's Gift Card Spending Survey conducted by Prosper Insights & Analytics, holiday shoppers were projected to spend an average of $163.16 on gift cards, up 4.0 percent from spent last year. Total spending on gift cards was said to reach $29.8 billion.  That's a lot of gift cards!
Did you or the kids get gift cards for Christmas? Got a bunch of Christmas gift cards burning a hole in your pocket?  We rounded up a collection of great tech gadgets to buy with all of those gift cards.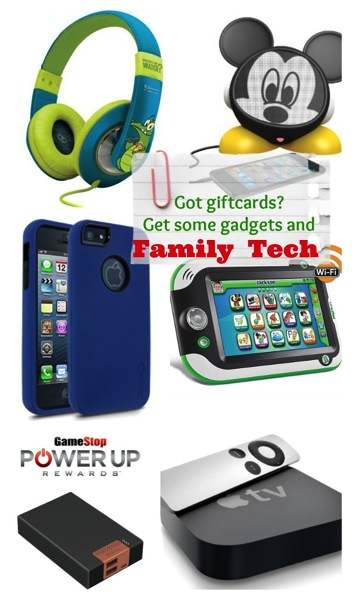 With all the new technology for kids, peripherals are something that I often forget.  While I'm not big on the kids isolating themselves with tech, I love the conveniences gadgets can provide.  When the tot is in his therapy sessions, my older son can read ebooks or play games quietly with his headphones on.  Our most favorite headphones, by far, are the Over the Ear Headphones from eKids.  They come in a variety of popular characters and licenses, including Skylanders, Disney and more.  These headphones might be kid-centric, but they're just as comfortable for adults as well.  The size can be easily adjusted and the cord features a long length and accessible volume control.
Need a way to listen to tunes you just downloaded onto the kids' iPods and other devices?  eKids also has a fun selection of portable speakers.  These wired speakers connect to devices with an audio output cable.  The sound is great and the size is convenient for dance parties on the go.
Get a new cell phone for Christmas?  Cases are one of those accessories that we always forget to buy.  I'm always on the hunt for protective, sleek, yet stylish cases.  Cellairis has an expansive collection of stylish cases, but we found the Cellairis Rapture case to be stylish AND functional.  It's sleek and trim, yet showcases apple logo, something that I personally love.  Best of all?  It's affordable and unique.
As far as kid technology goes, it was like the year of the tablet in my circle of friends.  For many, the big ticket gifts were tablets or similar devices.  LeapFrog's Leappad was a big contender in this category, offering a kid-friendly, educational platform for the tablet realm.  LeapFrog's latest version of the LeapPad boasts a library of more than 800 educational games, creativity apps, eBooks, videos, music and beyond.  The Ultra has an incredible hi-res screen, paired with a stylus for kids to navigate their interactive experience.  In addition to the kid-tough exterior, the Ultra features power on the interior such as its rechargeable battery, 8 GB of storage and a safe web content via LeapSearch.  My six year old's favorite are the cameras, which he can use the front and back to take still photos or record videos and manipulate when he's done.  The LeapPad is available at major retailers such as Toys R Us.  We'll be stocking up on games and other LeapPad peripherals with our Toys R Us gift cards.
If your family is anything like ours, then it's likely you have a bundle of devices that require charging.  Since everyone is constantly on the go, power outlets aren't always accessible, which makes a portable battery a necessity.  Duracell Powermat is known for excellent power and charging options.  The Longhaul Charger, though, is definitely a top notch gadget for recharging multiple devices while on the go.  The Longhaul Charger provides up to four charges for multiple devices, which is suitable enough for a weekend away.  We found ourselves using this charger all throughout our Christmas break, which made charging our two iPhones and tablets everywhere we went so convenient.  It's portable, convenient for families with its two USB ports and works with other Powermat charging devices.  Because of its capability to charge multiple devices, the Longhaul Charger does take a while to charge, but once charged, it's a lifesaver.
Game Stop now offers new gaming consoles and, of course, offers the latest games.  Want even more funds to defer costs of new electronics and games?  Consider trading old video games, consoles, smartphones, tablets for store credit or cash at GameStop. I will personally be hitting up GameStop to trade in several old and duplicate games to grab some fitness games to help me get back in shape.  If you are a frequent shopper at GameStop, be sure to check out the PowerUp Rewards program where you can earn points for every dollar spent on purchases or trades. With those accrued points, you can buy collectibles, gaming accessories, more games, merchandise and more.  Choose between a basic or the $14.99 the pro membership, which comes with a year subscription and extra discounts.
Though we already own a smart tv and Google TV, getting an Apple TV seemed frivolous at best.  The Apple TV isn't a new concept or have any new technology, it's just cool to have.  It's a fun luxury that makes gives Apple devices and tv a new dimension.  Nonetheless, our Apple TV was my husband big Christmas gift and it's safe to say, we're all in love with this gadget.  Apple TV streamlines our media, including our iPhones, iPad and my Macbook. I absolutely love the fact that you can mirror your devices onto your tv with the Apple TV, but to be able to stream shows and movies from apps makes the Apple TV that much more convenient.  At just under $100, so far, the Apple TV has been our most used and surprisingly best tech gift this year.
Full disclosure: some product samples were provided to facilitate this review.