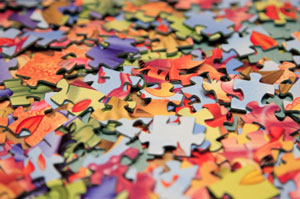 In case you weren't aware, today is National Puzzle Day.  (I wasn't aware at all, but now I am.)  With that in mind, I'm reminded by how many really great puzzle sets that are out there.  Did any of you play with puzzles growing up?  I know we did.  I remember playing with whatever character du jour and putting it all together piece-by-piece, and feeling so accomplished when I finally laid the finally piece.
My mother-in-law, in fact, has done a great job of keeping many of my husband and his siblings' old puzzles.  So, when the grandkids get together, all of whom range in age 17 to 2 years old, it's fun to see them play with these puzzles together.
National Puzzle Day is said to encourage family togetherness, as well as encourage the skills that are involved in putting together puzzles:  reasoning, concentration and teamwork, among others.