A couple of weeks ago, Biggie and I had a much-needed mom and J day.  But it wasn't just a regular day out, it was a day well spent getting our hands on some of the best gear for tweens.
Though J is a few years away from the official tween stage, we were in great company at the Kidz Vuz Holiday Party.  In case you're not familiar, Kidz Vuz is a safe online hub where tweens gather to dish and disseminate their thoughts on any and everything, including the latest gadgets and gear.
The Kidz Vuz Holiday Party, held at Gary's Loft just footsteps away from the hustle and bustle of Herald's Square, was abuzz with a slew of tween-appropriate goodies.  From tablets to gaming consoles to books to broadway, The Kidz Vuz House Holiday Party had everyone covered.
Here are some highlights of the wonderful day we had at the House Party of the season:
Samsung
Samsung was front and center showcasing their Galaxy Tab 3 Kids 7.0.  Just as the name suggests, this 7 inch tablet is geared to kids and packs a punch in a colorful little package.  Heavy on the parental controls, this wi-fi enabled tablet allows kids a safer, yet simple interface.  There's also a standard mode so parents can use the tablet as a fully functioning tablet.
I didn't get that much time with this cool device, but I was quite impressed with this kid-friendly tablet.  My only reluctance about this device is the yellow and orange, which, for us, wouldn't be as appealing in a year.  At just six years old, my older son is already turned off by electronics or "babyish" devices.  We'll group him into the spoiled Apple generation.
Nintendo
We didn't spend much time at the Nintendo Lounge, but it was quite the hotbed for the tweens and teens, which meant the target audience was satisfied.  We did, however, have a chance to check out a few of the Nintendo DS games, which were fun.  Unfortunately, we're not a big DS family since we mostly co-play on our XBox and PS3 and J prefers the iPad to a DS.  Nevertheless, I always enjoy Nintendo's expansive offerings on their various platforms.
Spinmaster
J spent almost the entire afternoon at Spinmaster's nook.  He was immediately drawn to the Tenkai Knights building sets.  Along with several other dudes, J built creation after creation until he could build no more. 

We are longtime Spinmaster fans, so we have been testing out the other toys they had on display.  I loved seeing how my favorites, Kawaii Krush and Zoomer, were well-loved.  Tenkai Knights have firm placement on our Christmas list.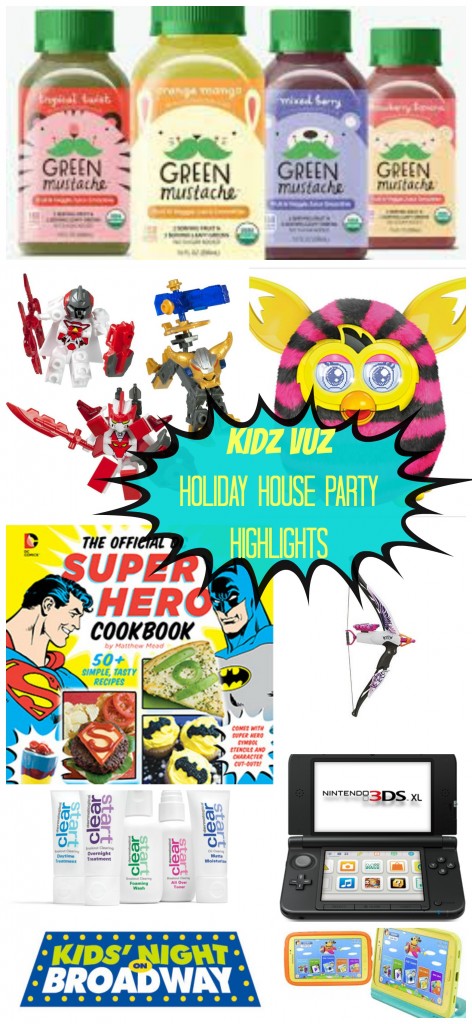 Hasbro
Hasbro, another longtime favorite of ours, had several fun toys for the kids to explore.  The most popular of the Hasbro corner, though, was definitely the Rebelle shooting range. This fun extension of Nerf includes the Heartbreaker, Guardian, Sweet Revenge and Pink Cross.

À la Katniss from Hunger Games, the Rebelle Heartbreaker underscores the popularity of archery, especially for our fearless females.  Make no mistake though, plenty of boys were giving the gear a spin for themselves.
The Furby Boom, which is looking like a hot item this holiday season, was also a featured product from Hasbro.  This new take on the quirky character is interactive via an app, is responsive and loves to dance.  This latest iteration of Furby is much more vibrant (if that's even possible) and has more flair than ever.
This fun children's publishing company had a selection of superhero books that made quite an impression on us.  With board books featuring DC Superheroes, such as: DC Superheroes, ABC 123 and My First Batman Book, this publisher has numerous titles that would make our littlest superhero fan stand proud.

But it was The Official DC Super Hero Cookbook that kept my biggest superhero fan completely engaged. I love that this book combines two of our loves: superheroes and cooking.  The Downtown Bookworks table let the kids decorate their own superhero cookies with a stencil.  J made his own Flash cookie, which we devoured on the bus on the way home. By the way? This Wonder Woman apron was EVERYTHING!
One of my favorites of the day was Green Mustache Smoothies.  Created by a mom of a picky kid, these smoothies are made with a full serving of greens and fruits.  It's non-GMO, organic and tastes amazing.  My younger guy is showing picky tendencies or textural issues, but he absolutely LOVED these smoothies.

We normally buy another brand of smoothies, but after tasting these, we are sold.  In fact, I'm headed out today to pick up a few flavors at our closest store, which is 20 miles away.  I will be dropping off an info sheet at my local organic store, in hopes they pick this product up.
Chloe's Fruit
Chloe's Fruit was another delicious treat, this time featuring frozen fruit.  With quite a few flavors to choose from, I can see myself choosing this delicious treat over Tasti d-lite anyway.
The Lamp NYC
The Lamp NYC is an organization described by NYCcharities.org as an organization that educates and equips people to shape the media landscape through hands-on training.  The Lamp NYC teaches young, impressionable minds about news, reporting, commercials, digital media and more.  The purpose of this charity is to immerse kids head-on with the different types of media that shapes our ever-evolving informational landscape.  I love the purpose and meaning of this charity, and it's one that I hope to get my kids involved in, when the time is right.
Kids' Night on Broadway takes place on Feb. 24- March 2.  For this program, kids 6-18 see a Broadway show for free with a full-paying adult.  Tickets go on sale on January 8th for this fabulous experience that gives kids a taste of culture as well as a peek behind the scenes during a fan festival.  This is definitely something I'm hoping we can take part in, so I'll be penciling in the dates now!
Stonefire Flatbreads
Lunch was catered in part by Stonefire Flatbreads.  J and I ate some delicious sandwiches made with these amazing breads.  These are the fluffiest flatbreads and pitas I'd ever tasted.  Seriously, so fluffy and filling!  A big thanks to Stonefire for introducing me to a new family staple.
Homewood Suites
One of our absolute favorite places to stay when we're on the road is most definitely Homewood Suites.  In fact, during Hurricane Sandy last year, we had a family member who was staying at a local Homewood Suites and we had the opportunity to stay there for a week.  We had the chance to experience the great complimentary weekday meals, fabulous indoor pool and impeccable service.  Whether traveling for business or with family on vacation, we personally seek out the comfort and convenience of establishments such as Homewood Suites.
Dermalogica
I had the opportunity to get my face mapped while at the Kidz Vuz House Party.  The well-versed aesthetician told me things about my skin that I had no idea about, such as I could still have acne prone skin and it still be dehydrated.  I also learned a bit about the Dermalogica's teen line, which is more concentrated for problem skin that is often brought about during those hormonal teenage years.
Justin Case
Kidz Vuz had a lovely raffle going towards Lamp, which I was more than happy to make a contribution.  As luck would have it, I won a fabulous Justin Case Rechargeable Power Case from Innovative Technologies, which is a back up battery and iPad case all in one.  I read all about it on NYTimes.com, so I'm quite excited about this win!
A big thank you and congrats to my friends Rebecca and Nancy of Kidz Vuz.  I attend a lot of events throughout the year, and this was, by far, one of the most well-organized and informative events where my kid and I both came away with a lot of great information and fun goodies to boot.
Full disclosure:  I was not compensated, although I did receive a generous swag bag from the event.  As always, all opinions on NKT are my own.