6 Nov
Thank you everyone so much for participating in the My Awesome Giveaway! From the reception of the contest, it's quite evident that NYC Yo Gabba Gabba fans are no joke!

Congratulations to Jill Walenga! Watch your email for details! Congrats and enjoy! [As with all contests, the winner has 48 hrs to email me back. If I don't hear from them after that, I will pick a new winner.]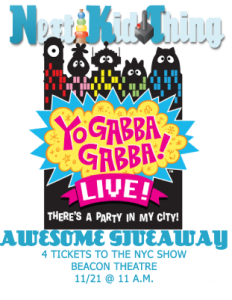 I wish I had more tickets to give away, but alas, there can only be one winner. Thank you again everyone for participating in such a fun giveaway.

For those still interested in scoring tickets, I just noticed that one of my good friends, Carol of NYCityMama is holding her own giveaway for YGG tickets to the 5pm show on 11/21. Her contest ends today and has different rules and regulations, so please make sure to read them before entering…and tell her Jen from NKT sent ya!

Thanks again everyone!