If I had a quarter for every game I played at the arcade with my brothers and friends at our beloved Aladdin's Castle, I could most certainly be a wealthy world leader by now. Instead, I'm more than happy to write about the new movie, Pixels, where a group of guys (including the fictitious leader of the free world) relive their childhoods and join forces with the government to conquer aliens and secure hero status for gamers everywhere.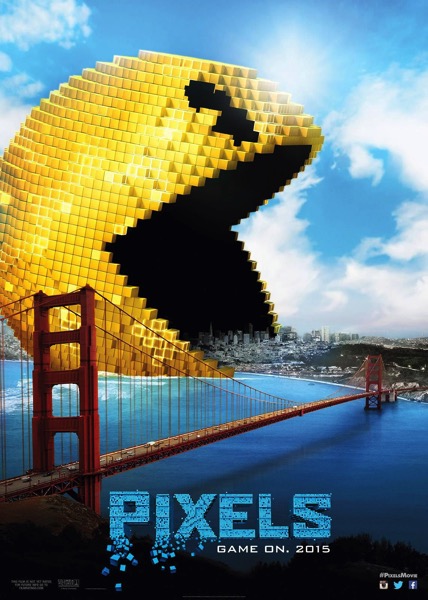 Having grown up with video games at our fingertips, the latest buddy comedy, Pixels, is a hilarious nod to the classic arcade so as this genre of entertainment has evolved from our childhoods. In the film, Sam Brenner (Adam Sandler,) Will Cooper (Kevin James,) Ludlow Lamonsoff (Josh Gad,) and Eddie "The Fire Blaster" Plant (Peter Dinklage) are kid video game phenoms who battle it out in the 80s. Fast forward to real time, Will Cooper is the President and his best friend, Sam, is an electronics installer who partner together to figure out how to save the world with their video game skills. Lamonsoff, a theory conspirist, and The Fire Blaster round out the gaming gurus with their over-the-top characters who exudes ridiculousness throughout Pixels. Michelle Monahan's Lt. Violet Van Patten is fierce as the female lead who keeps the guys in check, especially Sandler's Sam Brenner.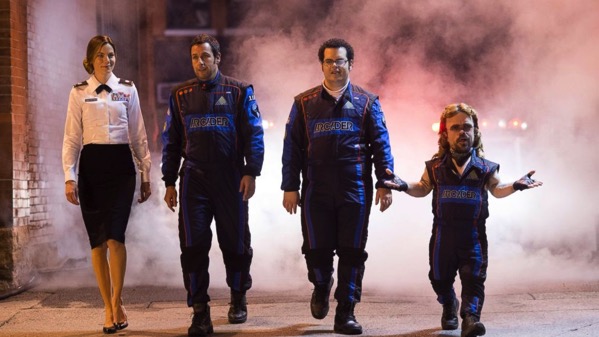 When the aliens feel threatened and proposition Earth to several "real-life" video game duels, Sam and company must join forces to save the world with their gaming skills. The movie's premise is as hilarious as it sounds, and truly lived up to the same Sandler-esque comedy our generation knows and loves. Like most of Sandler's films, this one had its fair share of significant one-liners that kids of the 80s can appreciate.
As expected, Pixels is a riot, filled with gratuitous video game references, action and nostalgia, ideal for this generation's parents who were arcade enthusiasts. Older kids would get a kick out of Pixels, but if they're not up to their 80s pop culture, expect to whisper explanations throughout the film.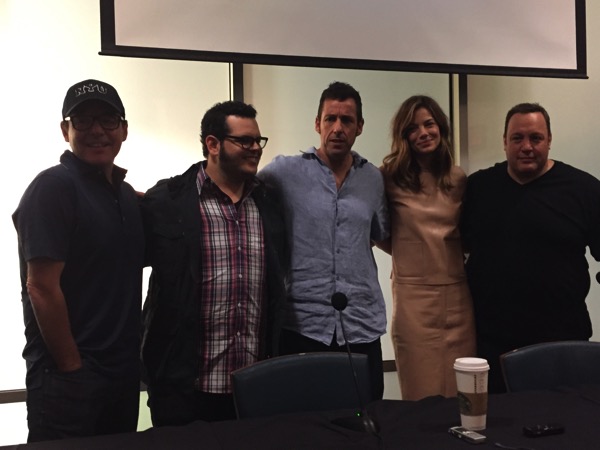 Last week, I had the chance to sit in on the blogger junket with the esteemed director, Chris Columbus, Adam Sandler, Josh Gad, Michelle Monahan and Kevin James. The ensemble was "on" and kept us on our toes and fed into the kid interviewers in the crowd.
Sandler made us chuckle with his experience and thoughts of the way we grew up playing at the arcade. In fact, the arcade he went to as a kid was really called the Electric Game Factory, just like in the movie. We learned that Michelle enjoyed exuding girl power as her turn as Lt. Van Patten. Josh Gad's ability to charm the room was no surprise. And, quite frankly, it was an honor to listen to Chris Columbus speak, considering many of us have grown up with his artistry on the screen.
But it was Kevin James, who is typically, the awkward secondary character who kept his cool during our interview…until I asked my fellow Mets fan what he'd do if he was really president to ensure the Mets made it to the World Series.
Without hesitation, the funny guy says, he'd institute mandatory siesta every day.  Considering the upswing that the Mets are on right now and my personal appreciation for siestas, I'm totally down with that!