Influenced by hip hop legend Fab 5 Freddy, I thought I'd jumpstart a weekly feature list: Friday Fab 5. As a product blogger, I often acquire really great samples and don't get to post about them until way later.
With Friday Fab 5, I thought I could photograph a group of finds that we're using and currently enjoying, whether we bought them or were provided as a sample. I plan to include kid and family-centric products, and maybe a few products that I enjoy for myself.  As always, I will include the info about the find and whether we bought or received as a sample.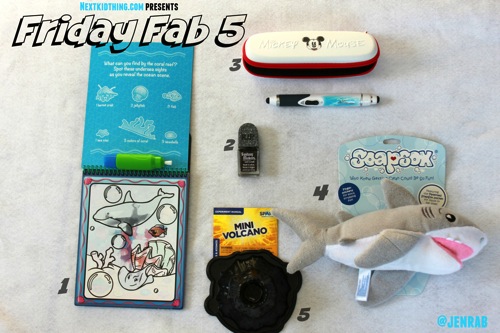 1. Melissa and Doug Water Wow
My husband often brings home random samples from his office. One morning this week, he left this activity book on the couch. Littles found the book and begged for me to open it. Upon first investigation, admittedly, I was annoyed that this used water, because toddlers + water typically equals wet mess. Melissa and Doug proved me wrong this time around. The Water Wow uses a chubby water filled paintbrush to "color" thick cardboard pages. After filling the refillable paintbrush, the child can easily swipe the brush on the dry white pages to reveal a pre-determined colorful picture. After coloring all four pages of animal-themed images, my guy was excited that he could do it all by himself. Unfortunately, he was quickly frustrated that he'd have to wait for the pages to dry to color the in the book all over again. I love the size of the Water Wow book because it's perfect for small hands and easy to throw in a bag for travel.  However, I'd love to see a few more pages, or perhaps, even a bigger book to engage kids even longer. The water color concept isn't anything new, but I have to say, this mess-less water color play pattern is ingenious!
Melissa and Doug Water Wow can be found at Michael's and Amazon. 
2. Wet 'n Wild Fantasy Makers
I honestly haven't used (or seen) Wet 'n Wild since my jr. high days. And clearly, I'm not your most knowledgeable beauty source; however, I love this fun polish. I believe I received this Wet 'n Wild Fantasy Makers in a Halloween sample pack from an event. I was in need of a quick polish change and remembered I had this. The polish was light and easy, and quick to dry. Surpringly, it stayed on for almost a week! Loved this black color with fun sparkles.
3. Disney Creative Studio Deluxe Stylus
As major Disney fans, we're always onboard for reviewing Disney-themed gadgets. I'll do a thorough review soon, but the boys are both loving the capabilities of this the Disney Creative Studio Deluxe Stylus. They're able to draw and color via the Disney Creative Studio platform. And truly, I can always get behind a product that entertains both kids and promotes imagination.
4. SoapSox
SoapSox is another product that I received to review. It's been sitting on my desk for months, and I just haven't had the chance to unpack it to share with the kids…until last night. I gave each kid one SoapSox to play with and it was an absolute hit during bath time. The shark was a true hit with my Sharknado-obsessed kids. You can load the soap through the designated soap pocket and then play with the bath-friendly stuffed animal. I love how functional and fun SoapSox is during bathtime. Best part of this bath toy, after using it, you can pop it in the washing machine! 
5. Thames & Kosmos Mini Volcano
Science projects are always a big hit in my house of geeky boys, but projects that blow up and make messes are always favorites. I received this small kit in a Toy Fair gift bag from a visit to the Southard showroom, and let me tell you, it kept my guys entertained for hours. Baking soda and vinegar volcanoes are a staple for creating erupting volcanoes, but this project took it up a notch with a little plastic volcano and some red dye.  Let's just say I was not a fan of the red dye, but we will be using this mini volcano and goggles over and over again. The goggles might be my favorite part!