It's that time of year when Target has fun sales with the holidays in mind. For today only, 12/3, Target giftcards are an extra 10% off!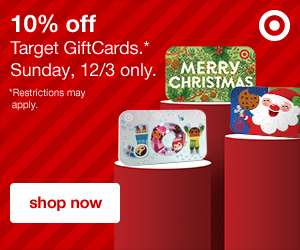 As we all know, teachers, aides, bus drivers and everyone beyond seem to like gift cards vs. random tchotchkes. While a personalized note of gratitude ranks up there, I've learned from my many teacher friends and relatives that gift cards are the best gifts. 
And, thanks to Target, they have a little discount that comes in handy when you're buying giftcards in bulk. The gift cards are varied in design and increments starting at $10. The discount applies to the gift cards in store and online, but I personally like ordering them online. I save money by ordering online and not buying $189 worth of stuff in the store that I didn't know that I needed!
Free Target Giftcard Printables
I love Target beyond measure, so I'm all about sharing this love! Because of that, I created a free printable for the Target Giftcards!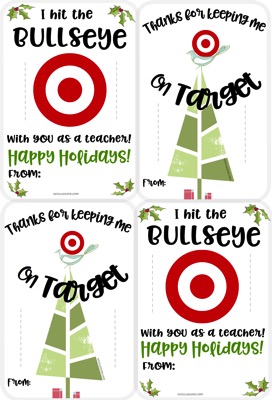 I made them four to a page so you can print them up for all the people in your life!
After printing out the printable on your desired paper (card stock worked well for me), cut out the cards on the gray lines. Take an Xacto knife or scissors and cut slits on the dotted lines to slide the giftcard through. I slid the card under the card so that the ends are sticking out. You can dress it up with a cute ribbon or some baking twine. Please note that some cards may be larger than the slit, so be sure to measure to avoid over cutting. In case you do over cut the slits or want to secure the card, be sure to tape the giftcard on the back of the printable.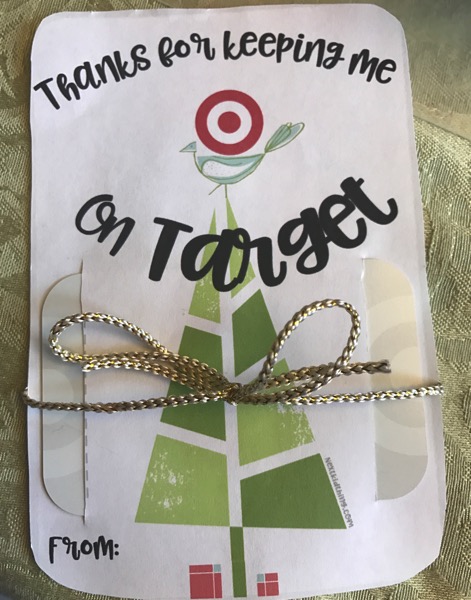 You can download the free Target Giftcard Printable here.
Enjoy and Happy Shopping!
Full disclosure: this post includes affiliate links. Affiliates and sponsored content help pay the bills, so thank you for your continued support.