I was hosted by Momentum Films for the Fun Mom Dinner press junket.
In Momentum Film's Fun Mom Dinner, a normal night out with mom friends is challenged when fun is redefined. Navigating motherhood with school-aged children is no easy feat. In fact, the movie industry has created a funny dialogue about modern parenting and the comedy that ensues when moms take on life with kids.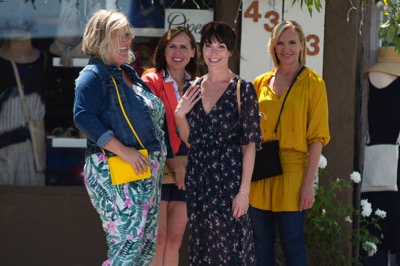 When Emily (Katie Aselton), Kate (Toni Collette), Melanie (Bridget Everett) and Jamie (Molly Shannon) gather for a night out, the night goes from innocent conversation and lamenting about parenthood into overdrive with some questionable, but hilarious behavior.
 Written by Julie Rudd, directed by Alethea Jones, Fun Mom Dinner features an all-star cast of funny comedians: Katie Aselton, Toni Collette, Bridget Everett and Molly Shannon. Made by women for women, Fun Mom Dinner exudes a unique energy that is reflective of the passionate creators in front of the camera, as well as behind the scenes.
Fun Mom Dinner is a fun, sometimes impossible flick that's perfect for a girls' night out. Plus, Adam Levine's in it! Hello!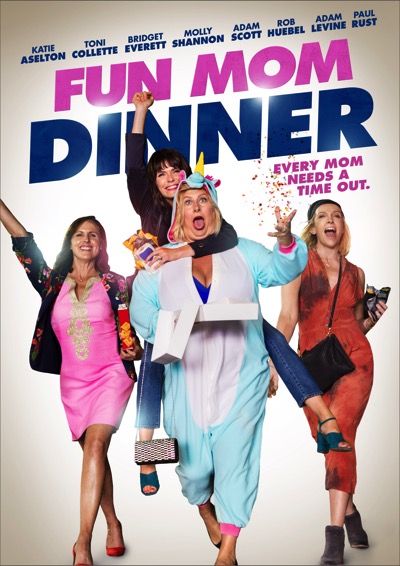 As a mom who had an identity before kids, I can definitely relate to a few of the characters portrayed in Fun Mom Dinner. As someone who's often reluctant to go beyond my usual circle of friends, I definitely related to Kate and Emily's plight in Fun Mom Dinner. The ensemble cast made the laughs and ridiculousness seem effortless.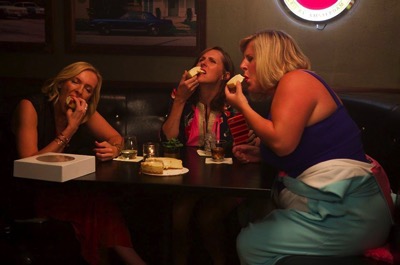 Last week, i was invited to take part in a media junket with the cast, director, writer and producer of Fun Mom Dinner. 
It was so great hearing from these funny women and to get their thoughts on parenting and how they enjoy having a good time.
What I loved was how each actress has a distinctly different comedic background. In fact, I loved how Toni Collette recounted her first experience with getting acquainted with Bridget Everett.
"I got the script and Bridget was attached, but I was unfamiliar with her work.  So, I thought I'll just take a peek, and then I couldn't stop reading it.  So, I loved it and immediately wanted to do it.  
But then I looked at a link to Bridget in her prime on YouTube, and I was so blown away.  I was sitting in a hotel room by myself, like, with tears running down my face laughing my ass off. "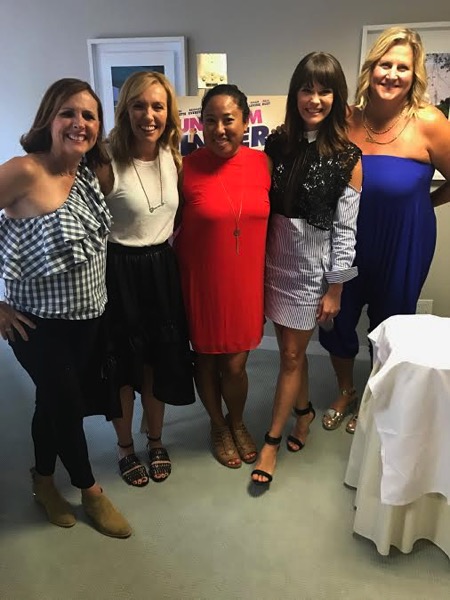 The ensemble cast enjoyed the unique timeframe and the fact that they filmed at night. 
Colette said, "And working together exceeded any expectation I could have had.  It was so much fun.  We shot all nights because it's a movie about dinner, not about brunch.  And even though it was a little exhausting, it really was such a highlight."
Since the actresses portrayed moms of different walks of life, one of the bloggers at the junket asked a great question about what advice they'd give other moms.
One piece of advice that's on my personal radar is what Molly Shannon shared: "I read this amazing book called Perfect Madness: Motherhood in the Age of Anxiety.  It's fantastic.  
But basically it's about how women can be really hard on other women.  And there's women who work, women who don't work, and there's a lot of insecurity about these choices. 
I loved what Katie Aselton's advice for other moms. 
"Shaking the pressure to be that women that everyone looks at and says, "How does she do it?"  I feel like we do that to ourselves a lot. 
 But, perhaps, the most hilarious piece of advice came from Bridget Everette who is a mom to a pup, Poppy. When asked about how she unwinds, Bridget said:
'It's similar to Pilates, but I get a pineapple and I cut it up into tiny little pieces and then I put them in a bottle of Tito's, and then I freeze it.  And then at 5:00 I shake it up.  I put it on some ice and I drink my pini-tini.  That's it, just pineapple, ice, and vodka.  It couldn't be easier."
Fun Mom Dinner is now in select theaters and On Demand; find it on iTunes. 
Full disclosure: I was a guest of Momentum Films as part of the Fun Mom press junket. I did not receive monetary compensation. As always, all opinions on NKT are my own.