I don't know about you but, Valentine's Day always seems to sneak up on me. By the time I remember to put together Valentine's Day cards, we're usually scrambling or whatever character the kids like is no longer available. So, usually take it upon myself to create something fun and personalized.
This year, since Josh and his classmates are still huge fans of Paw Patrol, I made a quick tag to attach to leftover party favors. These stationery set party favors that I found at Target's Dollar Spot are totally in line with the no candy route that so many schools have been taking.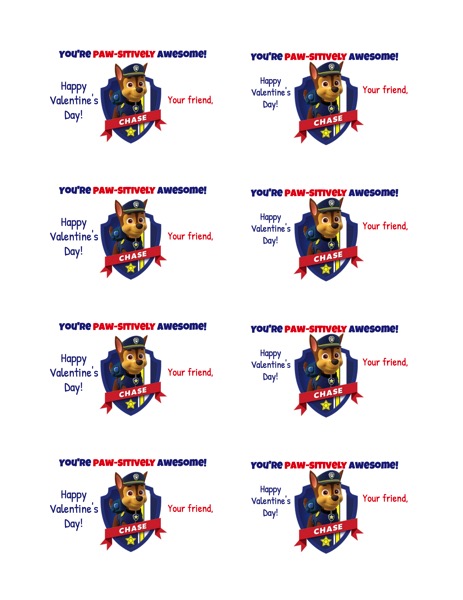 Since learning about and falling in love with these new Avery labels at Momtrends' Holiday Soiree, I find myself using them whenever I need to personalize something on the fly. I adore the 22802 Printable Tags with Strings because I can use them for gifts, crafts or whatever I need personalized. The labels can be quickly personalized on their website software Design & Print Online. It's super easy, quick and efficient, and sure beats lugging out my cutting machine for a quick project.
I love that the software allows you to create tags or labels specific with the tags that you have. There are templates online, as well as blank canvases that you can upload your own design. I did a little bit of both; I added a photo of Chase from Paw Patrol and then included some text. I'm big on puns, so You're Paw-sitively Awesome seemed apropos! Since I wanted my 5 yo to include his own signature, I left a blank space for that. I also left a space to include the gift recipient's name. If you're like me and short on time, this tag works if you just need to throw on your name. Don't want to handsign each one, you can also edit these labels to add your kid's names so it prints out. I'd recommend using Snapfish, Illustrator or other similar software.
Hoping this helps others, I'm sharing this file for you to use! You don't have to use the labels for this printable, you can most certainly print them out and cut them as needed. There are 8 to a page and can be easily edited as needed.
Download the Paw Patrol Class Valentine's Day here!
Happy Valentine's Day!